Grand Bahama Island - Although the Ross University academic facilities at Seahorse Plaza have been operational since the beginning of January 2009, an official opening ceremony and ribbon cutting took place on Friday, February 20th.

Prime Minister to The Bahamas, the Rt. Hon. Hubert A. Ingraham and his wife, Delores Ingraham attended the momentous occasion, along with many government officials and local dignitaries. Prime Minister Ingraham provided remarks at the occasion and was introduced by the Hon. Senator Kay Forbes-Smith. Speaking on behalf of the Port Group Limited was its chairman, Hannes Babak.
Ross University's president, Dr. Thomas Shepherd, and the board from Ross University, along with faculty and some of the student body and Student Government Association were present. Dr. Mary Coleman, Dean, Ross School of Medicine was the mistress of ceremony and gave welcome remarks. Bishop Sobig Kemp, president of the Grand Bahama Christian Council provided the invocation. The national anthem was sung by the Bishop Michael Eldon Ensemble led by Mr. Kevin Tomlinson.
Speaking on behalf of Ross University was its president, Dr. Shepherd; Student Government Association president, Timothy Yu; and Dr. Nicholas Fox, the first Bahamian graduate of Ross who attended with three other Bahamian graduates, Dr. Mercianna Moxey, Dr. Kendra Josey, and Dr. Beverton Moxey.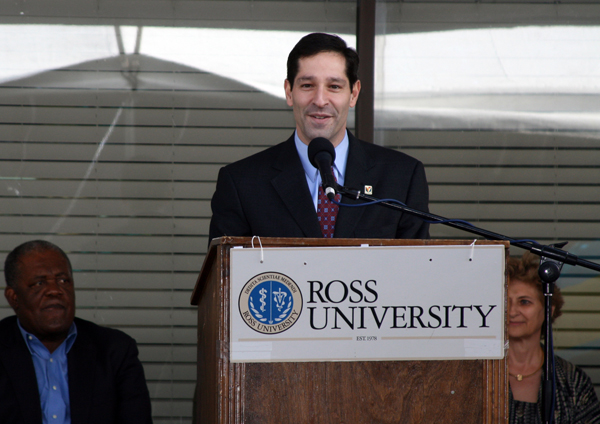 CEO DeVry Inc., Mr. Daniel Hamburger speaks at the official opening and ribbon cutting of Ross University Bahamas academic facilities on February 20th, 2009. Photo: Susan Missick


Ross University was honoured to have DeVry C.E.O., Daniel Hamburger in attendance at this important occasion.

DeVry Inc. was created in 1987 through the merger of DeVry Institutes and Keller Graduate School of Management, which comprise the company's largest division, DeVry University. In May 2003, DeVry Inc. acquired Ross University.

Mr. Hamburger's remarks were related to hope and commitment and he said the following, "Coming in from the airport, and talking to people, as you mention Ross, people were amazingly enthusiastic. People say Ross is the future, that it gives them hope, one said that it would save Grand Bahama."

"While we are more modest about the impact we can have directly we are glad for the way we have contributed to a sense of hope. But it is important to understand that what you see today is not just the work of DeVry, Ross or its staff.

Six months ago when we announced our plans to open many simply believed this was not possible, but the community rallied. Local contractors built the facility in record time, local workmen worked day and night seven days a week and local vendors provided material and services.

Be proud of what we have created together. Embrace it as a sign of what can happen," Hamburger said enthusiastically.

"DeVry and Ross are extremely delighted to be part of this community. We chose Grand Bahama because of our confidence in this community and our ability to partner with it to create a great new place for Ross, and perhaps also someday for DeVry.

We are completely committed to that hope and that vision. In the next few years we plan to create a new permanent campus that will hold many more students, and hopefully other degree programs.

And equally importantly we plan to do this in partnership with and as part of this community, continuing to draw upon local talent and resources in every way possible.

Let us look hopefully to the future and see that it can be made bright – if we both bring our commitment to our hope," he completed.

After all remarks, and the official ribbon cutting by Mrs. Delores Ingraham, a vote of thanks was provided by Ross University's vice president, Planning and Business Development, Sandi Cutler.

Guests were given a tour of the academic facilities which highlighted the Simulation Centre where Ross students demonstrated use of the high-tech simulation equipment.

The occasion was one of celebration for the Ross University board, student body, faculty and administration.

Ross University was founded in 1978 and is a provider of medical and veterinary education offering doctor of medicine and doctor of veterinary medicine degree programs. The School of Medicine is located in Dominica, West Indies, and the Freeport, Grand Bahama campus recently opened in January 2009. The School of Veterinary Medicine is located in St. Kitts. Ross University's administrative offices are located in North Brunswick, NJ. Ross University has more than 9,000 alumni with M.D. and D.V.M. degrees. www.rossu.edu