Use the arrow keys to navigate to the different frames (screens). Full screen view is also available. The above Power Point Presentatin by Ross University was shown at the Town Meeting at Foster B. Pestaina Centre on September 29th, 2008.
Grand Bahama Island – Hundreds of landlords and property owners turned out to a town meeting held at the Foster B. Pestaina Centre on Monday, September 29th to pre-register and hear how they could become eligible to provide housing for Ross medical school students who will begin school in January 2009 at the Seahorse Plaza interim campus in Freeport.
Sandi Cutler, Ross Vice President for Planning and Business Development gave a brief history on Ross University, and explained the steps necessary for landlords to become listed with the Ross University rental registry which will be available to all Ross students by October 20th through their housing website. Most Ross students cannot take the time away from their studies to travel to a new place and search for housing. By using the university's housing referral service they are able to obtain trustworthy information and arrange their housing conveniently. This service is voluntary for students/faculty/staff and landlords, however 90% of Ross students use it.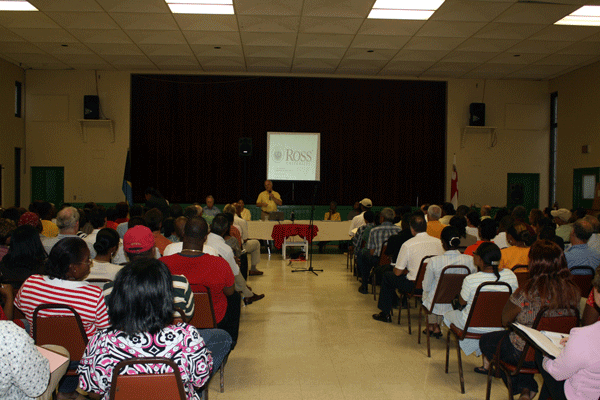 The University will operate a Housing Office that will assist landlords in locating tenants. This is a service that Ross currently provides at their Dominica, St Kitts, and Miami campuses, and one that has been very effective for both landlords and tenants. The university takes care to inspect each rental unit, and provides students with accurate and convenient information.
Ross University operates a small amount of housing at each of its campuses, but does not rent units from local landlords on behalf of its students. The University does not want to become a large landlord.
An initial 250 students will be living in Grand Bahama, and those numbers will steadily increase to approximately 500 in 12-18 months time. Most Ross students will stay in Grand Bahama for 2 semesters, which is approximately 8 months. Every 4 semesters some will leave as others will arrive. Landlords that provide quality affordable housing are generally able to sustain continuous occupancy because of the steady influx of new students.
Ross students are mature students that have completed 4 years of undergrad study and 2 semesters of medical school prior to arriving. Some are married with families, and some own pets.
According to Ms. Leslie Musgrove, Ross University Off-Site Housing Coordinator, about 100 local landlords had already inquired prior to the meeting. She stressed the need for accommodations to include linens, bedding, appliances, pots and pans, etc. Internet access is a must for all rentals, as the students study at all hours.
Joy Adrien, Events & Customer Service Manager, visiting from their Ross Dominica campus, and who is well versed in student relations informed the crowd that ideally students want close proximity to the campus, a safe and secure environment, to be living close to other students, and that they prefer all-inclusive packages (those including utilities and cleaning services).
Persons who wish to register their accommodation may do so by mailing in their rental information, with as much detail as possible, along with all pertinent contact information to Ross University Housing, P.O. Box F-60087, Freeport, Grand Bahama Island. You will be contacted by the Ross Housing Office and a Housing Inspection visit will be scheduled. A one hundred dollar administrative fee is applicable to each landlord for each registered listing.

Persons may also email their information to LMusgrove@Rossu.Edu . Further information can be obtained by phone at 242-352-8560.
Related Articles:

Ross University Announces First Bahamian Employees
Ground Floor Job Opportunities Available at Ross University Med School Bahamas Campus
Interview with Ross University President, Dr. Thomas C. Shepherd (video-exclusive)
Video - Prime Minister Ingraham's remarks at announcement of Ross University Bahamas Campus
Ceremony to Announce Ross University Bahamas Campus (with audio-stream)