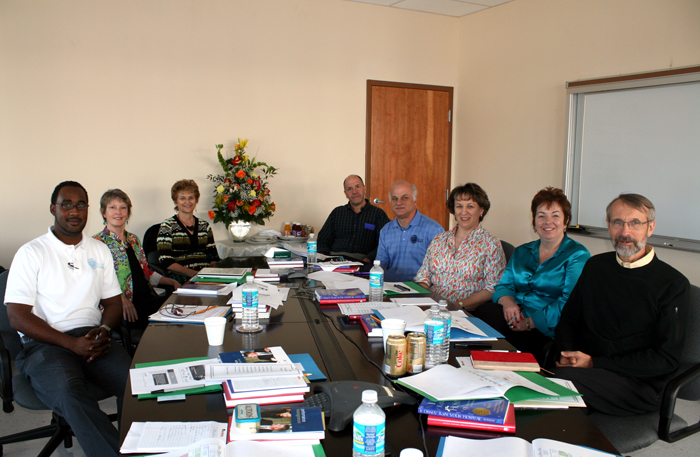 Ross leaders in a planning session at the interim campus at Seahorse Plaza. Left to right: Londell Albury, Director of I.T; Dr. Harriet Myers, Associate Dean – Student Affairs; Dr. Mary Coleman, Dean; Dr. Michael Robinson, Asst. Dean for Curriculum and Faculty Affairs; Sandi Cutler, Vice President of Planning and Business Development; Meg Osman, Director of Student Services; Anne Bergen-Taylor, Regional Director of Human Resources; and Dr. Charles Seidel, Chair, Dept. of Foundation of Medicine. Photo: Robbin Whachell


Grand Bahama Island - Ross University held a five day leadership planning retreat at its new campus from November 19th -23rd.

This retreat involved senior Ross University administrators from its New Jersey headquarters, Medical School leadership, and leaders from its Dominica and Miami campuses.

Also participating were current or future staff and faculty for the Bahamas campus.

"We are moving ahead as planned to open our interim campus for students the first week of January", said Sandi Cutler, Ross VP for Planning and Business Development and Interim Executive Administrator of the Freeport campus.

"There is a lot of work to do to plan for a smooth transition of faculty and students. Our faculty will be a blend of existing instructors transferring from Dominica and new hires, some of whom are native Bahamians. They need to plan through the implementation of our curriculum in this new location, and will have a number of innovative teaching facilities to deliver that curriculum."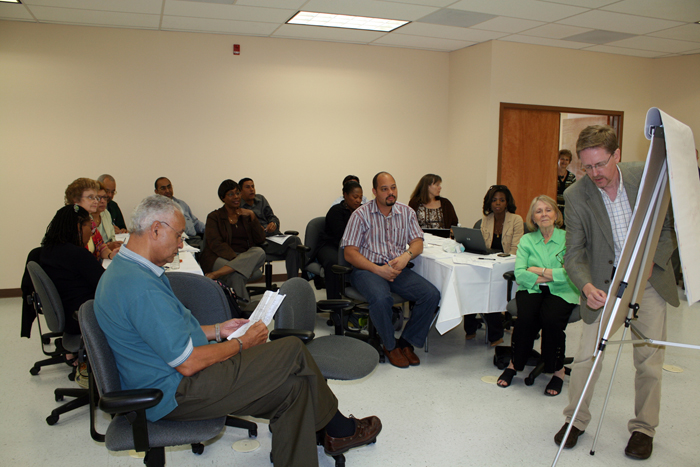 Ross faculty listen to Dr. Phillip Cooles, Department of Introduction to Clinical Medicine during a planning session at the interim campus at Seahorse Plaza in Freeport. This group includes the core academic and faculty leadership of the Freeport, Miami, and Dominica campuses. Photo: Robbin Whachell


"In addition this is the first time we have had the entire leadership team for The Bahamas campus together for planning purposes. We have a lot to get done over the next 6 weeks in order to be well prepared."

Already a number of faculty and students have located their accommodations through the Ross housing website.

Mr. Cutler also expressed strong appreciation for the outstanding work done by its contractors in preparing the Seahorse Plaza facility.

"We were on a very tight construction schedule, as we needed to occupy administrative offices less than 10 weeks after awarding the contract. Work on the campus is actually a little ahead of schedule, and the quality is first-rate."

Ross will take possession of the remainder of its interim campus by mid-December, including faculty offices, classrooms and student lounge.

"We plan to have a formal groundbreaking shortly after the beginning of the year, once students are here and well adjusted."

Mr. Cutler indicated that once Ross has settled into its new offices it will begin to procure work from local artists to complete its interior decoration process. Ross will make this opportunity available on a broad public basis. A committee of local staff and faculty will be responsible for selecting the various artworks.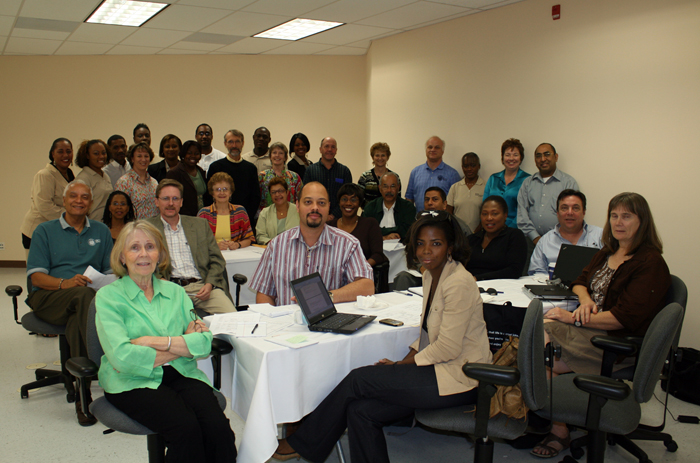 All Ross faculty, leaders and staff gather for a group photo during their 5-Day Planning Retreat held from November 19th to 23rd in their new interim campus at Seahorse Plaza. Photo: Robbin Whachell