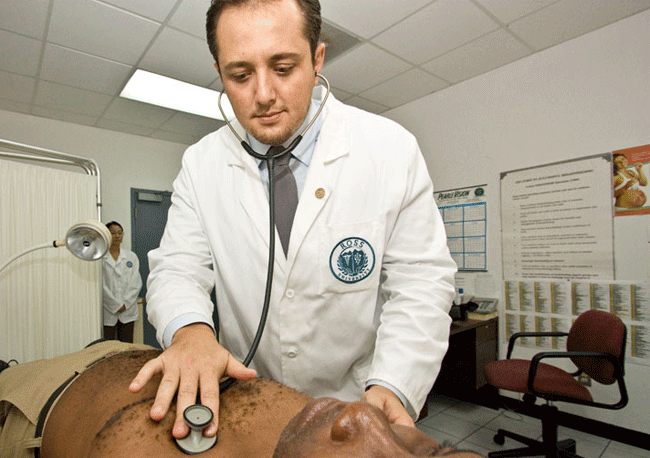 SLIDESHOW Photos: Ross University Students working with a mock patient at the Rand Hospital in Grand Bahama during their clinical education. Photo: The Bahamas Weekly


Freeport, Grand Bahama Island - With an educational objective to provide students with clinical exposure while studying in The Bahamas, Ross University has partnered with the Public Hospitals Authority (PHA) in a Clinical Training Agreement, and on May 12th Ross first and second year medical students began their training at both the Rand Hospital and the Eight Mile Rock clinic. This agreement will provide a scope for the further development and training of personnel throughout the Grand Bahama Health Services. An important aspect of the agreement provides PHA Health Professionals with access to Ross University's Simulation Labs and Medical Library which will enhance the PHA's ability to train and strengthen the capacity of local health professionals.

This arrangement will allow for Bahamian professionals to participate in the training of students from various parts of the wider international community.

Medical students at each location are under the careful supervision of two doctors for a few hours twice weekly. During a typical half day, the student is introduced to the patient by the doctor and is allowed to interview, examine and obtain history of present illness; they examine the patient (applying only those skills they have been taught); present the patient to the attending physician; write up the history and physical; and later obtain feedback on the presentation and the write up from the attending physician. The doctors are then required to provide evaluations of the students to the university.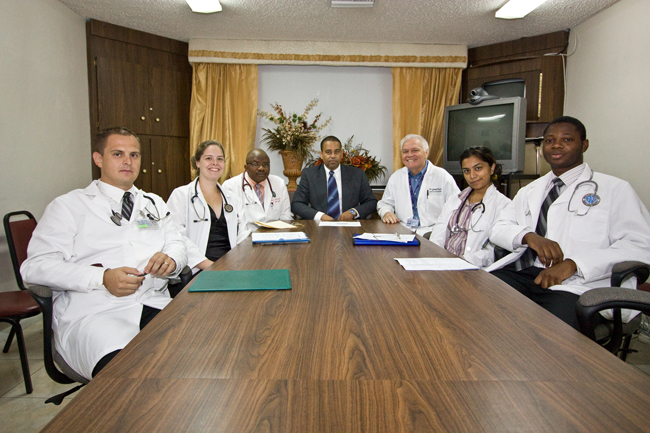 Ross Students with doctors of the Rand Hospital in Grand Bahama. From left to right: Joshua Lynn, Rachel Lacy, Dr. Ohueyi, Dr. Bartlett, Dr Klasson, Neeti Patel, and Olawole Ogunsulire. Photo: Dave Mackey


The Clinical Education Partnership was introduced to the Grand Bahama health community back in December 2008, and will provide a rich educational experience to Ross students, and also enhance the professional growth of Bahamian physicians, thus improving the overall health and medical care system within The Bahamas. Statistics have shown that when hospitals become more teaching oriented and offer themselves as educational facilities, the level of patient care tends to go up.

Ross University looks forward to a creating an outstanding learning experience for their medical students and know they can only do so through the support of the Bahamian physicians. The relationship will enhance the professional growth of participating physicians, as well has the potential to improve the health and medical care system of the island.

"'This is a significant moment in the history of Grand Bahama. We look forward to a long and fruitful working relationship between the university and the medical community on Grand Bahama. How we work together will impact both pre-clinical and tertiary medical education on this island, and possibly the educational development of the next generation of health care professionals in The Bahamas. The Clinical Training Agreement is just the beginning of a long relationship between Ross and the Grand Bahama medical community. We are open to more ways in engaging with Doctors who work in private practice and other health care professionals in the medical community," said Dr. Desiree Cox, Director of Clinical Education at Ross University.

Response from the students has been extremely positive. One student had this to say, "Shadowing the physician during rounds provided me with a better understanding regarding the level of professionalism and the importance of good interpersonal skills and communication. It was a very good learning experience which helped put my skills to use."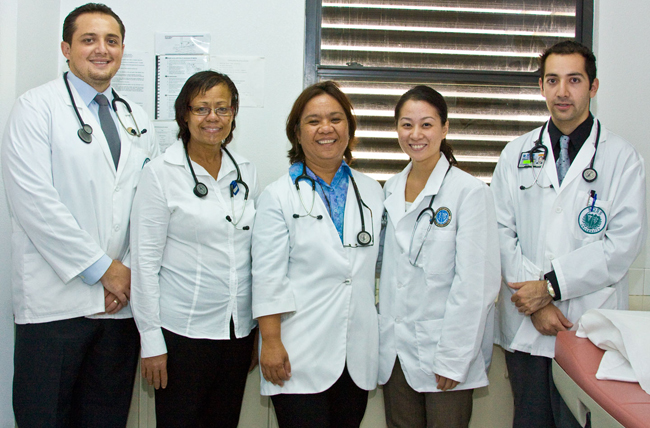 Ross University with doctors of the Eight Mile Rock Clinic. Luan Elezi, Dr. Elaine Lundy, Dr. Ng, Lydia Chan, and Miguel Cazares. Photo: Dave Mackey


Another student who visited the Eight Mile Rock clinic had this to say, "The clinic staff was friendly and helpful. Doctor Ng gave great feedback and was very enthusiastic about teaching."



The Public Hospitals Authority (PHA) said they are pleased to have been able to have completed arrangements with Ross University, culminating in a mutually satisfying Agreement.

"The PHA remains committed to providing the best quality healthcare to all Bahamians and visitors to our beautiful shores and the Agreement between Ross University and the Public Hospitals Authority strongly supports that mandate; and we look forward to a long and beneficial cooperation between our two organizations," said Herbert Brown, Managing Director, Public Health Authority.

Ross University was founded in 1978 and is a provider of medical and veterinary education offering doctor of medicine and doctor of veterinary medicine degree programs. The School of Medicine is located in Dominica, West Indies, and the Freeport, Grand Bahama campus recently opened in January 2009. The School of Veterinary Medicine is located in St. Kitts. Ross University's administrative offices are located in North Brunswick, NJ. Ross University has more than 9,000 alumni with M.D. and D.V.M. degrees. http://www.rossu.edu/