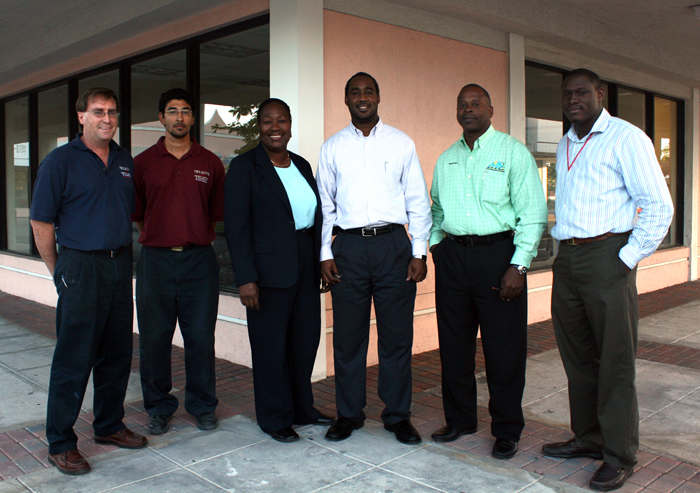 The team that helped make it possible for Ross University Bahamas to be on the cutting edge of communications and internet technology. From left to right: Ryan Lowe, proprietor of Nelsons Lock and Key; Mr. Cartwright, technician for Nelsons Lock and Key; Patricia Hamilton, administrative assistant at Cable Bahamas; Londell Albury Director of IT, Ross University; Steven Cefort, sales and marketing representative for BTC; and Raymond Wright, IT technician for Ross University. Photo: Robbin Whachell


Grand Bahama Island - Access to a rich pool of Information Technology resources is a key factor for any campus of Ross University School of Medicine, as the institution prides itself in being considered one of the most technologically advanced Medical Schools in the region.

For their interim campus at Seahorse Plaza which is set to open in Grand Bahama in January 2009, the specifications were no different, and the University is pleased to announce that all their technical needs were met through Bahamian vendors. Bahamas Telecommunications Company (BTC), Cable Bahamas, and Nelson's Lock and Key all played a vital role in bringing the campus up to par, and will continue to play a vital role in future expansion.

Ross University's Information Technology Director, Londell Albury said, "With classes starting the first week in January it was essential to work with proven IT vendors that were able to deliver during a very aggressive construction schedule. I am pleased to announce that all vendors are on schedule."

Albury's local IT team at Ross is supported by a diverse group of IT professionals both in Dominica and New Jersey. Upon completion of the Freeport campus, Ross University classrooms will be equipped with state-of- the-art audio visual equipment capable of facilitating live\streaming lectures to and from Dominica, along with secure access to an extensive media library. The campus will also be comprised of simulation rooms wherein human patient simulators will be used to aid instructors during simulation coursework.

Patricia Hamilton, Administrative Assistant at Cable Bahamas, the company providing internet, had this to say, "Cable Bahamas is thankful for the opportunity to contribute to Ross University's information technology architecture. Ross University is one of many customers that benefit from our high-speed axel service, which is an optical Ethernet solution providing LAN-to-LAN and LAN-to-Internet connectivity up to 1Gbps. It is built on a proven IP-over-fiber architecture; our high-speed services bring fiber directly to offices."

Phone communication will play another vital role at the campus. BTC sold over 300 Direct Inward Dialing (DID) numbers for accessible contact for Ross University faculty and staff. BTC has run fiber to the campus for their T1 circuit with the intention to later give them Metro Ethernet for a robust data services.

"BTC is pleased to have partnered with Ross University to provide them with full voice communication services. With these full voice services Ross University has a system that is configured to accommodate over 100 persons with voice-mail for each user," said Steven Cefort, Sales and Marketing Representative from Bahamas Telecommunications Company.

All the high-tech equipment could potentially bring about a security risk, and therefore Nelson's Lock and Key were brought in.

Ryan Lowe, proprietor of Nelson's Lock and Key commented, "After receiving the call from Ross University and perusing the engineered drawings presented, we decided that the best choice would be a system that could integrate all of the security solutions and manage them from one operating platform."

Consulting with their team of engineers at GE Security, the GE Alliance security platform was chosen, as it integrates the security intrusion detection, the access control system, and the surveillance system, all into one operating platform that provides superior security while maintaining user-friendly criteria to allow onsite personnel to operate the system confidently.

All of the perimeter access locations at the campus are being protected and monitored with state-of-the-art intrusion sensors and surveillance equipment that is recording activity in and out of the facility 24-hours a day. Additionally, strategically placed sensors and equipment within the facility monitor daily activity and provide minute-by-minute archiving and audit-trail capabilities which will manage and control access into and throughout the facility; giving the security team at Ross the ability to track all personnel movement in and out of the campus.

Phones, internet and security, three key elements of a modern infrastructure have all been installed, tested and are ready to go to keep Ross University Bahamas on the cutting edge of communications and internet technology. Ross University wishes to thank these local business vendors for their support and services.