Hector Picard made his first visit to the Abacos as part of the third annual Great Abaco Family Fitness Weekend. Hector had previously visited Freeport and, upon the invitation of race director Lee McCoy, made the journey from South Florida to participate in the weekend's races.
While this may not sound like such a great feat in itself, Hector is slightly different than everyone else. He is a motivational speaker, a triathlete, and a family man. He traveled with his wife Wendy and two kids, and stayed at the Treasure Cay Resort & Marina while in Abaco. He talked with a crowd at Every Child Counts and at Forest Heights Academy and also at the Hope Town School. He also demonstrated how to change a tire on his race bike – with no hands.
Hector is a bilateral amputee who has minimal use of one arm while utilizing a custom prosthetic. In 1992 he almost lost his life in a work related accident. He spent four weeks in a coma and upon waking up discovered burns across his body and both of his arms had been amputated, one below the elbow and one just after his shoulder.
Thanks in part to a grant by the Cable Bahamas Cares Foundation, Hector was able to compete in the Great Abaco Family Fitness Weekend, completing the 1-mile Open Water Swim and the Sprint Triathlon. He was also able to present to local schools ECC, Forest Heights Academy, and the Hope Town School.
His presentation to the children and adults alike was both inspiring and motivational. He talked about his accident, career, challenges, obstacles, and life, and also about how he was able to overcome all of these things without the full use of his arms. He talked about how doctors said he couldn't do certain things, yet he managed to play softball and basketball with his daughters as they grew up. In 2009 he began competing in triathlons and has competed in 87 triathlons since, including four IronMan distance triathlons.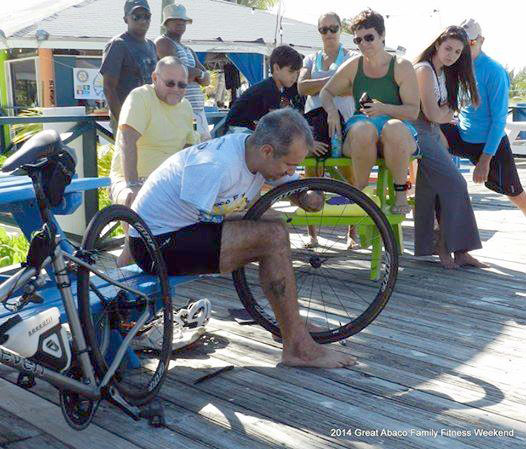 A crowd watches as Hector Picard shows them how he changes a tire with no hands.


McCoy first met Picard at the 2010 Conchman, and again saw him compete in the 2011 Miami Man triathlon. "We were looking to give back more to the community at large in Abaco, and to show everyone that the various races at our event are open for anyone and any ability to compete in." said McCoy. "I immediately thought of Hector and got in touch with him, and we applied for a grant from the Cable Bahamas Cares Foundation. We were able to bring Hector in to not only compete, but to inspire children at local Abaco schools. Having him at the event and in Abaco turned out even better than I thought it would."

Anyone that heard Hector talk or had the pleasure to meet him will tell you the same thing. He is a down-to-earth guy that inspires those around him. He had the children captivated as he shared his stories and demonstrated how he went about his daily routine. Volunteer students were asked to help demonstrate, and with socks on their fists they tried to put on a shirt, hat and sunglasses. The crowd related to it as it displayed how difficult daily tasks can be for him, and how he had to relearn everyday things to adapt.

Hector followed up his visit to the Marsh Harbour area schools with a tire changing demonstration for fellow athletes there for the triathlon. On the race course, no outside help is allowed –Hector has perfected how to change his tire without needing any assistance. As he demonstrated the process, he talked about his journey, hardships, and motivation much like at the school presentations. First time triathlete Becky Gray said of Hector: "Amazing guy with an inspiring story – thanks for sharing." Ray Cumberpatch added "it definitely was an inspiration to meet Hector Picard, and it got me through that triathlon!" Similar phrases were echoed from children to parents at the various schools and events.

Hector left Abaco on Monday to head to Freeport, where he has organized and is participating in the Triathlon for The Beacon School on March 29th. He is raising money for The Beacon School and inspiring others at the same time. He will complete a 2.4 mile swim, a 112 mile bike-ride, and a 26.2 mile run. Persons are encouraged to join him in his athletic quest, and to help raise funds for the school.

Hector looks forward to returning to Abaco to revisit ECC and support them as well, and talks of a new event have already started between him and McCoy: "We look forward to his return to Treasure Cay and Abaco, whether it's for a new long-distance event or for the 2015 Great Abaco Family Fitness Weekend. His story is truly amazing, and the way he shares it makes you feel as if you've known him for years. I enjoyed hearing him speak and just hanging out having a Sands with him after the races."

More information about Hector Picard and the Great Abaco Family Fitness Weekend can be found on their website, www.GAFFW.com