---
BOB, Ride for Hope Pedal Partnering to Beat Cancer
-
Apr 27, 2012 - 11:30:11 AM
Nassau, Bahamas - Jeffrey Burnside didn't even break a sweat. He had just ridden 100 miles, biking up hills and down valleys, around bends, rolling past others participating in Ride for Hope, passing them with a smile and a wave as casual as if he were out for a Sunday drive.

"It was a lot of fun, a piece of cake," said the consummate cyclist whose long history with biking takes him all the way from the 1970 Commonwealth Games in England to the 1972 Olympics in Munich where he made it to the quarter finals in the 1,000-meter sprint to this day in Eleuthera where he, like nearly 600 others, were pedaling for a cause -- to raise funds for the fight against cancer...
Ben and Jerry's Atlantis Supports Ride for Hope 2012
-
Apr 20, 2012 - 3:49:22 PM
Paradise Island, Bahamas
-
As a part of its mandate to give back to the community Ben and Jerry's Atlantis, headed by Executive Pastry Chef Paul Hayward, has quickly become a fixture at the annual Ride for Hope in Eleuthera. This past weekend, Chef Paul along with Ben and Jerry's Regional Business Consultant for Atlantis Jennifer Merrell, Store Manager Monique Pinder (a cancer survivor herself) and Soda Jerk Cleveland Clarke

packed a trailer (a caravan of ice cream if you will) and headed to beautiful Governor's Harbour Eleuthera.
With a plan to support 700 adults and 200 children with free ice cream as a reward for riding and volunteering, the Ben and Jerry's team made a total charitable donation...
Ride for Hope Bahamas 2012 is THIS WEEKEND!
-
Apr 13, 2012 - 10:00:12 AM
This weekend

a whole lot of folks will be leaving New Providence and flying and boating to

Governor's Harbour, Eleuthera

where the stage is set for this year's Ride for Hope Bahamas 2012. We wish all the organisers and participants a safe and successful event this year.
Ride for Hope Bahamas

, a registered Charity in The Commonwealth of The Bahamas, was formally constituted in 2009. It was established for the purpose of raising money to support initiatives related to health, wellness and human development in The Bahamas. Ride for Hope's designated focus is cancer. The organization's flagship fund raiser is "The Ride for Hope" - now a seven year old bike-a-thon held each Spring...
RBC to Sponsor Ride for Hope set for Eleuthera on April 14
-
Apr 10, 2012 - 1:24:14 PM
Nassau, Bahamas – RBC Royal Bank is sponsoring the 2012 Ride for Hope, the seventh annual fund-raising cycling event, which is scheduled to begin and end in Governor's Harbour, Eleuthera, on Saturday, April 14, 2012.

"Ride for Hope is without a doubt one of the leading Bahamian organizations raising money for cancer treatment programs," said Mr. Nathaniel Beneby, Market Head, Personal Banking, RBC Bahamas. "We are pleased to be one of the founding sponsors of this organization and to continue our sponsorship as we work in partnership with the Bahamian community to battle this deadly disease..."
Daytrip for Ride for Hope
-
Mar 8, 2012 - 11:56:57 AM
Ride for

Hope 7 is only 38 days away! If you have not

registered, be sure to do so by March 14. The registration fee is now $75, but will increase to $100 on March 15.

In partnership with our Yellow Jersey sponsor, Bahamas Ferries, Ride for Hope has chartered the Bo Hengy II for participants wishing to make a daytrip for The Ride. Bahamas Ferries is offering a $99 daytrip ($69 for children 2-11 years old) from Nassau to Eleuthera on Saturday, April 14, exclusively for Ride for Hope participants. The Bo Hengy II will depart Nassau at 5:00am, and arrive in Governor's Harbour at 8:00am. It will depart Governor's Harbour at 6:00pm for a 9:00pm arrival in Nassau.
Ride for Hope 2012 only 44 days away!
-
Mar 1, 2012 - 11:02:40 AM
Ride for Hope 2012 is 44 days away!

If you have not yet registered to ride, now is the time! The registration fee of $75 will be increasing to $100 on March 15. Registration is easy with the new online registration system. You can register as an individual, team, or family. When the registration process is complete, you will have your own Ride for Hope page to share via email, Facebook, and Twitter to help you raise money!

Not able to ride this year? No problem! Register to volunteer at Ride for Hope! Complete your registration form and drop it off to Cycles Unlimited on Mackey Street, or fax it to (242) 362-5871.

Ride for Hope is now accepting orders for its

Limited Edition 2012 jerseys

...


BOB boosts fight against cancer by sponsoring Luncheon on the Lawn and Ride For Hope
-
Feb 16, 2012 - 4:58:51 PM
Nassau, Bahamas - Award-winning BOB (Bank of The Bahamas) today said it would ratchet up its role in the ongoing fight against cancer with two major initiatives, including one scheduled for later this month.

"We are very pleased to announce that BOB will be the lead sponsor for Luncheon on the Lawn, a fund-raising event Saturday, February 25 at Balmoral with all proceeds benefitting the Cancer Caring Centre," said Michael Basden, Marketing Manager who also serves on the bank's active sponsorship review committee. The fund-raiser is a gourmet lunch with a heaping helping of glamour at 12:30 pm on the 25th at the famed Balmoral grounds...
Ride for Hope Early Registration Special! Only days left to take advantage
-
Feb 9, 2012 - 9:45:18 PM
Now is the time to register for the 7

th

annual Ride for Hope!

You can be one of hundreds of enthusiastic cyclists, both casual and professional, taking on hills and heat to fight cancer in The Bahamas.
Take advantage of the Early Registration Special! Pay only $50 when you register by February 14, 2012. Registration fees increase to $75 on February 15, 2012.
The registration process is easy and seamless. Upon completion, you will have your own Ride for Hope page, allowing you to invite friends and...
Ride for Hope releases 2012 Schedule
-
Feb 4, 2012 - 10:06:58 PM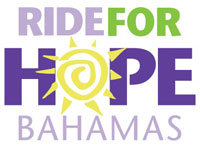 Over 100 riders have registered for the 7th annual Ride for Hope which will be held on April 14, 2012 in Governor's Harbour, Eleuthera. The registration numbers are climbing every day and donations are rolling in. With less than 80 days until the event, it is time to break out the bicycles and start training!
Ride for Hope has put together a Training Schedule for beginners and intermediate cyclists. It is important for riders to train in order to have a fun, safe, and comfortable ride. Participants are also encouraged to join JAR Cycling in its weekend group rides. Here is their schedule...
Rob Rothwell becomes winner of the sweetest ride in the country!
-
Jan 10, 2012 - 11:29:12 AM
Nassau, Bahamas - Ride for Hope held its first email auction, of a Ride for Hope branded Cervelo bicycle, in December 2011. The custom built and painted bicycle, with parts by Cervelo, Mavic, Rotor, and SRAM, proved to be a hot item. Bids rolled in up until the final hours of the four week auction.
The winning bid was placed by Rob Rothwell. From he placed his first bid, he stated in his email, "Fingers crossed I will be riding it in Eleuthera on April 14th 2012!" Rothwell has been cycling for pleasure since he was 14 years old. He has participated in a few local races with the New Providence Cycling...
Ride for Hope wants YOU to help Design-a-Jersey!
-
Dec 31, 2011 - 8:55:39 PM
Calling all graphic artists!

Ride for Hope is inviting artists in the community to help design their

Ride for Hope jersey for 2012

.

Ride for Hope Bahamas (R4H) is gearing up for its 7th annual bike-a-thon which will be held on April 14, 2012 in Governor's Harbour, Eleuthera. Traditionally, R4H designs jerseys for the event every year, and they vary fairly slightly in the overall look. This year, they are taking a more fun, artistic approach. R4H is looking for a design that is a lot more colourful and creative, and would like to engage the keen and capable artists in the community...
Ride for Hope Bahamas appoints its first Administrator
-
Oct 21, 2011 - 10:45:14 PM
Ride for Hope (RFH) Bahamas announced today the appointment of its first Administrator, Alicia Wallace from Nassau, Bahamas. A 2009 graduate of St Mary's University, Nova Scotia, with a Bachelor's Degree in Commerce/Economics, Alicia brings to the Ride for Hope wonderful enthusiasm and demonstrated experience in the areas of not‐for‐profit work, administration, planning and budget management.

Dedicated and self‐motivated, Alicia impressed RFH interviewers with the manner in which she has already used her energy and talents to help make the world a better place. While pursuing her undergraduate degree Alicia single‐handedly planned and coordinated a summer day care camp, funding the business by way of personal savings, a small loan, and prize money she had won from a business plan competition. The highly successful program employed 8 teachers and ran year‐to‐year on budget...
<< prev page next page >>