Last Updated:

Feb 6, 2017 - 2:32:04 PM
---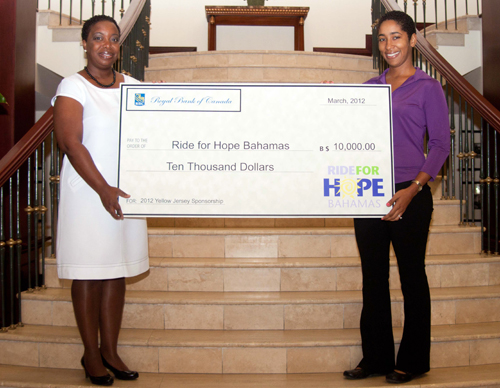 Nassau, Bahamas – RBC Royal Bank is sponsoring the 2012 Ride for Hope, the seventh annual fund-raising cycling event, which is scheduled to begin and end in Governor's Harbour, Eleuthera, on Saturday, April 14, 2012.

"Ride for Hope is without a doubt one of the leading Bahamian organizations raising money for cancer treatment programs," said Mr. Nathaniel Beneby, Market Head, Personal Banking, RBC Bahamas. "We are pleased to be one of the founding sponsors of this organization and to continue our sponsorship as we work in partnership with the Bahamian community to battle this deadly disease." As part of its 2012 sponsorship, RBC is officially entering a team of differently-abled cyclists in the event. The diverse team is led by Erin Brown, leg amputee and advocate for the disabled.

"This ride is for everyone," said Alicia Wallace, Administrator, Ride for Hope Bahamas. "We have various routes, so the ride can vary in length from 10 miles to 100 miles, depending on each rider's cycling experience and stamina. In addition, every dollar, without exception, raised by participants is applied to the improvement of programs for cancer treatment and care facilities."

"We are indebted to the founding sponsors like the Royal Bank, without whom the success of the Ride for Hope would be limited. Our inaugural event in 2006 was the most successful single-day fund-raising event ever held in The Bahamas. And yet, we surpassed that wonderful achievement every year since. We are very proud of our accomplishments and extend deepest thanks and appreciation to RBC," she continued.

For more information about the 2012 Ride for Hope, including the full route and information on how to donate, go to
www.rideforhopebahamas.com
.


About RBC in The Bahamas

RBC Royal Bank has a longstanding presence in The Bahamas, with operations first established on November 2, 1908. Today, it boasts a retail network of 20 branches throughout New Providence and the Family Islands, a Commercial Banking Business Centre, and 50 automated banking machines.

RBC FINCO, established in 1953, is a leading provider of single-and multi-family home mortgages to Bahamians and attractive interest rates for its depositors. It has 5 branches, a mortgage center and 6 automated banking machines located in New Providence and Freeport. RBC FINCO is owned 25 percent by the general Bahamian public, representing approximately 4,000 shareholders, and 75 percent by its majority shareholder Royal Bank of Canada.


About Ride for Hope Bahamas

The Ride for Hope is a registered Bahamian charity. Its flagship event is a fund raising bike-a-thon held each spring in The Bahamas. In the days leading up to the event, participants, volunteers, sponsors and donors come together in an extraordinary way, channeling energy and resources into something much greater than the event itself. Participants themselves have called the Ride for Hope "a truly inspiring weekend," during which the victories of cancer survivors are celebrated and those who lost their battles are remembered.







© Copyright 2012 by thebahamasweekly.com

Top of Page