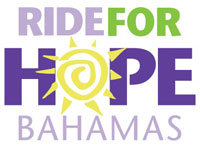 Over 100 riders have registered for the 7th annual Ride for Hope which will be held on April 14, 2012 in Governor's Harbour, Eleuthera. The registration numbers are climbing every day and donations are rolling in. With less than 80 days until the event, it is time to break out the bicycles and start training!
Ride for Hope has put together a Training Schedule for beginners and intermediate cyclists. It is important for riders to train in order to have a fun, safe, and comfortable ride. Participants are also encouraged to join JAR Cycling in its weekend group rides. Here is their schedule:
Saturdays at 6:30am - 47 miles, starting at Wendy's, Cable Bech
Sundays at 6:30am - 52 miles, starting at Wendy's, Cable Beach
Sundays at 7:00am - 20 miles, starting at Wendy's, Cable Beach <--- Great for beginners!
To register in person, please see the Ride for Hope Administrator at Logos Bookstore, Harbour Bay on February 8 from 2pm to 6pm.