Last Updated:

Feb 13, 2017 - 1:45:37 AM
---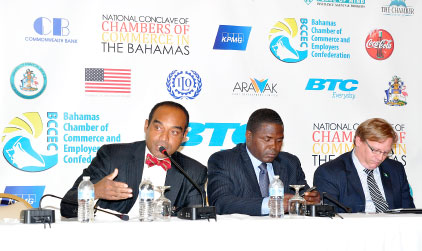 Ferreira tells Chamber of Commerce stronger environmental policies will lead to lower operating costs

Nassau, Bahamas - The cost of doing business in the Bahamas would be greatly reduced by the adoption of environmentally progressive national policies, a Chamber of Commerce director says.

Reporting to the chamber's national conclave, environmental attorney Romi Ferreira cited complaints about the high electricity costs, which he said, are the result of poor planning, a lack of maintenance and the use of expensive, pollutant-heavy fuel by the Bahamas Electricity Corporation (BEC).

"The price of energy is too high, and its impeding business," said Ferreira, who serves as the Chamber's director of energy and environment. "A sustainable action plan is needed to transform the electricity sector, and that would mean a great difference in the bottom line of every single business."

He noted that BEC produces no energy from renewable resources – not even on remote islands like Acklins, Crooked Island and Long Cay, where there is ample sun and wind.

Ferreira, who is also a director of the fast-growing environmental movement Save The Bays, said every forward-thinking businessperson in the Bahamas should be concerned about protecting the environment, particularly in light of the threat posed to economically vital natural resources by the rise of unregulated development.

"We are not opposed to development," he told the conference. "What we really want is sustainable development, so that your children, your grandchildren will have the same opportunities to prosper to that you had.

"Every single island in this country has an example of a failed development. Once the environment has been impacted in this way, you cannot get it back to how it was. It is prudent for us to manage our resources because our number one asset is coast. That is the why developments come here – access to coast."

Ferreira said developers, both local and foreign, would benefit from the enactment of a single, overarching Environmental Protection Act as advocated by Save The Bays.

"As it stands, as an investor, you have a literal minefield of legislation to wade through to figure out what you have to comply with.

"We need regulations that are specific for industry and that encourage industry, and encourage it to be sustainable over time," he said.

In addition to an Environmental Protection Act, Save The Bays is calling for a Freedom of Information Act to facilitate citizen access to government information, which Mr Ferreira said is key to ensuring all laws and regulations are properly enforced.

Since its formation a year ago, the organisation has taken the Bahamas by storm, becoming the fastest growing environmental group in the country's history with 500 registered members, 14,000 Facebook friends and nearly 6,000 signatures on its petition for legislative reforms.








© Copyright 2014 by thebahamasweekly.com

Top of Page