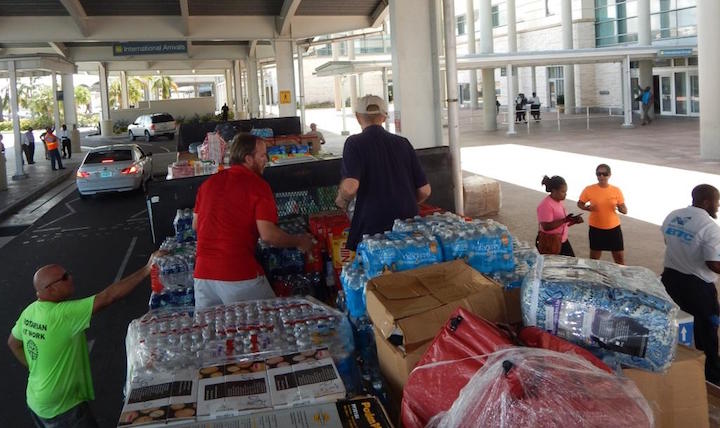 Rotary donation from Cayman


International support following international disaster


Nassau, The Bahamas (October 10, 2016) — Rotarians around the globe raise their glasses each week and toast to "Rotary around the world." The power of this statement is even more evident during times of disasters. Less than 24 hours after Hurricane Matthew passed over Nassau, capital of The Bahamas, Rotarians in The Cayman Islands were collecting supplies for The Bahamas. Having experienced devastating hurricanes themselves, without a second thought Caymanians organized drop locations for donations. Past President of the Rotary Club of Central Cayman Islands Al Thompson pleaded, "Think about what you needed after hurricane Ivan. Everything right? Our neighbors to the north are in the same situation and it's now our turn to become the givers." The supplies were loaded on a Bahamasair jet leaving Friday afternoon back to Nassau from Cayman where the planes rode out the storm safe from harm.

Friday evening the cargo arrived in Nassau consigned to The Rotary Club of East Nassau (RCEN). The Rotary wheel still turning, Diane de Cardenas, President of RCEN, received a call from Rotary Club of New Providence President Elburt Ferguson and Past President Ken Strachen who met the plane at the airport. They were alerted of the supplies by the pilot, Captain Gus Roberts, who is a member of their Rotary Club.

After following the relevant procedures, Bahamas Rotarians were thrilled to collect the supplies from the Lynden Pindling International Airport Sunday morning. Thanks to an amazing effort between Bahamas Customs, Nassau Airport Development, Bahamas Air, and the tireless porters, we carted out 20 pallets of supplies through the International Arrivals luggage lounge to the three Rotary trucks. A portion of the donations will be handed over to local agencies who specialize in specific relief efforts. The remaining items will be utilized by the local Rotary support teams for hands on relief work.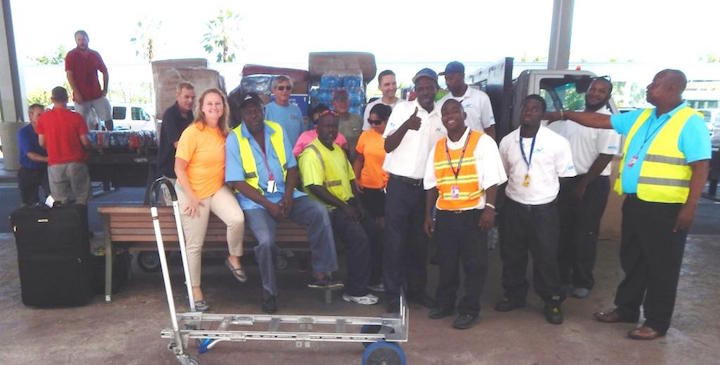 The magic of Rotary is its global footprint and corresponding international support. While Hurricane Matthew was still on it's path to The Bahamas, the international Rotary community was already answering the request of aid from Haiti. As news of the devastation spreads to the international community offers of Rotarian support, similar to Cayman's efforts, continue to be extended to The Bahamas. Rotary does not wish to impede the efforts of first responders, so in the coming weeks Rotary Bahamas will be reporting updates on their long term plans to assist and rebuild islands affected by Hurricane Matthew.



The Rotary Clubs of the Bahamas have come together to help the people in the Bahamas devastated by Hurricane Matthew...

Every penny donated goes to the cause.

People can donate worldwide with this so very important to share also!

DONATE HERE via Generosity.com

The Rotary of East Nassau Facebook page.





About Rotary

Rotary brings together a global network of volunteer leaders dedicated to tackling the world's most pressing humanitarian challenges. Rotary connects 1.2 million members of more than 34,000 Rotary clubs in over 200 countries and geographical areas. Their work impacts lives at both the local and international levels, from helping families in need in their own communities to working toward a polio-free world. For more information, visit Rotary.





Hurricane Matthew aftermath photos of Nassau, New Providence