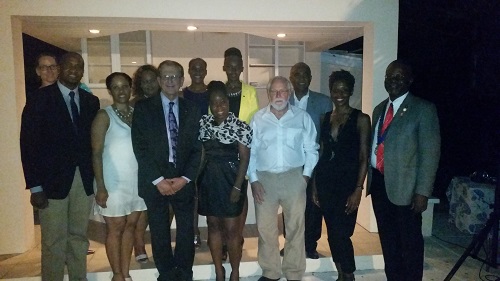 Charter members of the Rotary Club of Old Fort at the club's charter ceremony celebrate with dignitaries from Rotary International. Front Row (L to R): Lothario Taylor, board member; Tameika Thompson, Secretary; Bruce Ferguson, President; Guerlancy Pierre; Mick Guy, board member; Royann Dean, board member; Paul Brown, outgoing District Governor; Back Row (L to R): Joanna Paul, Vice President; Erica Pinder; Keri Sherman; Latoya Mitchell; Bryan Knowles, Club Advisor.


Nassau, The Bahamas - The recently formed Rotary Club of Old Fort (RCOF) is the newest Rotary club in The Bahamas. RCOF is the newest club in the Rotary Bahamas family as well as the Rotary District 7020 family. This district comprises 10 countries and 14 islands in the northern Caribbean including Turks and Caicos, Haiti, Jamaica, The Cayman Islands, The U.S. Virgin Islands, British Virgin Islands, Anguilla, and islands in the French Antilles and Netherlands Antilles. The club, which was chartered in May, celebrated its highly anticipated charter presentation ceremony with the outgoing 7020 District Governor, Paul Brown, of Jamaica and the District Governor Elect, Felix Stubbs, of The Bahamas.

Bruce Ferguson, President of the Rotary Club of Old Fort said, "As a Rotarian for many years, I am proud to have the chance to provide guidance to the next generation of young Rotarians in this new club."

The Rotary Club of Old Fort meets Wednesdays at 6:30PM at Blue Caviar in the Lyford Cay Shopping Centre. For information on joining the club and to stay up to date please follow us on Facebook and Twitter @RotaryClubOldFort.