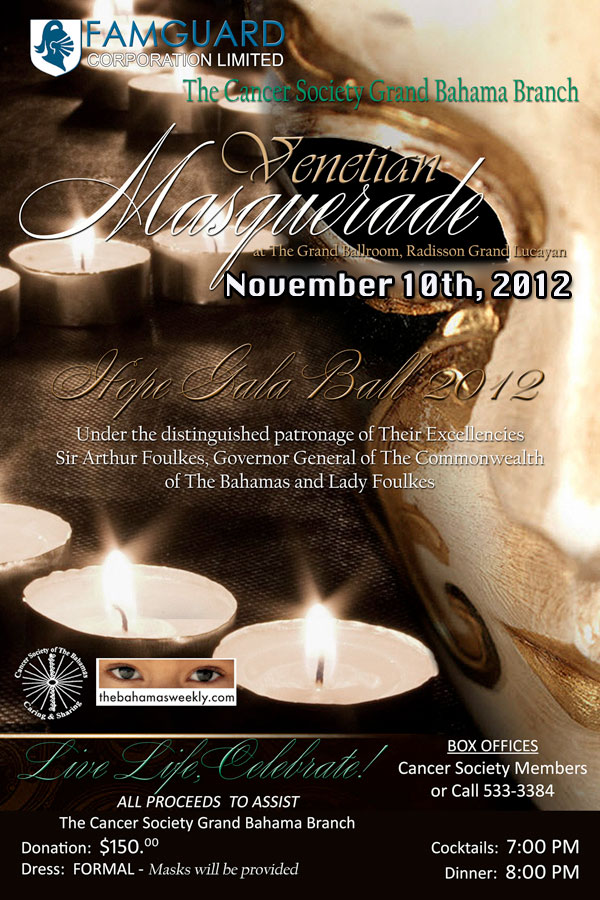 The Hope Ball Committee has recruited a team of volunteers to help raise funds for the various cancer related programs coordinated by the Cancer Society Grand Bahama Branch at the

Venetian Masquerade 2nd Annual Hope Gala Ball

being held under the distinguished patronage of their Excellencies Sir Arthur Foulkes, Governor General of the Commonwealth of the Bahamas and Lady Foulkes.

This red carpet event will feature live entertainment, a fashion show, and a silent auction. All proceeds will benefit The Cancer Society Grand Bahama Branch. This year's theme "Live life Celebrate!" represents the strength of Cancer Survivors worldwide, as for many Cancer is not a death sentence.

The Venetian Masquerade kicks off with cocktails at 7:00 p.m. on Saturday, October 27 in the Grand Ballroom, at the Grand Lucayan Resort and dinner at 8:00 p.m. Guests are encouraged to wear their uniquely designed masks on arrival but if needed, complimentary masks will be made available at the entrance of this event. Tickets can be purchased with your donation of $150.00 from Cancer Society Members or by calling 533-3384.

"Grand Bahama has such a wide spectrum of talent. We wanted to harness that in combination with our city's playful side and create fun-filled, memorable event that would essentially give back to the local community," said co-founder, Pam Whyley-Ferguson. Further she went on to mention that "the masquerade theme represents the faces of many survivors who often choose not to disclose their illness to friends and love ones until very late in their illness and this is something we want to change".

The Cancer Society Grand Bahama is a non-profit group of professionals advocating for people with Cancer. The society provides educational resources, free testing, and support services including guest speakers and referrals serving hundreds of individuals and families affected by Cancer.

"We are thrilled to again partner with FAMGUARD Corporation Limited as Executive Partner and thebahamasweekly.com as Media Sponsor of the Hope Gala Ball for such an amazing cause. The Cancer Society Grand Bahama Branch is not well-funded; it is important that we can see where proceeds from the event go – education information and direct support. Our sponsors and supporters like knowing they will have a direct impact on our charity partner through their participation in the event," Ferguson said.

If you have not yet received a sponsorship letter please contact the committee via email: hopeballcommittee.gbcs@gmail. com we will gladly respond with the letter outlining the sponsorship levels available.