Last Updated:

Feb 6, 2017 - 2:32:04 PM
---
Nassau, Bahamas - The staff and students of the A.F. Adderley Junior High School celebrated Patron's Day on Tuesday, 16th April, 2013. Under the nation wide theme: "Bridge to the Future…The Journey Continues," Mr. Alfred Francis Adderley was heralded for his contributions to politics, the legal system, religion and sports. Two of Mr. Adderley's grandchildren, Ms. Paula Adderley and Mr. Alfred Adderley were present to hear the accolades offered by students as they shared facts about his life.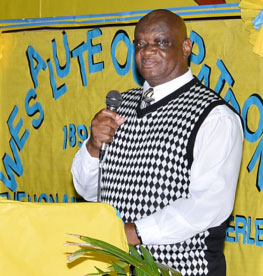 Justin Smith, a grade nine student, described Mr. Adderley as an honest, noble man of integrity whose mandate was always to serve the people he represented in the House of Assembly. Eighth grade student, Ronald Martin, stated that the patron was a distinguished attorney who trained and mentored in his chambers, two Governor Generals in the persons of Sir Gerald Cash and Sir Orville Turnquest. Zchaun Brown, another ninth grader, noted that Mr. Adderley was a devout Anglican who served as Chancellor of the Anglican Diocese of The Bahamas, a Vestry Member of St. Mary's Church and a member of the Board of Governors of St. John's College. As a sportsman, A.F. Adderley was the Founder and President of The Bahamas Amateur Athletic Association and the St. Alban's Athletic Club. Additionally, he was the Vice President of The Bahamas Olympic Association.



Mr. Alfred Adderley spoke to the student body on behalf of the family of the patron. He disclosed that he had never personally met his grandfather because he died before he was born. However, he is convinced that the driven and honest nature of his father and the value placed on education and sports was due to the influence of his grandfather.

Several past scholars of A.F. Adderley School also attended the special assembly and brought brief remarks. Apostle Rodney Roberts reminded the students of some well-known alumni such as Mr. Lionel Sands, Director of Education; Mr. Ross Smith, Deputy Director of Education for Curriculum and Instruction; Ms. Veronica Owens, former Member of Parliament; Mrs. Eulease Beneby, District Superintendent of the Southeastern District; Rev. Elgarnet Rahming, the National Overseer of Church of God of Prophecy and Mr. Osbourne Lockhart, former Harlem Globetrotter. Mr. Lavade Darling offered the students some advice on planning for the future and pledged the formation of an Alumni Association to come into fruition before this summer.

The A.F. Adderley Character Team, School Band, Dance Team and Bahamian entertainer, "Nita", provided entertainment for the special assembly.







© Copyright 2013 by thebahamasweekly.com

Top of Page