Last Updated:

Feb 6, 2017 - 2:32:04 PM
---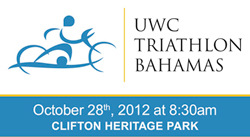 Nassau, Bahamas - Registration is now open for the second annual UWC Triathlon Bahamas fundraiser slated for Sunday, October 28 starting promptly at 8.30 am at The Clifton Heritage Park. The event will consist of three races, so that everyone can participate and challenge themselves at a fitting level. There will be a Kid's race, a Sprint distance and an Olympic distance race for pros and seasoned age groupers. Relay teams are permitted for both the kids and Sprint distance races.

Barbara Ann Bernard, Race Director and UWC Graduate, expressed her excitement over this year's event which has more than doubled in numbers since its inception in 2011. "The Triathlon is the UWC's major fundraiser to provide 2 year scholarships to deserving Bahamians to take part in a transformative UWC education at campuses around the world. This year marks the 50th Anniversary of the UWC organization worldwide and the 40th Anniversary of the National Committee here in The Bahamas. As most UWC graduates seek to apply their commitment to positive social change throughout their lives, I am proud that a UWC education can, and often does, benefit whole communities, not just the individual who receives the scholarship." Additional information on the scholarship programme can be found on the National Committee website
www.bahamas-uwc.org

or their facebook page.

The pro race has attracted a group of 30 world class triathletes including American, Canadian and Swedish Olympians and several Ironman and Half Ironman champions. The pro race will be covered by Triathlete Magazine and being conducted around the Clifton Heritage Park will really showcase our Country's natural beauty. "The pro triathlete response has been overwhelmingly positive and they are genuinely excited to bring a passion for educational philanthropy and triathlon to life", stated Ms Bernard. "The pros have been invited to spend additional days after the event and have expressed their interest in speaking to schools and athletic organizations whilst here. We would like to sincerely thank our very generous sponsors, Highbourne Cay, Hincapie Sports, Frank Crothers, Carlo Milano, KPMG, Cycles Unlimited, Bahamas HotMix and JS Johnson for making this event possible."

The Triathlon is an all day, fun filled family affair. In addition to the sporting events, there will be booths set up with food and drinks for sale, UWC scholarship information and live entertainment throughout the day. For those persons interesting in participating, online registration and other information can be found on the official website www.uwctriathlon.com. The Kids Triathlon includes a 100m Swim, 5km Bike and 1 km Run. The Sprint Distance Triathlon is a 750m Swim, 20km Bike and 5 km Run. The Olympic and Pro Distance Triathlon is a 1.5 km Swim, 40km Bike and 10 km Run.





© Copyright 2012 by thebahamasweekly.com

Top of Page