St. Anne's School (SAS), Fox Hill Road, New Providence was awarded its first prestigious Eco-Schools Green Flag Award on Monday 12 November 2018. The Green Flag Award is the highest award level that a school can achieve and can be granted every two years. The school's campus underwent an onsite evaluation by the Eco-Schools Bahamas Assessment Team to determine whether the school met the award criteria and they exceeded all expectations. St. Anne's School became a member of the Eco-Schools Bahamas program in 2016 and now joins Bishop Michael Eldon School, Freeport as the second school in The Anglican Central Education Authority (AEC) to be awarded the prestigious Green Flag Award. "It has raised the awareness and sensitivity within the school family making them more willing to re-use, recycle, garden and conserve." said proud St. Anne's Principal, Mrs. Cynthia Wells commenting on the benefits of the Eco-Schools Programme.



The Bahamas Reef Environmental Educational Foundation (BREEF) runs Eco-Schools in The Bahamas and Eco-Schools Bahamas is part of an international award programme developed in 1994 by the Foundation for Environmental Education. Eco-Schools, which is based on the work of student-led teams, recognizes schools that make a commitment to continuously improve their environmental practice. There are currently over 52,000 Eco-schools in over 67 countries. Through identifying and implementing solutions for environmental challenges in their schools, students drive a spillover effect into the surrounding communities.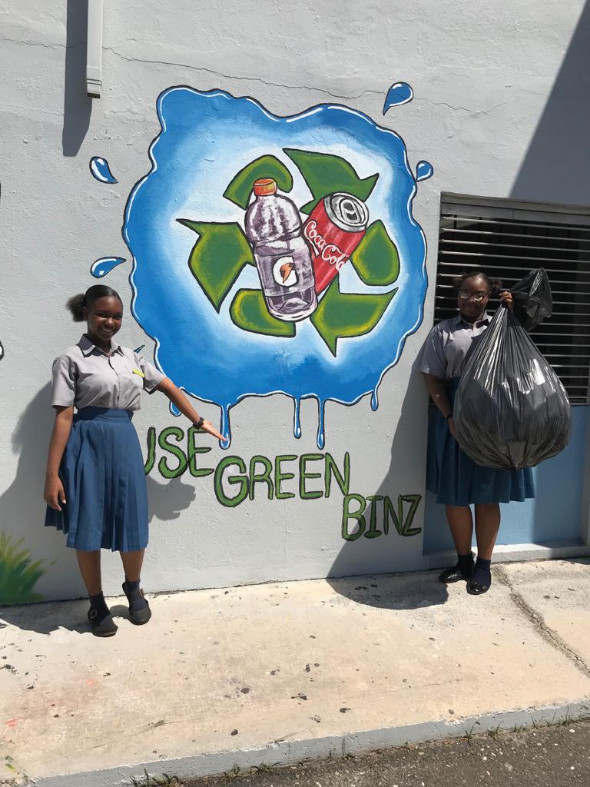 Since 2016, students of the Eco-Committee and students at St. Anne's School have continued to keep their campus litter free. Under their Eco-code, "Love It! Clean It! Live It!" the Eco-Club of St. Anne's School promotes bi-monthly 'Clean-Pick Moments' on the second and fourth Fridays. During the 'Clean-Pick Moments' students are led and monitored by SAS Eco-champions to remove any litter from their surroundings. According to Chanare Turnquest, Co-President SAS Eco-Club, "Cleaning today, so we can live tomorrow circulates love throughout the earth for the future of our environment." Students also planted a variety of native trees throughout their surroundings in fulfillment of the Biodiversity component of the programme. Additionally, SAS students continue to participate in efforts to lower the school's energy costs and maintain a vegetable garden. "The best things in life are the ones that we keep alive. If we fix the planet that we live in, we won't need to find another one, " said Carlysle Brown, Co-President SAS Eco-Club.
BREEF is very proud of the commitment and environmental stewardship that has become an integral part of the St. Anne's School student culture. BREEF Education Coordinator Kevin Glinton stated, "We congratulate the Eco-Committee of St. Anne's School and their Eco-Schools coordinators, Ms. Sharon Stuart and Ms. Mitzie Newton on achieving their first Green Flag Award." Speaking about her students Ms. Stuart said, "They are enacting the character traits, particularly those of responsibility, citizenship and caring instilled at St. Anne's, making sustainable differences, one wave at a time." And in agreement with her colleague, Ms. Newton stated, "Our environment requires an infinity of care, that we as good stewards must provide. As change agents and eco-champions, our students are embracing being part of the solution."
Schools interested in joining the Eco-Schools Bahamas programme can contact BREEF at 327-9000 or email: ecoschoolsbahamas@breef.org