Last Updated:

Feb 6, 2017 - 2:32:04 PM
---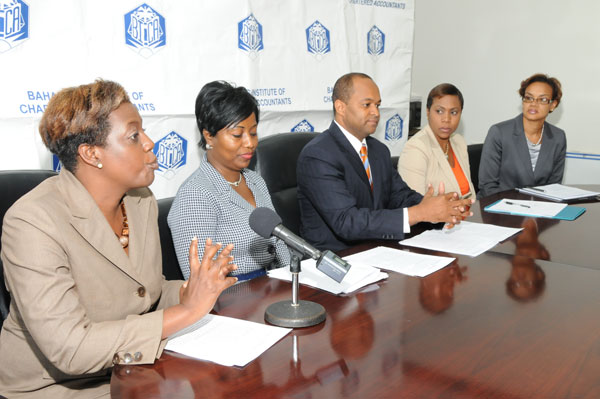 Nassau, Bahamas - In celebration of its 40th anniversary, the Bahamas Institute of Chartered Accountants (BICA) will honour accounting professionals for the valuable contributions they have made in national and economic development. BICA's 15 past presidents will be awarded along with 10 lifetime achievers and four Accountants of the Year in an event dubbed, "One Goal, One Commitment, One Institute" at the Atlantis Crown Ballroom, Saturday, June 18.

"We're very excited about the excitement that members and licensees have shown. In this recessionary period, where individuals, regulators, government, and businesses are depending on accountants to assist them with getting out of this recession and into the recovery, this event is a good way to show them that we are here, we are ready to assist and we are willing to be a part of the overall commitment to economic improvement," said Reece Chipman, BICA president at a recent press conference.

"All of our honourees have made significant contributions over many, many years. And we would like younger accountants to be aware of those that have come before them, those who have set the groundwork and the framework for them to do so well today," Mr. Chipman added.

Past presidents include: Basil L. Sands, G. Clifford Culmer, William Wallace, Clarita Lockhart, Anthony Kikivaraki, Philip C. Galanis, L. Edgar Moxey, Gerald A. Sawyer, Marjorie L. Johnson, Lambert D. Longley, James B. Gomez, Wayne J. Arahna, S. Ricky Chea, Kendrick K. Christie, and Daniel H. Ferguson.

Lifetime achievement awards will be given in specific categories: Ronald Atkinson, Small and Medium Enterprises; Hubert Chipman, Training and Development; Raymond Winder, National Development; Franklyn Wilson, Business Enterprise; Maria Ferere, Female Professional Development; Basil Sands, Founding President; Clifford Culmer, Liquidations and Public Practice; L. Edgar Moxey, Civic Contributions; Maitland Cates, Founding Member; and Ian Jennings, Commercial Banking. These are individuals with more than 20 years experience in their field.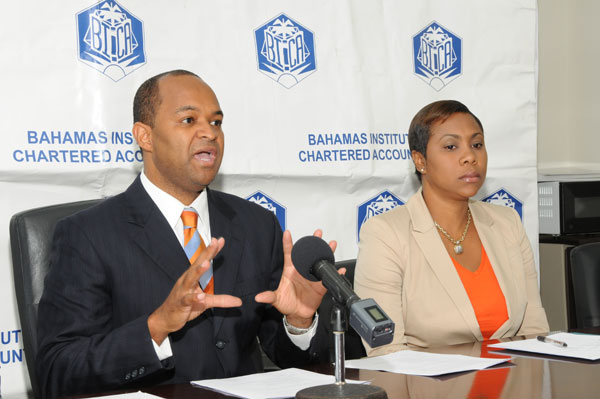 An "Accountant of The Year" award will be given in each of the following categories: Public Practice, accountants involved with assurance services; Private Sector, financial controllers or financial officers; Public Sector, accountants involved in government or public agencies; and Private Enterprise, accountants who started their own businesses. A minimum of 6 persons were nominated in each category. A selection committee of regulators, attorneys, accountants, and business persons will choose the winners. Names will be revealed at the event.

During this anniversary season, BICA reflects on all accomplishments since its 1971 inception. In 40 years, BICA grew from 3 members to more than 600 members. It was also able to pass the Public Accountants Act of 1991 which made BICA the regulatory body of the accounting profession in The Bahamas. BICA also became members of the International Federation of Accountants and the Regional Institute of Chartered Accountants of the Caribbean, maintaining the professional standards required from these institutions.

"We cannot negate the fact that the members themselves have contributed to the success of the institution…All of these standards, whether it's in ethics, accounting principles or auditing, all are international standards that BICA members and licensees have to meet. And so the growth of BICA is directly associated with the participation of members and licensees to ensure that BICA remains one of the top organizations in terms of contributing to economic development, research, as well as ensuring that our accounting students are given the best career path," said Mr. Chipman.

BICA's June 18 event promises to be a "fun-filled" time done in "grand style". The banquet will feature live entertainment and pre-recorded interviews with "Accountant of the Year" among other surprises, revealed Jasmine Davis, 40th Anniversary Committee chairman revealed.

For ticket information contact Tanya Rahming, BICA executive officer at 242- 326.6619





© Copyright 2011 by thebahamasweekly.com

Top of Page