Last Updated:

Nov 15, 2019 - 9:54:16 AM
---

Nassau, Bahamas - Despite being postponed by a month, more than 1,100 loyal supporters registered to be up bright and early for CIBC FirstCaribbean's eighth annual "Walk for the Cure" on Saturday, November 9.

The "Walk," which is CIBC FirstCaribbean's annual flagship fundraiser for cancer care and awareness throughout the Caribbean, was again faithfully supported by sponsors, vendors, walkers and runners. The familiar face of fitness guru Bowflex Barbie engaged hundreds in a pre-walk warmup, accompanied by music from Furze Entertainment. The tented infrastructure that created the festive scene was set up and sponsored by Wildflowers Events & Occasions. At 6:30am sharp in the early light of dawn, amidst an exuberant cheer, the runners and walkers set off from the Goodman's Bay Corporate Center along West Bay Street toward Sandals.


As several participants voiced, this year's record support exemplified unity among Bahamians during a time when the country is still reeling from the effects of Hurricane Dorian. The bank announced earlier this year that the seven beneficiary cancer organizations of the cancer care fundraiser all agreed to have a larger part of the funds go to support those patients or cancer awareness activities out of Abaco and Grand Bahama, in aid of Hurricane Dorian relief efforts.

CIBC FirstCaribbean Managing Director (Bahamas & TCI) Marie Rodland-Allen said, "We are pleased with the turnout for this important event and want to thank all who registered and came out to support the walk, especially our staff and corporate sponsors. We are truly grateful. We will continue to raise funds throughout the month of November for the seven cancer organizations who are depending on every penny to help continue the fantastic work they are doing in the lives of those afflicted by cancer."


Ryan Bethell, who was the first runner to cross the finish line, said, "With everything that's happened with Hurricane Dorian, it was important for me to be at the 'Walk for the Cure' because I feel like it's giving back to the nation. As Bahamians we ought to come out and support anything that's giving back right now. We have to help each other any way we can. It's time for us to be our brother's keeper."

As the event participants returned to home base, singer Bodine Johnson kept the crowds entertained. Against the musical backdrop provided by Furze Entertainment, dancing and a host of other activities including a raffle and giveaways kept the crowd energized. Amidst the festivities, Walk Manager Duquesa Dean asked for a moment of silence in memory of cancer patients who'd passed away, while survivors were gifted a pink carnation in honor of their victory in the fight against cancer.



For the second year in a row, POW! (Pancakes, Omelets, and Waffles) Food Truck was ready to serve up hot, delicious food to the hungry crowd upon their return to the Goodman's Bay Corporate Center. They brought new delights this year with their seasonal pumpkin spice waffles joining their traditional menu.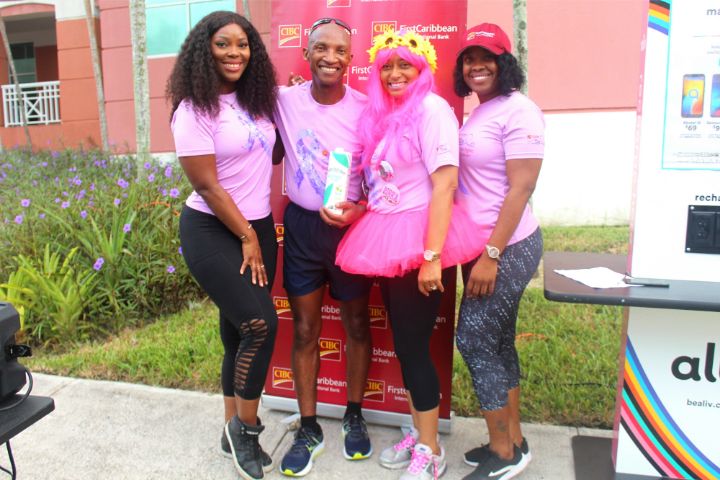 Also on-site to help the walkers and runners cool off was first-time vendor "Pop Stop," who offered their signature gourmet, handcrafted, all-natural popsicles, bringing native-flavors like soursop, hibiscus, and mango to the event. Kalick, too, was a popular choice for those thirsty for something a little more lively!

Judy A. Lundy-Miller, a 12-year breast cancer survivor, said, "No matter what happens, we just have to thank God for life. "This is my fourth time coming to the 'Walk for the Cure,' and it's a phenomenal way for other people in the community to provide their support to each other, which is something we all need right now. This walk is symbolic because it provides a public platform for people to realize how important togetherness is, and how important it is to help one another."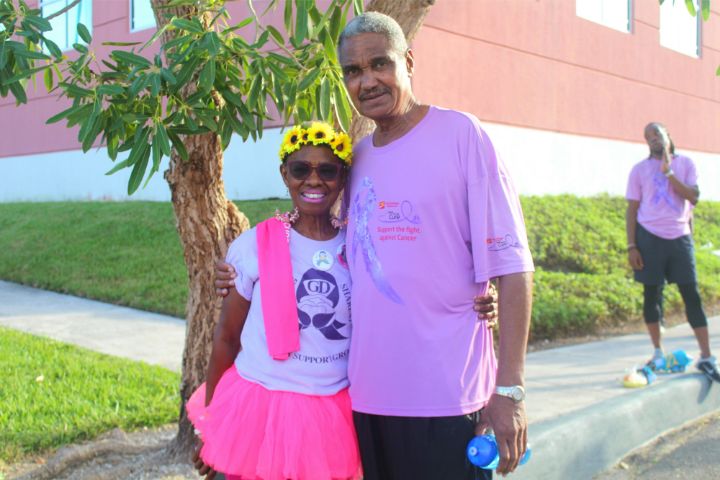 Last year, CIBC FirstCaribbean's "Walk for the Cure" raised $90,000 for cancer care organizations in New Providence, Abaco, Eleuthera, and Grand Bahama. Despite Abaco and Grand Bahama's walks being cancelled this year due to Hurricane Dorian, the 2019 "Walk for the Cure" funds will again be shared across all four of these islands, with a greater portion of funds being allocated to cancer care organizations in Abaco and Grand Bahama.



CIBC FirstCaribbean's eighth annual "Walk for the Cure" monetary and in-kind sponsors are: Bahamas Power & Light; Commonwealth Brewery; Doctor's Hospital; Mckinney Brancroft & Hughes; Colina; Graham Thompson; Aliv' Restaurant Bahamas; Sapodilla and Bamboo Shack; Avis; BAF Financial; New Oriental Cleaners; Baha Mar; Quality Home Center; Wemco Security Ltd.; Animal Medical; Airborne Freight; Atlantic Medical; Café Channing Noel; Visa, TSL & Optimus; Furze Entertainment; Bodine Johnson; Wildflowers Events & Occasions; AML; Caribbean Bottling and Dasani; Bahamas Food Services; United Sanitation Services; Milo Butler Distributors; Western Air; Comfort Suites; BTC; Fusion Superplex; and Mandara Spa.















© Copyright 2019 by thebahamasweekly.com

Top of Page