Freeport, Bahamas - Bahamas' first ever Manhunt International Bahamas modeling competition came to a close on September 23rd, 2012 with Drew Palacious at the country's inaugural title winner.

Born in Freeport, Drew is a graduate of Sunland Baptist Academy and Missouri Valley College. His desire to pursue a career as an international model has just become a reality as he will represent his country later this year in Thailand. "You can never go wrong with international exposure," said the only candidate from Grand Bahama prior to the event, and now he will indeed experience that exposure.


No stranger to the local modeling scene,

Drew's previous experience includes runways shows for Hardour Collection,

Saint George Fashion House, and

Islands of the World Fashion Showcase.

The Ultimate Ladies Night Out was a promise fulfilled as eye candy was in abundance for all the ladies who attended. Host Alexis Pelecanos kept the crowd well entertained with her wit and charm, and the night started with the introduction of each contestant wearing only a pair of jeans (of their choice) and of course, their six-pack buffed bodies which drove the crowd wild. The contestants definitely showcased their best self throughout the preliminary event and the finale.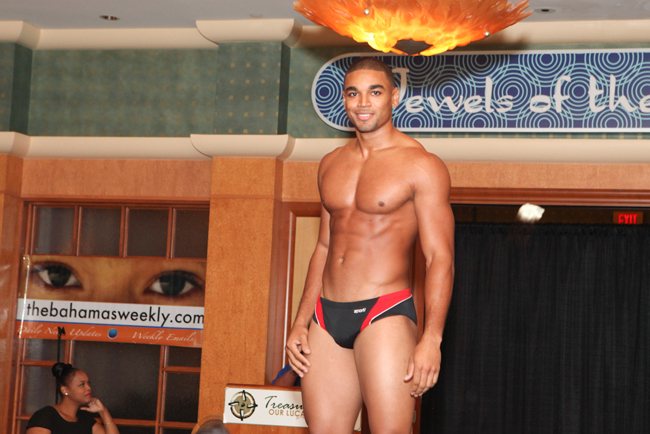 Manhunt International Bahamas winner, Drew Palacious Photo copyright: Mango Tree Media


The judges, who were either current or former pageant queens knew full well what it is like to be center stage in a competition, knew what to look for. They each made personal judgments in the scoring of the seven contestants from Nassau, Bimini and Grand Bahama - all with varying backgrounds in modeling.


On the scene was rising star and recording artist, Rumah, who's performance was as they say, "Off the chain!", and the Xclusiv Crew put on an energetic dance number.


In the swimwear segment, the contestants were all fit with perfect beach bodies, and with confidence took to the runway in their Speedos capturing the full attention as the crowd who showed their appreciation with cheers.

DJ Freeze kept the crowd hyped throughout the night with just the right songs for this event, but slowed it down for the contestants to return in their formal wear. Each of the contestants showed off their own personal touch of style for the audience wearing what they thought was the look of the night. This particular segment highlighted their personality, modeling prowess, and fashion instinct. As the night moved along, Alexis not only handled the flow of things, she also performed one of her latest releases to the delight of the audience.

As the finale drew to a close, everyone was sitting on the edge of their seats for the judging and award presentation to begin. There were screams for all the contestants, but only one winner can hold the annual title.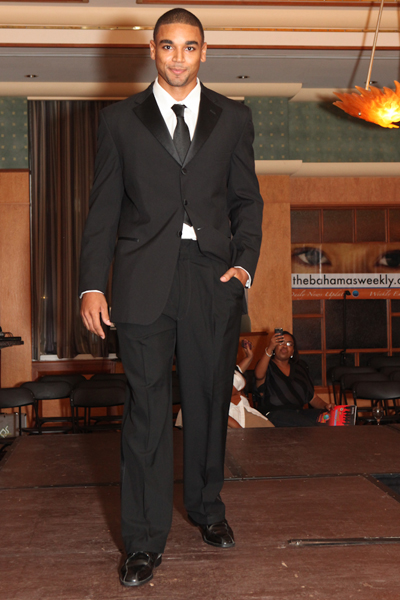 Drew Palacious of Grand Bahama Island. Winner of Manhunt International Bahamas Photo copyright: Mango Tree Media


The second runner up and first runner up were called and then history was made and the crowd was pleased as Mr. Drew Palacious was chosen Manhunt International Bahamas 2012, and the first in Bahamas' history. Rightly so, as he exuded all the qualities the competition was looking for.


"I feel confident in knowing that The Bahamas will be well represented in Bangkok because Mr. Palacious has what it takes to represent The Bahamas internationally," said Oswald Ellis, franchise owner. "It was our first event, which comes with all the challenges in forging something new, but we are proud of the results, grateful for those that participated, and we are already looking at where we can make improvements for next year."

"This event could not be possible without the help of our sponsors. Our organization thanks TheBahamasWeekly.com who handled our media relations, and the Treasure Bay Casino who gave us the perfect venue to host our event," said Ellis. Miss World Bahamas and Miss Universe Bahamas were able to fly in from Nassau and attend thanks to Peter Turnquest, MP and the Grand Lucayan.


The official results are as follows:

Best Photographic Model - Christoph Symonette

Best Personality - Philip Cooper II


Beach Hunk 2nd runner up - Pedro Mejias

Beach Hunk 1st runner up - Trumaine Taylor

Beach Hunk Winner - Drew Palacious

2nd Runner up - Trumaine Taylor

1st Runner up - Pedro Mejias

Winner - Drew Palacious (Manhunt International Bahamas 2012)

The continuance of this competition and sending a winner off to compete in an international arena takes a lot of effort, time and money each year forward. Manhunt International Bahamas is seeking sponsors to help with competition overhead and operations, clothing, grooming, and travel costs, etc. Interested corporations or individuals can contact the organization by emailing: starmodelmanagement.info@ gmail.com


Photography by, Mango Tree Media



MORE PHOTOS can be seen on the Manhunt International Bahamas Facebook page.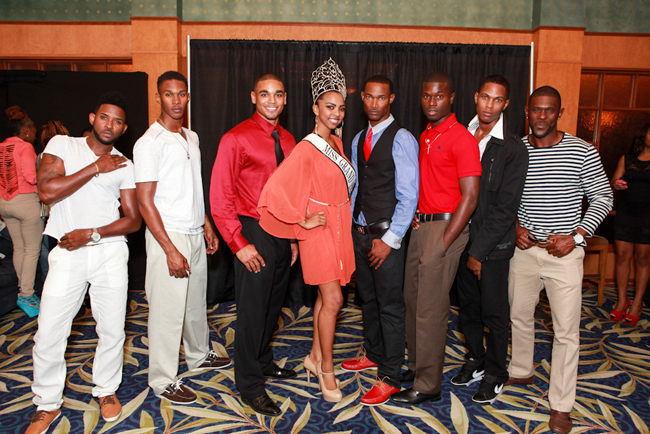 All the contestants with Miss Grand Bahama Photo: Mango Media