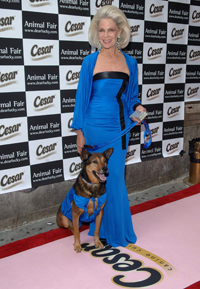 Photo WireImage.com

Grand Bahama Humane Society patron and dog "Amigo" hit the runway in New York.

Potcake star 'Amigo' starred as a fashion icon in New York last week in the 8th annual "Paws for Style" Fashion Show, benefiting The Humane Society of New York. The star studded evening brought out members of the media, film and theater who came to show their support for this popular cause, which has become a much looked forward to and celebrated yearly event in New York City.




Accompanied by his 'human,' Grand Bahama Humane Society patron Frances Singer-Hayward and his beloved friend and trainer, Bill Grimmer, Amigo proudly walked the catwalk 'dressed to the nines' in a stunning blue silk outfit which matched the dress worn by Ms. Singer- Hayward specially made by Hollywood fashion designer, Lloyd Klein, whose celebrity clientele includes Halle Berry, Nicole Kidman, Eva Longoria among many others, and now Amigo!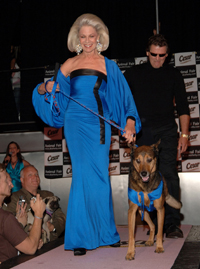 Photo WireImage.com
Loud applause greeted Amigo and Ms. Singer-Hayward as they made their way to the runway. Amigo has become quite a star in NY as a rep for challenged animals, his challenges now sadly including that of being a 'cancer survivor,' requiring the amputation of one of his hind legs earlier this year.
Ms. Singer-Hayward expressed her " delight and honor at being asked to participate in such an exciting event." She stated that "Amigo and I are thrilled to take part in any effort supporting the welfare of animals. The issues and the struggles are the same, whether in New York or The Bahamas and we can only charge on, trying to make people aware of the desperate importance of caring and doing whatever we can to support helping to alleviate animal suffering."