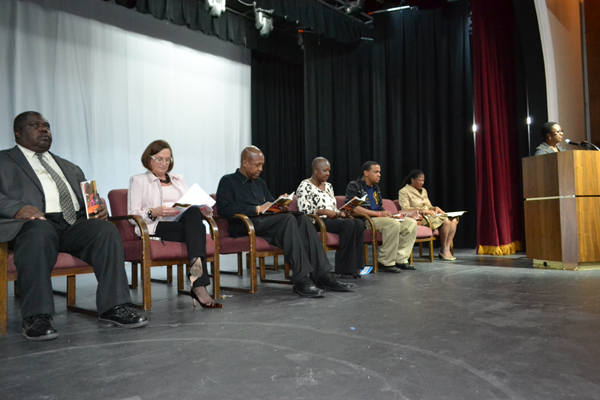 College officials including College Council Chairman Mr. Alfred Sears and College President Dr. Betsy Boze welcomed the Class of 2017 to The College.


College administrators recently gave new students entering The College of The Bahamas, this spring, sage advice on how to make the most of their college experience and successfully transition into higher education.

This semester, approximately 500 new students enrolled at The College.

"Each and every one of you, when you graduate, will graduate from an institution that will not be The College of The Bahamas, but that will be The University of The Commonwealth of The Bahamas. What that university will look like, what it will feel like and the quality of its impact in the global arena will be defined, not only by me and the members of the Council, but it will also be defined by you," College Council Mr. Alfred Sears told new students during a welcome ceremony.

College President Dr. Betsy Boze advised the students – primarily high school graduates – to responsibly exercise their independence.

"You are now going to be making your own decisions. You are the one who needs to learn to speak for yourself; mom and dad can't fight your battles for you. So, you need to learn when to speak, who to speak with and how to speak respectfully," she said.

In all, nearly 6,000 students are pursuing various academic programmes at The College's campuses in New Providence and in Grand Bahama in areas where there is a demonstrated labour need in The Bahamas.

Many of the students were excited to embark on a new phase of their lives. They were eager to acquire the skill set that will set them apart as competent global citizens capable of building The Bahamas and giving the country a distinct advantage.

College of The Bahamas Union of Students (COBUS) representatives volunteered to assist new students during New Student Orientation and Registration week.


"My expectations are to first of all get a quality education, second of all, to be among Bahamian youth that I may inspire them as well as they may inspire me and of course, to enjoy the college life," said Rostonia Moss, a new Biology with Chemistry major.

Mother-daughter duo Marlene LaRoda, a Bachelor of Law major, and Akyra LaRoda, who is entering the Jumpstart programme, which allows high school students to obtain college credits, are also excited to embark on their new journey.

"I want to get a feel for life of college, although I am an older person. I want to immerse myself in everything that is going on," said Marlene.

Last week, new students were taken on a tour of the Oakes Field Campus and also attended various information sessions to help them transition into college life.

Classes at The College of The Bahamas are scheduled to begin on Monday, January 14th.