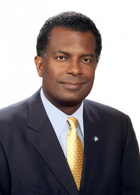 Notes for Debate on Crown Land
By Fred Mitchell MP Fox Hill
14th July 2009
This is a request for a Select Committee To inquire into all matters touching and concerning the disposition of all publicly owned land and land owned and managed by statutory bodies with the usual powers.
When your voice is all you have use your voice.
Again say that the country is today balkanized. I used the word Ingrahamized. I use it again and then having regard to the censorship last time I withdraw it bit explain that Ingrahamize is only another word for balkanized. There is only FNM truth and PLP truth.
The story from the Lion In Winter: Power Is the only fact.
Today, we are attempting to get at an objective truth.
What are the land holdings of the government in right of the Bahamian people?
Who owns and manages those lands?
Who have these lands been granted to, and why and on what basis have they been distributed?
Is there a land policy which will result in the distribution of land openly, rationally and transparently? If there isn't one, can we design a legislative and regulatory regime that will create an open, rational and transparent system?
How much land is there and where is it located? What are its potential uses?
How can land be used to empower our people?
We cannot avoid the politics of this. But we might try to avoid the FNM's policy which outlined last time as follows:
Stop, Review and Cancel
Blame The PLP
Stop Review and Cancel
And so I fully expect that this time the strategy will be blame the PLP. No doubt there is blame a lot to go around but now we know who is the Captain at the tiller and it is his responsibility to fix it. Even more so since, it is his signature that can with a stroke of pen alienate land from the Crown into the hands of a private individual.
What is the basis of the charges for land? How is it decided?
These are key and burning questions on public held lands.
By these I mean:
Crown Land
Land Held by BTC, Water & Sewerage, BEC BAIC and the other statutory corporations including Bahamas National Trust.
Land held by the Treasurer as a Corporation sole
Land by Ministries such as the Ministry of Foreign Affairs and the Ministry of Housing\, the Minister of Sports, also Corporations sole.
All public owned lands.
WHO AM I?
I am the basis of all wealth, the heritage of the wise, the thrifty and the prudent.
I am the poor man's joy and comfort, the rich man's prize, the right hand of capital, the silent partner of many thousands of successful men.
I am the poor man's joy and comfort, the rich man's prize, the right hand of capital, the silent partner of many thousands of successful men.
I am the solace of the widow, the comfort of old age, the cornerstone of security against misfortune and want. I am handed down to children throughout all generations, as a thing of great worth.
I am the choicest fruit of toil Credit respects me. Yet I am humble. I stand before every man bidding him to know me for what I am and possess me.
I grow and increase in value through the countless days. Though I seem dormant, my worth increases, never failing, never ceasing. Time is my aid and populations heaps up m gain. Fire and elements I defy, for they cannot destroy me. My possessors learn to believe in me, invariably they become envied. While all other things wither and decay, I survive. The centuries find me younger, increasing in my strength.
I am the foundation of Banks, the producer of food and the basis of wealth through the world.
Yet I am so common that thousands, unthinking and knowing, pass me by.
I am land.
Dilly Crab Realty in Exuma
My Grand Uncle Joe Johnson fought in the First World War and we were told as children that when he returned from the war he was told that he could take a cutlass and go to south beach
In New Providence and stake out a claim. Uncle Joe was dismissive about this, he thought why would he want to go out there and stake out useless bush.
There are stories told of people of African descent who owned land on the Eastern Road but after a bad storm abandoned their land and moved to the comparative safety over the hill. Today the land on the coast is ten times more valuable than the land inside.
John Rolle the retired Comptroller of Customs who has built a fabulous home in his birth place of Rolle Town, Exuma called Old Ike Bay told us that his grandfather bought the property on which he lives, a bluff some 30 feet above ea level overlooking the most gorgeous bay and sound, with the north eats prevailing winds brushing the porch for one pound ten shillings in 1920. The equivalent of 5 dollars. Today, it is worth a tad bit more than that. His grandfather had the vision and the foresight to buy it.
This whole matter of land has been on my mind for sometime from the time I learned of Uncle Joe, from the fact that the development of North Bimini was being limited because of the then Rockwell estate and there was no room for expansion of he settlements, even though public lands are owned north of the now Bimini Bay development. We missed the opportunity.
Then the fact that Hatchet Bay, Eleuthera expansion is limited by the fact that there is no room for expansion. I don't know if there are any plans for that town
Mangrove Cay, Andros during the campaign of 1997 to save Sir Lynden's seat for the PLP, people came up to me with their applications made for Crown Land to build homes. The towns were exhausted of land and there was a need of expansion. They applied and they never heard another word from their applications.
In Long Island, the Senior Citizens Centre applied for Five acres of land. They have just received a grant of 1.9 acres. That took an eternity to get. Why can't they have the five acres? There is no explanation.
In Bimini, Rev. Clyde Flowers of Bimini has been paying for a lease of land for nearly a generation. He has now been displaced from that parcel of land. He is depressed about the though of having paid all these years for a lease and being disposed without so much as a by your leave. A letter has been written on his behalf. There is no response.
In Bimini again Ansel Saunders, a famed boat builder, poet and patriot that well know wants to regularize his use of some land on which he builds boats. The application was made on his behalf. There was a response for additional information. That was provided but the trail seems to have gone cold.
In 1947 Raymond Lloyd, (now ninety years old) of Baraterre, Exuma, secured a Annual Tenancy on 7 acres on the northwestern point of Great Exuma at Smith Creek. Great Exuma is now connected to Baraterre via two causeways, at Smith Creek and Old Creek.
Mr. Lloyd has continuously paid the fees up to 2006. In the mid to late 90's, the FNM Government granted the 7 acres track to the Smith Brothers of Stuart Manor.
During 2006 the PLP Government granted Mr. Lloyd a less attractive 7 acres in the general area.
In 1990 Alpheus Rolle of Black Point, Exuma was granted a conditional Purchase lease on 20 acres of Crown Land in the vicinity of Black Point. Mr. Rolle commence improvements. After the 1992 election, the Government included the 20 acres in a larger track of land for a land development headed by a Capt. Smith formally of Black Point.
Mr. Rolle was not offered an alternative site or financial compensation.
Mrs. Eugenia Bowe (deceased) acquired a conditional purchase lease of approximately three quarters of an acre in or about 1958. Mrs. Visna Bowe Mackay, the daughter of Mrs. Bowe applied for and received the transfer of the conditional purchase lease which her mother had. Mrs. Bowe Mackay invested over four hundred thousand ($400,000) on the said land building three homes thereon. Mrs. Bowe Mackay applied for the grant and after several " pleas" to have the land inspected by the Director of Lands and Surveys an inspection was made, and to her surprise she was informed by letter that she would receive a grant upon her paying one hundred thousand dollars. The land is not beach front land. She was given three months to accept the offer she questioned the purchase price.
In Little Exuma, in the area near Forbes Hill, Leon Bowe deceased has a lease of crown land and after his death his daughter Alice Bowe Holmes applied for take over the lease and today she has not received the lease. She died three months ago. The lawyers have been pursuing the matter for three years on her behalf without success.
The government acquired 24.19 acres of land from what is called the Clarke's Estate in the area of Gilbert's Grant (Old Place) Exuma for a public purpose in the early or late 1990s to build a fire station. This is in the vicinity of the shopping centre that houses Scotiabank near the failed Four Seasons hotel. This land may now have been leased to a private developer notwithstanding that the land was acquired for a public purpose.
In Fox Hill, around 1990 land was acquired by the Minister of Housing for a public purpose. It was some 15 acres of land. People had been farming on the land for generations. The land was declared to be owned by the Sugarman Estate and some one million dollars is owed for compensation. The government has now agreed to convey the land back to the people who have been occupying the land.
Now Mr. Speaker compare and contrast those cases just listed to the situations that follow:
There is concern in Exuma, and The Bahamas generally, about the land policy of the FNM administration under Hubert Ingraham as Prime Minister. The concern is a practice known as "flipping" where Crown Land is given to friends, associates or supporters of the FNM for an undeveloped or nominal value and then sold a relatively short time later in it undeveloped state for a price many times the price it was bought from the government.
The question is also raised where or not pubic officials in the Department of Lands and Surveys are acting properly when these land transactions take place with close relatives of these officials in the Department of Lands and Surveys. In one case land in the situation described was conveyed from the crown to a relative by marriage of the Director of Lands and Surveys Tex Turnquest.
PLP leader Perry Christie pointed out this concern when he spoke during the debate in the House of Assembly last year when the FNM government sought approval to convey Government Land to developers of Norman's Cay. Mr. Christie at the time pointed out that his government when in office was concerned that there was a scheme to get Bahamians who were supporters of the FNM cheap Government land, that would then be immediately turned over to a foreign entity at a huge profit.
Those familiar with the FNM's practices say that one big deal at Norman's Cay should not hide the many smaller deals. They point to the following:
A crown grant in Book C5, Folio 32 to Derek and Sonia Rutherford at Forbes Hill, Exuma on 16 August 2001 was signed by Hubert Ingraham. This land was then sold at its unimproved state on 5 July 2005 to Michael and Antonia Marco of New Jersey for $500,000 at Volume 9419 pages 11 to 171, the original price was $2340.
Another is a crown grant at the Book C5, Folio 41 to Mae Mary Lucille Sharon Morton-Curry, the mother-in-law of the Director of Lands and Surveys, was signed by Hubert Ingraham. The land was sold in its unimproved state on 8 June 2006 for $550,000 Volume 9889, pages 594 to 599 to Little Exuma Bay Ltd. The original price was $1550.
Another was Crown grant for $1270 at Book C5 Folio 30 to George Granville Morton, the uncle by marriage of the Director of Lands and Surveys on 6 June 2001 signed by Hubert Ingraham, which was sold on 8 June 2006 to Little Exuma Bay Limited for $550,000 at volume 9889 pages 600 to 604.
If the idea was to give Crown Grants to Bahamians to help develop the Family Islands, or to persons who had ties to the islands, these conveyances given do not fit that category. Mr. Ingraham's policy is an obvious failure. It appears that land is simply being given on the cheap to individuals who are using it to get profits for themselves. The political antecedents and attachments of these people should be checked to see whether or not Mr. Ingraham's FNM administration is giving away crown land with a wink and a nod, knowing that at the end of the day, the Bahamians have no intention of developing the land but selling it and pocketing the profits, perhaps using the profits to support the FNM politically.
Tribune stories:
The first article was headlined: Bahamians voice concern over sale of crown land published on April 20, 2009.
The second, Claims of Nepotism in the granting of crown land denied was published two days later on April 22, 2009. (This article quoted the Director Tex Turnquest)
The third, which was written by Alison Lowe quotes Perry Christie stating that the claims are deserving of inquiry. This was published on April 23, 2009.
Another story on April 28, 2009 on claims that a former PS got substantial crown land holdings in Eleuthera.
29th April another story on Ezra Russell of Cat Island who has been waiting for 12 years for final approval to purchase 34 acres of crown land there. That story was published on April 29, 2009.
The Tribune ran another story on the PM being tight lipped on the granting of crown land allegations on May 1, 2009.
Tex Turnquest's resignation was reported on May 13, 2009.
Tribune story headlined 'call for meaningful freedom of information act in light of crown land row' which ran on May 14, 2009.
This was followed by another story on May 14, 2009 where the PLP chairman Glenys Hanna-Martin called for a transparent land policy.
Another story claiming that two other senior officers were under investigation on May 19, 2009.
This was followed by another story the day after where some details were revealed on May 20, 2009.
The next day these officials were named (Under secretary Audley Greaves, and chief housing officer Christopher Russell) in yet another story on May 21, 2009.
A few days later The Tribune ran another story on how Bryan Woodside had now become a permanent fixture at the Department on May 26, 2009.
Another story claiming that two secretaries and another senior officer received some land on June 3, 2009.
MINISTER Byran Woodside is now a constant presence in the Department of Lands and Surveys following alleged irregularities in the distribution of Crown land.
Former director of Lands and Surveys Tex Turnquest resigned after The Tribune published claims that members of his family received Crown land grants. However, Undersecretary of Lands and Surveys Audley Greaves remains at his post despite allegations that his wife and son were sold lots in Abaco in 2003 and 2004 respectively.
Mr. Greaves' son is said to have bought a 15,625 square foot lot on Wood Cay for $1,786.25 while his wife is said to have bought an 18,343 square foot lot in a subdivision south of Treasure Cay for $2,201.16.
It is unclear at this point how government intends to move forward with the investigation, but it has been confirmed that Mr. Woodside, Minister of State for Lands and Local Government, is seen to be taking a "hands on" approach.
This, observers claim, is a signal that government is taking the matter seriously and is intent on addressing the complaints of nepotism that plague this ministry.
Mr. Woodside's presence, it was claimed, has boosted staff moral at the department as employees feel confident that government is finally taking the matter seriously.
Since The Tribune's first article on the allegations, it has come to light that several files at the department have "gone missing."
Attempts to reach Mr. Woodside for comment on the matter were not successful up to press time last night.
By PAUL G TURNQUEST Tribune Staff Reporter pturnquest@tribunemedia.net
CLAIMS of nepotism continue to plague the Department of Lands and Surveys when it was alleged yesterday that the wives of two senior officers in that department, and other close relatives had been granted Crown land on Abaco.
In The Tribune's efforts to obtain documentation to substantiate these claims, it was revealed that certain files at the department were no longer accessible by staff at this ministry.
However, where there appeared to be an attempt to conceal this information, it was forgotten that once the grants had been approved they were recorded at the Register General's office.
It was here that it was discovered that the wife and son of one of the senior officials had received an 18,343 square foot and a 15,635 square foot lot respectively. The first parcel, granted in a subdivision south of Treasure Cay, Abaco was sold for $2,201.16 while the second lot, on Wood Cay, Abaco, was sold for $1,786.25. Both sales were recorded on June 8, 2003 and May 3, 2004.
Relatives of a second official, including his wife, and the sister-in-law of a current Cabinet Minister, were listed as having acquired four acres of property in the settlement of Blackwood Village in Abaco.
Each acre was sold for $4,356. They were recorded on February 1, 2002, March 21 and 27, and May 12th.
Unlike the case involving relatives of former director of Lands Tex Turnquest, where the properties were flipped a few years later for hundreds of thousands of dollars in profits, these lots have not been resold.
However, the investigations into these and other Crown land transactions continue.
Despite leaving many messages and even waiting on the telephone for more than 15 minutes for one of the officials who was reportedly "on another call", no return calls were ever received up to press time last night from either the Department of Lands and Surveys or the Ministry of Lands and Local Government.
Currently government is contemplating approving a Select Committee to review all Crown land grants issued by government since the early 1990's.
This committee, which was called for in Parliament will review all Crown grants issued to individuals or entities since 1992 up until the present date along with all outstanding applications that have yet to receive final approval.
The committee will also ascertain a list of all public servants and retired public servants who have received grants, along with government's official position on its policy in relation to the disposition of publicly held lands generally; as well as the government's policy in relation to granting lands to employees of the government or their relatives.
AS the probe into corruption allegations continues at the Department of Lands and Surveys, sources close to government reveal that their investigations have now focused on two senior officers in the department who have held key positions in determining the granting and leasing of Crown land over the past few years.
Last week, the former director of Lands Tex Turnquest resigned from his post after The Tribune published allegations that members of his family, including his mother-in-law, were granted Crown land lots on the island of Exuma.
These beachfront lots, which were sold at less than $2,500 each, were flipped a few years later for more than $550,000 apiece. Mr. Turnquest denied any connection to any of the transactions.
Before Mr. Turnquest could resign, government officials had changed the locks to his office and secured boxes of documents.
These documents, it is understood could be beneficial to the Attorney General's office.
While government has been criticized over the scandal brewing in this department, sources close to the investigation claim they will also use this time to implement "significant changes" to the law to ensure that such abuses of Crown land cannot be repeated.
Mr. Turnquest's removal from the department comes at a time when the Opposition has already introduced a motion in the House of Assembly, led by Fox Hill MP Fred Mitchell, calling for a Select Committee to review all Crown land grants issued by government since the early 1990's.
This committee will review all Crown grants issued to individuals or entities since 1992 up until the present date with all outstanding applications that have yet to receive final approval.
The committee will also ascertain a list of all public servants and retired public servants who have received grants, along with government's official position on its policy in relation to the disposition of publicly held lands generally; as well as government's policy in relation to granting lands to employees of government or their relatives.
Since the revelations of these transactions and claims that other civil servants had secured substantial grants of Crown land, several irate individuals have come forward outlining many years of abuse they claim they endured from this department. Among them was PLP general Ezra Russell, who complained of having to wait more than 12 years to get final approval to purchase some 34 acres of Crown land in Fountain Bay, Cat Island.
By PAUL G TURNQUEST Tribune Staff Reporter pturnquest@tribunemedia.net
LANDS and Surveys Director Tex Turnquest yesterday denied claims of nepotism in the granting of Crown land in Exuma.
Speaking with The Tribune yesterday, Mr. Turnquest denied his involvement in the selection and sale of five beachfront lots on the island of Exuma, which were sold by government to members of his own family who in turn "flipped" the properties, netting profits in the hundreds of thousands of dollars.
Placing the responsibility squarely at the feet of Prime Minister Hubert Ingraham and former Prime Minister Perry Christie, Mr. Turnquest said that the minister with responsibility for lands (i.e. the Prime Minister) is the person who ultimately signs off on Crown land grants.
Located just outside the settlement of Forbes Hill, Exuma these Crown land lots border each other and range in size from over 34,000 square feet to just over 17,750 square feet.
These lots were purchased at $1,550 on January 27, 2003, $2,340 on August 1, 2001, $1,270 on June 6, 2001, $1,370 on March 18, 2002 and $2,105 on June 6, 2001.
The first four of these lots have since been sold. Their resale was recorded at $550,000 on June 8, 2006; $500,000 on July 5, 2005; $550,000 on June 8, 2006 and $425,000 on February 26, 2007.
Sources close to the transactions suggested that the decision to space out the sale of these properties was to ensure that Prime Minister Ingraham, who signed the first four transactions, did not become aware of the family link between the vendors and the Director of Lands. This tactic, sources allege, was the main reason for the delay in the final sale in 2003 after government had changed so that former Prime Minister Christie would not be suspicious of this latest sale.
"I am a Bahamian. I have relatives. I have friends," Mr. Turnquest said in answer to the speculation.
"Are you suggesting that as long as I am Director of Lands and Surveys my friends and my relatives are unable to get Crown land like any other Bahamian? I travel from Inagua to Grand Bahama. I covered the whole spectrum, and I have family throughout and I have friends throughout.
"If I was making the ultimate decision I can see where I would have to recuse myself. But the decision is not made by me ultimately. It rests with someone else. So why then should my friends and family be prevented from being considered by somebody else for Crown land?
"But I certainly know not of any scheme that this office was engaged in at any time by myself or anybody that was intentionally trying to influence the decision makers in a way that would cause them embarrassment or the office embarrassment or a problem for any of them," he said.
When asked if he felt it was merely a "coincidence" that the properties near Forbes Hill were all sold to members of his family, Mr. Turnquest hesitated before suggesting that he could have been stationed at the Prime Minister's office from 2005 and therefore these transactions could have occurred after that date when he was not in the Lands and Surveys department.
However, the latest government grant was signed by former Prime Minister Christie on January 27, 2003.
Pointing out this discrepancy and many others, the former Agriculture and Lands Minister George Smith said it was "inconceivable" for the Director of Lands to suggest that he was not involved in the sale of these properties.
During Prime Minister Ingraham's first administration in 1992, Mr. Turnquest was appointed Director of Lands and Surveys. When former Prime Minister Christie took over the government in 2005, Mr. Turnquest was transferred to the Prime Minister's Office. However, on Mr. Ingraham's return to government, Mr. Turnquest was returned to head Lands and Surveys.
Mr. Smith, who had responsibility for this ministry from 1977 to 1984, said that Mr. Turnquest, as head of the department, receives the applications, processes them, attaches a fee to the property, and ultimately advises the Prime Minister as to whether or not to agree to the sale of the land.
With an intimate knowledge of Exuma as its former Member of Parliament, Mr. Smith said he has first hand knowledge of the value of lands in Exuma. He noted that inland properties were valued far higher than the price set for the sale by government of these particular beachfront lots. This was contrary to normal practice where prime beachfront property is always more expensive than inland property.
"In these particular cases the director has the obligation to point out to the Minister his relation to the applicants. He has an obligation to point that out and caution the Prime Minister as to the potential repercussions for conflict of interest," Mr. Smith said, alleging that in his opinion it was "a bold case" of the Prime Minister being misled into making a decision without having been warned of the possible implications and "the recommendation for such a low price" when a "much higher fee" could have been recommended.
Mr. Smith added that while the Prime Minister does hold ultimate responsibility over the decision to sell these properties, in the discharge of his duties, the PM must rely on proper advice from his officials. In this case, it was Mr. Smith's opinion that this did not happen.
LANDS AND SURVEYS
MR. SPEAKER
THE BAHAMAS IS COMPRISED OF 3,450,000 ACRES OF LAND. APPROXIMATELY 73% OF THE TOTAL OR 2,518,000 ACRES IS CROWN LAND. THE DEPARTMENT OF LANDS AND SURVEYS IS PRINCIPALLY RESPONSIBLE FOR ALL CROWN LAND (THAT IS LAND HELD IN TRUST BY HER MAJESTY QUEEN ELIZABETH 11 ON BEHALF OF THE BAHAMIAN PEOPLE).
THE PRIMARY OBJECTIVE OF THE DEPARTMENT OF LANDS AND SURVEYS IS TO ENCOURAGE, THROUGH JUDICIOUS MANAGEMENT, EQUILIBRIUM BETWEEN GOVERNMENT'S INTENTIONS AND THE PRESERVATION AND PROTECTION OF BAHAMIANS RIGHTS TO CROWN LAND BY ORDERLY DISTRIBUTION OF CROWN LAND IN THE TWENTY FOUR (24) MAIN ISLANDS AND CAYS OF THE BAHAMIAN ARCHIPELAGO.
MR. SPEAKER
DURING THE PAST FEW WEEKS THE DEPARTMENT OF LANDS & SURVEYS HAS COME UNDER MUCH PUBLIC SCRUTINY. WHILE NO SYSTEM IS PERFECT AND PERSONS MAY FEEL AGGRIEVED BY DECISIONS MADE WITHIN VARIOUS AREAS OF THE PUBLIC SERVICE, I MUST TAKE THIS OPPORTUNITY TO ADVISE THAT ALL BAHAMIANS HAVE THE RIGHT TO APPLY FOR CROWN LAND, INCLUDING PUBLIC OFFICERS AND THEIR FAMILIES. HOWEVER, THERE ARE GUIDELINES THAT ARE TO BE FOLLOWED IN THE REVIEW OF APPLICATIONS MADE BY PUBLIC OFFICERS, ESPECIALLY THOSE WHO ARE RETIRING OR HAVE RETIRED.
MR. SPEAKER
IN ADDITION, FAMILY MEMBERS OF PUBLIC OFFICERS EMPLOYED AT THE DEPARTMENT OF LANDS & SURVEYS, WHO WISH TO SECURE LAND FOR RESIDENTIAL AND COMMERCIAL USE MAY ALSO APPLY. THERE IS NO SKULDUGGERY; HOWEVER, THE PUBLIC'S PERCEPTION HAS BEEN THAT THESE PEOPLE MAY HAVE BEEN GIVEN PREFERENTIAL TREATMENT.
MR. SPEAKER
THIS ENTIRE ISSUE IS CURRENTLY UNDER REVIEW AND PRELIMINARY REPORTS DO NOT INDICATE THAT ANYTHING UNTOWARD OCCURRED RELATIVE TO THE APPLICATION PROCESS. HOWEVER, THERE HAVE BEEN A NUMBER OF CHANGES TO THE DEPARTMENT OF LANDS AND SURVEY DURING THE PAST FOUR (4) MONTHS:
· MR. RICHARD HARDY HAS BEEN NAMED AS THE ACTING DIRECTOR OF LANDS AND SURVEYS;
· MR. BRIAN BYNOE HAS BEEN RECENTLY EMPLOYED AS ACTING SURVEYOR GENERAL;
· FIVE (5) CERTIFIED SURVEYORS HAVE BEEN IDENTIFIED FOR EMPLOYMENT TO AUGMENT THE LAND MANAGEMENT UNIT.
· PLANS TO MAKE THE DEPARTMENT MORE CUSTOMER SERVICE FRIENDLY ARE UNDER REVIEW;
· RESTRICTIONS ARE BEING PLACED ON THE UNFETTERED ACCESS OF PRIVATE PERSONS TO CERTAIN AREAS WITHIN THE DEPARTMENT;
· GREATER ATTENTION TO HUMAN RESOURCE AND ADMINISTRATIVE NEEDS;
· ASSESSMENT OF PLANT & EQUIPMENT REQUIREMENTS; AND
· STEPS TO RESTORE THE PUBLIC'S CONFIDENCE AND TRUST IN THE SKILLS AND CAPABILITIES OF THE DEPARTMENT'S STAFF.
MR. SPEAKER
$192,000 HAS BEEN ALLOCATED TO FACILITATE THE EMPLOYMENT OF THESE SURVEYORS; HOWEVER, THE PERSONNEL EMOLUMENTS OF THE DEPARTMENT OF LANDS & SURVEYS, THROUGH CLOSE SCRUTINY, HAS BEEN REDUCED BY $163,093 FROM ITS ALLOCATION IN 2008/2009.
THE EMPLOYMENT OF SURVEYORS IS CRUCIAL TO ENSURE THAT ALL LAND IS PROPERLY DEMARCATED, IDENTIFIED AND EVALUATED AS A PART OF OUR NATIONAL LAND USE REGISTRY.
LAND USE POLICY AND ADMINISTRATION PROJECT (LUPAP)
THIS PROJECT WAS STARTED IN JUNE, 2005 TO ADDRESS A NUMBER OF PROBLEMS RELATED TO LAND ADMINISTRATION IN THE BAHAMAS, NAMELY,
· THE MAJORITY OF LAND INFORMATION USED BY THE GOVERNMENT IS OUTDATED OR INCOMPLETE;
· INFORMATION IS SCATTERED AMONG VARIOUS GOVERNMENT AGENCIES;
· MUCH OF THE INFORMATION IS IN PAPER FORM, WHICH LIMITS ITS ACCESSIBILITY AND USE;
· UNCOORDINATED EFFORT CAUSES INCONSISTENCY AND INACCURACY, DUPLICATION OF EFFORTS AND HIGHER COSTS; AND
· LACK OF DATA STANDARDS, RULES FOR INTER-AGENCY DATA SHARING AND CLEAR RESPONSIBILITIES FOR DATA UPKEEP AND MAINTENANCE.
MR SPEAKER
THE EXPECTED OUTCOMES OF LUPAP ARE VARIED AND WOULD POSITION THE BAHAMAS TO BE FULLY EQUIPPED TO MANAGE ITS LAND RESOURCES:
· CROWN LAND POLICY;
· NATIONAL LAND POLICY;
· LAND REGISTRATION SYSTEM (FREEPORT IS THE PILOT);
· EXPANSION OF COMPUTERISED PARCEL INFORMATION MANAGEMENT SYSTEM (PIMS) TO OTHER FAMILY ISLANDS;
· LARGE SCALE MAPPING OF ALL ISLANDS;
· WEB-BASED ACCESS TO LAND RECORDS;
· MODERNISATION OF GEODETIC INFRASTRUCTURE;
· EXPANSION OF GEO-PROFILES TO OTHER ISLANDS;
· SHIFT THE FOCUS OF LANDS & SURVEY TO THAT OF REGULATORY AND QUALITY CONTROL; AND
· RATIONALISATION OF LAND INSTITUTIONS (NATIONAL LAND AGENCY).
MR SPEAKER
THE PROJECT COMES TO COMPLETION THIS MONTH. HOWEVER, WE HAVE RECOMMENDED AN EXTENSION OF THREE (3) MONTHS.
TO ENSURE THE VIABILITY OF LUPAP AND ITS EXPECTED OUTCOMES THE FUNDING FOR CAPITAL PROJECTS WITHIN THE DEPARTMENT OF LANDS & SURVEYS HAS BEEN RETAINED AT THE 2008/2009 LEVEL. THE DEPARTMENT'S CAPITAL ALLOCATION IS HELD WITHIN THE HEAD 18 OF THE DEPARTMENT OF LANDS AND LOCAL GOVERNMENT.
| | | |
| --- | --- | --- |
| BLOCK NO. | DESCRIPTION | AMOUNT |
| 60 | SUPPLIES AND MATERIALS | 500,000.00 |
| 70 | ACQUISITION, CONSTRUCTION & IMPROVEMENT OF CAPITAL ASSETS | 100,000.00 |
THE DEPARTMENT WILL SPEND $500,000.00 TO CONTINUE THE ON-GOING NATIONAL MAPPING PROJECT. $100,000.00 HAS BEEN ALLOCATED TO CONTINUE BUILDING IMPROVEMENTS TO ENSURE STAFF SAFETY AND COMFORT.
MR SPEAKER
IN SUMMARY, DEPARTMENT OF LANDS AND SURVEYS UNDER HEAD 20 HAS BEEN GIVEN THE FOLLOWING ALLOCATIONS:
RECURRENT EXPENDITURE:
2008/2009 2009/2010 VARIANCE
$2,881,097 $2,829,982 <$51,115>
MOVING FORWARD WE MUST SEEK TO ASSURE THE BAHAMIAN PEOPLE GET WHAT WAS PROMISED TO THEM IN OUR MANIFESTO '07.
THAT WE MAKE CROWN LANDS AVAILABLE TO BAHAMIANS AT CONCESSIONARY RATES FOR HOME CONSTRUCTION AND BUSINESS ENDEAVOURS PARTICULARLY IN THE FAMILY ISLANDS.
PURSUE POLICIES THAT ENSURE THAT BAHAMIANS ARE NOT CLOSED OUT OF ACCESS TO PRIME LAND FOR RESIDENTIAL AND BUSINESS PURPOSES. ENCOURAGE AND SUPPORT EFFORTS BY BAHAMIANS TO RETAIN OR ACQUIRE PRIME RESIDENTIAL AND COMMERCIAL PROPERTIES.
REDUCE AND WHERE POSSIBLE BRING TO AN END, THE UNAUTHORISED OCCUPATION AND DEVELOPMENT OF CROWN LANDS.
PROVIDE FOR THE ADEQUATE STAFFING AND FUNDING OF THE DEPARTMENT OF LANDS AND SURVEY.
MR SPEAKER
I WISH TO ADVISE THE STAFF OF THE DEPARTMENT OF LANDS & SURVEYS AND TO INFORM THE BAHAMIAN PEOPLE THAT DESPITE THE ALLEGATIONS OF CORRUPTIONS, WE WILL MAKE THE PAINFUL DECISIONS TO DEAL WITH CLEANING UP THIS INSTITUTION. WE WILL TAKE NECESSARY MEASURES TO MAKE THE DEPARTMENT CREDIBLE AND ONE THAT THE PUBLIC CAN TRUST.
It is important some specific issues with regard to this be addressed for those in the first category who have been waiting for years without an answer on their crown land applications.
If there is no skullduggery as the minister says, why did the Director of Lands and Surveys resign proximate to the appearance of the articles in the press and following his accusation that it was not him but the Prime Minister who dunnit.
If there was no skullduggery at the Department then why the Minister's statement:
I WISH TO ADVISE THE STAFF OF THE DEPARTMENT OF LANDS & SURVEYS AND TO INFORM THE BAHAMIAN PEOPLE THAT DESPITE THE ALLEGATIONS OF CORRUPTIONS, WE WILL MAKE THE PAINFUL DECISIONS TO DEAL WITH CLEANING UP THIS INSTITUTION. WE WILL TAKE NECESSARY MEASURES TO MAKE THE DEPARTMENT CREDIBLE AND ONE THAT THE PUBLIC CAN TRUST.
The Director of Lands and Surveys after an apparently stellar career simply walks away within days of allegations of nepotism and corruption at the Department, following a controversial interview in the press and there is no explanation from the government. There is no skullduggery but the minister says the credibility of the Department must be restored.
The Committee ought to investigate these allegations and seek to determine what the accurate story is on the matter.
I happen to disagree with the proposition that public servants at the Department of Lands and Surveys are allowed to get crown land. It seems to me that this ought to be absolutely off limits.
The Minister knows that the standard in law is that there must be no appearance of bias. And this meets that test. If someone's mother in law gets a parcel of land, someone who is involved in the decision making process, and it is not enough to say I did not sign the conveyance because all of the preparatory work is done by the Department of Lands and Surveys, so you are the principal advisor to the Minister. And so how doe sit look to the public for you to be saying to the Minister sign this for my mother in law or sign this for my son or my nephew or my brother. That cannot be right. Those relative always have an unfair advantage on others. So there ought to be an absolute ban on it.
I think that there ought to be legislation governing this area, with an application process that is gazetted in known regulations, with established objective criteria, and system that places time limits on the response that the government must give an answer, and the right of the citizen to know why the application has been refused.
What must be eliminated is the view of the public that in the case of the distribution of Crown Land in The Bahamas: kisses go by favour.
There should be a proper inventory of crown land in The Bahamas.
There are several reports that I wish to table which seek to address this problem.
They are:
Country Experience In Land Issue Bahamas
By Peter Rabley and
Text Turnquest
Dated 24th April 2003
The final drafts of the Land Issue Report from the Land Use Policy and Administration Project called LUPAP which was commissioned in 2005. These reports are dated 21st February 2007.
They are titled:
Improving Land Tenure Security in The Bahamas
By J. David Stanfield Ph D
Assessment of Cadastral Surveying and Information Management in The Bahamas
By Grenville Barnes Ph D
Rationalizing Land Institutions: Institutional Arrangements/National Land Agency
By Patricia Mendoza
Real Estate Tax Policy and Administrative Options
By Richard Almy
The Minister has said that the LUPAP project is extended for another three months but it seems to me that the urgency of reform in this area is apparent. There is more than the potential for abuse there has been actual abuse of the trust of the Bahamian people in the distribution of crown land and this must be stopped and rectified.
Of note in these papers is the need to separate land management from land administration. The two functions are both in the Department of Lands and Surveys and that maybe part of the problem.
The suggestion is that there needs to be a National Land Agency which holds all Crown Land, and manages the resource.
The question of the administration and distribution of crown land should vest in another agency.
There has been considerable work done in this area.
First the commitment in 1998 to a Bahamas National Geographic Information Survey. This was designed to map The Bahamas in its entirety. The BNGIS is now a division of the government which reports to the Office of the Prime Minister. It ahs the software and the spatial data but I am told that the data is inaccurate in many cases and that sufficient attention is not being paid to the importance of this unit. It is clear from the reports that the collection of spatial data is key to proper land management and administration. And would also seek some assurance from the Minister that in fact the data collected is owned by the government of The Bahamas and not the private contractors and that this data will be accessible to the public if it is not already.
Land is power. Land is capital. We develop our country on the land that we have. For too long the ordinary Bahamian has the view that crown land and its distribution is a matter of favour granted by governments to their friend and family and to those who work at the Crown Lands office. That must change to a process that is open fair rational and transparent.
The regime that I contemplate is one that has established criterion that all can access but infused with the philosophical underpinning that the land and its distribution will be used to empower Bahamians and to increase their individual wealth and our national wealth. There is the perception that it is easier for a foreigner to get crown land that it is for a Bahamian. That must change.
The youngster in Andros can see tens of thousands of crown acres being alienated all around him but he or she cannot get one acre.
We must find a way to fix it.
I know that the lessaiz faire capitalists will say that in the case of the land in Forbes Hill, Exuma that this is capitalism at its best. You spot a good deal and you take advantage of it. For these people I would recommend to them the latest encyclical by Pope Benedict XVI of 9th June 2009 called CARITAS IN VERITATE:ON INTEGRAL HUMAN DEVELOPMENT IN CHARITY AND TRUTH
36. Economic activity cannot solve all social problems through the simple application of commercial logic. This needs to be directed towards the pursuit of the common good, for which the political community in particular must also take responsibility. Therefore, it must be borne in mind that grave imbalances are produced when economic action, conceived merely as an engine for wealth creation, is detached from political action, conceived as a means for pursuing justice through redistribution.
The Church has always held that economic action is not to be regarded as something opposed to society. In and of itself, the market is not, and must not become, the place where the strong subdue the weak. Society does not have to protect itself from the market, as if the development of the latter were ipso facto to entail the death of authentically human relations. Admittedly, the market can be a negative force, not because it is so by nature, but because a certain ideology can make it so. It must be remembered that the market does not exist in the pure state. It is shaped by the cultural configurations which define it and give it direction. Economy and finance, as instruments, can be used badly when those at the helm are motivated by purely selfish ends. Instruments that are good in themselves can thereby be transformed into harmful ones. But it is man's darkened reason that produces these consequences, not the instrument per se. Therefore it is not the instrument that must be called to account, but individuals, their moral conscience and their personal and social responsibility.
I so move Mr. Speaker.