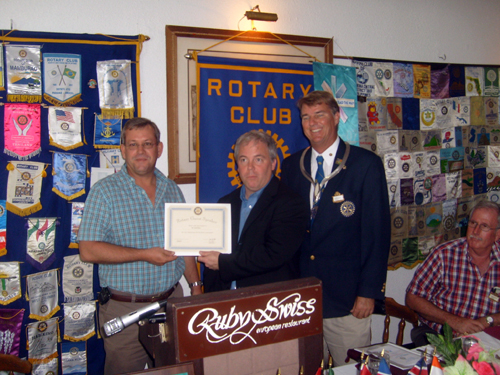 Chris Lowe of Freeport Rotary presents Dr. Todd Palmer of St. Bonaventure University with a letter of appreciation after he spoke on Educational Tourism at their luncheon on January 10th at the Ruby Swiss Restaurant. Standing to the right of Dr. Palmer is Mike Stafford, President of Freeport Rotary. (Photo: Richard Bates)


At the beginning of January 2008, forty student teachers from St. Bonaventure University in New York paid their own way to Grand Bahama Island to engage in approximately ten days of community service. During their final days on the island the program organizer, Dr. Todd Palmer, a professor from St. Bonaventure was the guest speaker at the Freeport Rotary Luncheon at Ruby Swiss Restaurant on January 10th.

What he presented to those in attendance was quite remarkable. What if The Bahamas could become a mecca for international student teachers? His PowerPoint presentation was well thought out, and believable, making it look very possible indeed. He explained why student teachers, in particular those from the U.S.A., would likely choose The Bahamas first. Palmer explained that in review of the globe, The Bahamas provides the following: appeal (sun, sea, sand); language is not a barrier; proximity; cost of travel is suitable for North American teachers; and pedagogy (teaching styles) is similar to that of North America.

Dr. Palmer and his Student Program is no stranger to The Bahamas and they have been coming to Grand Bahama Island for four years now. Their "service trips", like the one they were presently on, was compared to a "D-Day" invasion, as Palmer put it. They make as much impact in the community as possible each day that they are here. Every evening they gather for "Reflection" whereupon they review their accomplishments and their objectives for the next day. The objective with each returning trip to the Island of Grand Bahama, is to bring long term impact to the community and create relationships.

St. Bonaventure student teachers and faculty members stand with Karon Pinder-Johnson (far left), Executive Director of the YMCA, in front of the painting they created with their university name, to remain up at the YMCA. The student teachers participated in a week of community service on the island, doing much painting of the YMCA on January 5th. Some of this group also designed and built computer stations for seven computers in the Y's new computer room. Standing with the group in the center (left in green shirt) is Mrs. Maria Martella who is responsible for a donation of $25,000 of tools to the purpose of such University's service trips. Maria is accompanied by Norma Martella and Solange Arcand. Norma Martella, Maria's mother in law, is also a donor to community projects on the island. (Photo: Robbin Whachell)


The St. Bonaventure University is one of 800 college/university campuses across the United States which participates in a global program called "Students in Free Enterprise ", a non-profit global organization active in more than 40 countries. S.I.F.E. is funded by financial contributions from corporations, entrepreneurs, foundations, government agencies and individuals. Working in partnership with business and higher education, SIFE establishes student teams on university campuses. These teams are led by faculty advisors and they are challenged to develop community outreach projects. Each campus competes at a national level within their country to determine which team was most successful at creating economic opportunity for others.

Palmer said his students learn leadership, teamwork, conflict resolution, work ethics, entrepreneurship, while gaining a global perspective by giving back to community. This year they brought 62 students, 5 faculty members, and 2 elementary school teachers. While on island they spent a day painting and making repairs at the YMCA, and helped put together a library for Holmes Rock. Some of the students built computer stations to complete the YMCA's new computer room, and they ran a week-long after school program at Hunters at the YMTA Centre. Four of their team have remained on island to assist at the St. Vincent de Paul School in Hunters for 7 weeks.

In 2007, through the student teaching program, 5 teachers assisted at St. Vincent de Paul and Mary Star of the Sea. In 2008 they will have 4 teachers between Mary Star, Bishop Michael Eldon, and St. Vincent de Paul. Adding to the success of the program, they have partnered with groups like the Freeport Rotary Club, and as a result a very successful after school program took place last year in Hunters, as well as a summer camp for the children of that settlement . This visit, Freeport Rotary was instrumental in assisting with the Holmes Rock library project and keep in close contact with the University.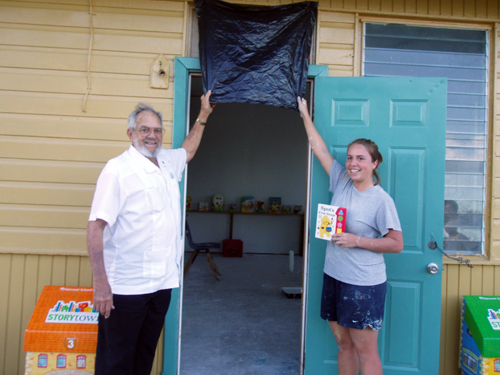 Another joint project. Freeport Rotary along with St. Bonaventure University help create a library for Holmes Rock. Sonny Waugh, Past Assistant Governor, stands with a volunteer student teacher at the entrance to the library on Thursday, January 10th. (Photo courtesy of Freeport Rotary Club)


Dr. Palmer is working closely with Fred Delancy, Lindy Russell and Kirk Russell on a Community Youth Program for Grand Bahama Island. He proposes after school programs, summer Rotary camps, and B.E.S.T. (Bahamas Entrepreneur Service Training), Y.E.S. Bahamas, Junkanoo USA (where Bahamian culture visits US schools) and the Goombay Network ( a website based on Bahamian facts and culture, with lesson plans and networking tools).

Educational Tourism addresses economic, educational and social needs. It is relationship driven and provides social networking. Teachers take their memories home with them and become ambassadors for The Bahamas. They also have friends and family visit them, which also increases tourism. They build long term friendship on their trips, which result in return visits.

The big goal is to bring 200 - 300 student teachers to The Bahamas by using The Bahamas 'appeal'. If this occurs, The Bahamas will be well on its way to becoming the Mecca for international student teachers, bringing educational tourism into the forefront as a viable tourism commodity.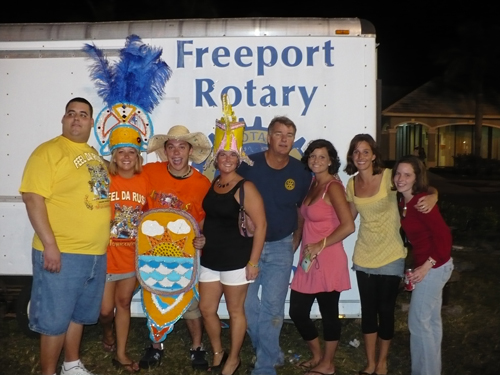 Dedicated to the very end! On their last night in town, with the majority of the St. Bonaventure group gone back to New York, the students commit to hours working the Rotary wagon at Junior Junkanoo on Grand Bahama Island on January 12th. Four of these students remain on island for 7 weeks to assist at Hunter's St. Vincent de Paul school. Those that had to return home were quite jealous of those remaining in The Bahamas, while they had to return to their studies and cold climate. Standing in the blue t-shirt with the student teachers is Mike Stafford, Freeport Rotary President.
Editor's Note: The Bahamas Weekly hopes to liaise with and follow the progress of this group and will bring as many updates and information as possible on the growth of this very impressive and much needed project.