Last Updated:

Feb 13, 2017 - 1:45:37 AM
---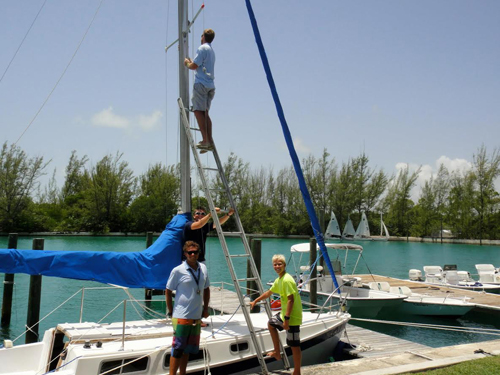 Grand Bahama Sailing Club (GBSC) is inviting teenagers to apply for a place on its free Junior Instructor Bootcamp (JIB). It will be held from 9am to 3:30pm, on 15th to 19th June and is aimed at 13 to 17 year old boys and girls.

JIB has a dual aim of giving children the opportunity to learn from Director, Toby Olssen, who has taught and inspired many of the older Senior Instructors and also for GBSC to recruit volunteers to help with preparations for the Summer Programme. The opportunities to learn will be plentiful.

Senior Instructor, Alex 'Mush' Sutherland, will codirect, having worked his way up from Junior to Senior Instructor level at GBSC. He describes the opportunity as, "An invaluable foundation course to help each kid, who can handle it, achieve the goal of becoming a Senior Instructor one day. This is something I would have loved the opportunity to do and all the tuition I received from Toby has served me well in many areas of life. This is a valid way to serve the community whilst earning service hours along with being a great stand out qualification to put on a college application or resume."

A typical day at JIB will be weather dependent and needs and skill based, however it may involve; painting, using tools, sailing, repairing boats, sweeping and mopping, cleaning toilets, taking orders, physical training, safety lectures and learning about radio handling, administration, public relations and how to flip the perfect burger.

Director, Olssen, said, "JIB will help give teenagers an edge. It will teach old fashioned grit, resilience, how to work hard and still smile. It will help build character and true confidence, respect and reasoning skills. Children must learn how to be responsible for themselves, others and show good sense and initiative. This is really only for kids who don't cry when they get a splinter or two!"

Successful children will be offered an opportunity to move on to the 2015, eight week Junior Instructor track for the rest of the summer. It is hoped that they stay with GBSC for years to come and, one day, progress to Senior Instructor status.

Each child must arrive before 9am and tardiness will result in dismissal from the camp. They must be dressed for a day of work in the sun and be prepared to get wet. They must bring sunscreen. GBSC will provide water and a hot lunch each day. JIB is not intended for the faint hearted or work shy child. There are a limited number of places. A certificate will be given to children who have proved they are capable of using the skills covered.

GBSC acknowledges that some schools are in session during this week however, it hopes that children who have finished for summer and those who have finished exams, may enjoy this opportunity. If a child is in school and therefore unable to attend, this may not necessarily preclude them being invited on to the Junior Instructor path.

The GBSC's main Summer Sailing Adventure Camp Programme starts June 22nd. During the Summer Camps, all the children will be cared for by dedicated, experienced and safety qualified instructors. The camp ratio of Instructors to children will be set at the US Elite standard level. The programme is split into four, two-week camps, and is scheduled as shown below.

Camp 1: June 22nd – July 3rd

Camp 2: July 6th – July 17th

Camp 3: July 20th – July 31st

Camp 4: August 3rd – August 14th

The volunteer administrator for the Summer Programme is Jackie Dack, who can be emailed on jackie@grandbahamasailingclub.org or on 727-SAIL (7245).








© Copyright 2015 by thebahamasweekly.com

Top of Page