Last Updated:

Feb 6, 2017 - 2:32:04 PM
---
Freeport, Bahamas - On May 1st the international recording a Capella group, Naturally 7 will be performing in Grand Bahama en route to their European tour. The performance will take place at the Bishop Michael Eldon Auditorium at 7pm.

The Grand Bahama Performing Artists Society is pleased to announce that on top of what will be an unforgettable concert experience, Naturally 7 will be giving of their time on Sunday, May 2nd offering a mentor workshop to local high school students.


What is a Naturally 7 workshop? The groups' tour manager explains, "A Naturally 7 workshop is a journey behind the scenes with the band. We allow you to join us on our side of the creative process, the arranging, writing, producing, singing and imitating of instruments. Not only will we give demonstrations, but the kids will learn what, why and how we think in creating our sound. During this time we'll take the band apart and put it back together again. It's going to be a lot of fun..."

In preparation for the workshop,
on April 14th
the Society called together local high school music teachers in Freeport to watch a recorded presentation of the group and to discuss the workshop, which will be offered to a limited number of high school students aged 12 to 18 years.


Although they call themselves 'a band' what makes Naturally 7 special, is that every instrument sound that they sing is created from the human voice. There are no actual drums, guitars, horns, flutes, or any other instrument that is heard when listening to them perform; it's the band members playing each of their vocal instruments.

"The Performing Arts Society is delighted to be ale to offer this unique opportunity to high school students. This workshop will be like no other musical experience they will ever have, a real chance of a life time, and we are so glad we can make that happen here on Grand Bahama," said Dalia Feldman, the Society's founder and president.


If you have a child who is interested in attending, they should contact their school's music teacher to find out how. Space is limited, so act fast!
Tickets are now available

for the May 1st Concert at all outlets:

The Seventeen Shop, Gizmos and Gadgets and Island Java.

The community is encouraged to buy tickets early. P

referred seating and parking tickets are offered at $45 each.

Only 200 preferred seats are available.

General Seating is $25 and students $18.
Discounted hotel rates

at Pelican Bay are available for out-of-town audience members. Call Pelican Bay at Lucaya and ask for the

'Naturally 7 Rate'.
The Society would like to thank their sponsors for this event, The Harnisch Family Philanthropies, Thayer's Natural Remedies, Pelican Bay at Lucaya, American Airlines, The Bahamas Weekly, H. Forbes Char

ters, Sawyer's Fresh Market, 99/1 Food Management, Thompson's Family Market, and Dolly Madison. More sponsors are needed, both financially and in kind, so any community help is welcome and greatly appreciated. The Grand Bahama Performing Society can be reached at

gbperform@gmail.com or find us on Facebook.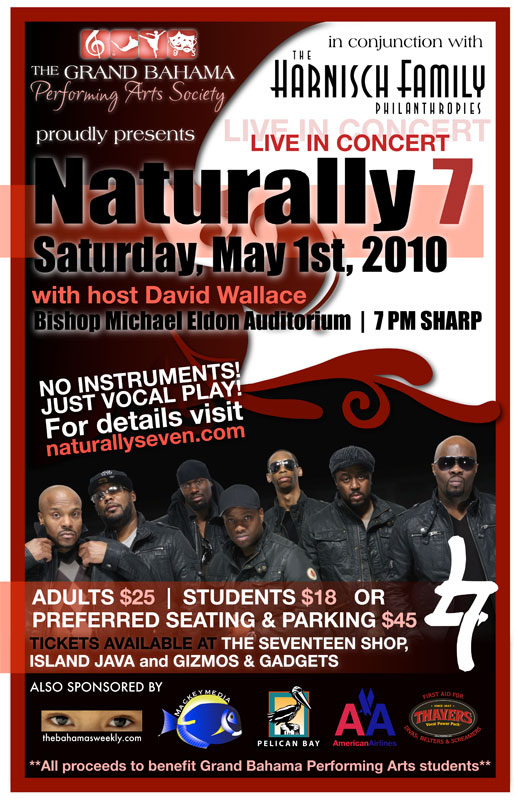 © Copyright 2010 by thebahamasweekly.com

Top of Page