Freeport, Grand Bahama Island – With its official launch last week Sunday at Churchill's, Grand Lucayan, The Kamalamee Organization pull out all stops to show their appreciation to their 10 Honourees. The evening began with the honourees arriving on by on into the Churchill's dining hall. During the dinner co-founder C. McMahon Campbell expressed his gratitude to all of the honourees on behalf of the Organization.
Once dinner was completed, part two of the evening was announced. None of the honourees had a clue what to expect, because prior to the evening 150+ handmade personalized invitations were sent to some of their closes friends and family members. One by one they entered to a room filled with cheering, well wishing people they knew that made the night a very memorable one. The sounds of songstress Shelly Carey and Mike Carey on keyboards added to the special ambiance.

One of the honourees stated, "Tonight feels like people now understand me, and my contribution is being valued."
As the evening came to an end the eight (8) honourees with the exception of Diana Wilson-Swann and Urban Gibbs gathered around to cut the signature Kamalamee cake prepared by Wylma Bain.
Next up on the Organization's agenda is the well anticipated Tribute Concert and Kamalamee after party, which is set to take place November 17, 2012 at the Regency Theatre, tickets are $50.00. The event is said to be one filled with surprises because tradition will have it, that every year the complete list of the honourees friends who will introduce them will be kept unpublicized until the show is in progress, adding to the element of surprise. The Organization can confirm that 45% of the guest speakers will be flown in and kept at a private location until the show begins and to top the evening off, all honourees and the audience will be entertained by music of the honourees likings, the music selection rages from: The IMC Choir, Apple Elliot Band, Rico Thompson, Grand Bahama Youth Choir, Kevin Tomlinson, LaShando Burnside and many more!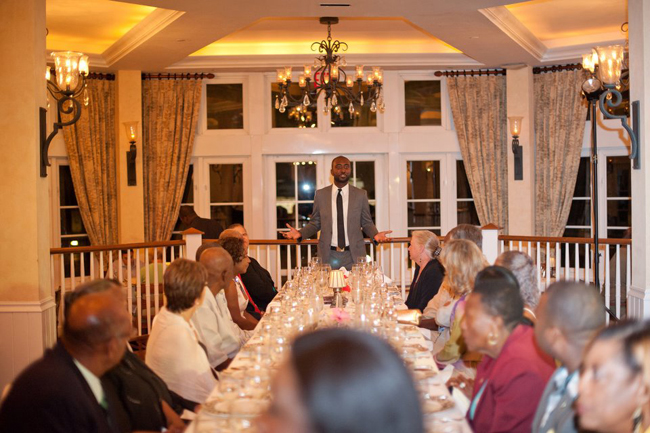 Dinner at Churchill's at the Grand Lucayan Photo © Lyndah Wells Photography


This year's Kamalamee Honourees are Errol Bodie for Athletics, Jacques Chenier for Business, Elizabeth "Tip" Burrows for Ecology, Urban Gibbs for Education, Beverly Chinn-Munnings for Design, Diana Wilson-Swann for Fine Arts, Dr. Romeo Fernandez for Healthcare, Norma Headley for Humanitarianism Maurice Moore for Political Science and Bishop Arnold Williams for Religion.

The Kamalamee Organization expresses their continued gratitude to the many individuals and companies involved in the success of the Honours program, such as.

Tickets are on sale at Freeport Jewellers and Seventeen Shop.

The Headline Sponsors: The Grand Bahama Port Authority and the Bahamas Telecommunications Company

Gold Sponsors: Bahamas Union of Teachers; Bahamian Brewery; Bellevue Business Depot; City Services; Control Chemicals; Eight Mile Rock High Alumni; Tynes & Tynes; Regency Theatre; Freeport Jewelers; International Sewing Centre; Lyndah Wells Photography; National Workers Credit Union; East G. B. Constituency; PharmaChem Technologies; ZNS News; Fritz Bridal; Sawyers Food Supply; Humane Society; FOCOL; Clarins Freeport; The Grand Lucayan; Gizmo & Gadgets; Jamaica Bahama Imports; Seventeen Shop; TheBahamasWeekly.com; Coca Cola; Deloitte; Ellison Delva; Kenney Basden; Grand Bahama Youth Choir; Wide World Forwarding; Rand Memorial Hospital Staff; Grand Bahama Community Builders Clubs; and Community Home Owners Group.





See the official photographs of our Honourees and events "LIKE" The Kamalamee Organization's Facebook page or visit their website www.kamalamee.com




© Photographs by Lyndah Wells Photography