Last Updated:

Feb 13, 2017 - 1:45:37 AM
---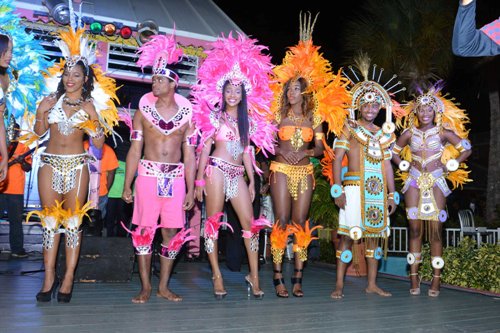 Freeport, Grand Bahama Island - The Right Honourable Prime Minister Perry G. Christie officially introduced Bahamas Junkanoo Carnival in Grand Bahama on Friday, November 28th during a launch party in the Count Basie Square at the Port Lucaya Marketplace where residents and visitors turned out for the spectacular event.

The night kicked off with the melodic, downhome Rake-N- Scrape sounds of Ophie and the Websites, Bahamian sensation Stileet, the Matrixx Band and Terrelle Tynes-Wilson, one of three Grand Bahama finalists in the Bahams Junkanoo Carnival Song Competition, who owned the stage while performing "Mash Up the Carnival" and "Roll Mama" for the first time with the Royal Bahamas Police Force Grand Bahama Band.

The stage was transformed into a Carnival runway party, Bahamas-style when the Grand Bahama Junkanoo Carnival Company unveiled its eight prototype costumes and two signature pieces under its 'The Grand Life' theme.

Prime Minister Christie revealed how impressed he was on seeing the production, performance of the models and array of costumes, noting that it was a sight to behold.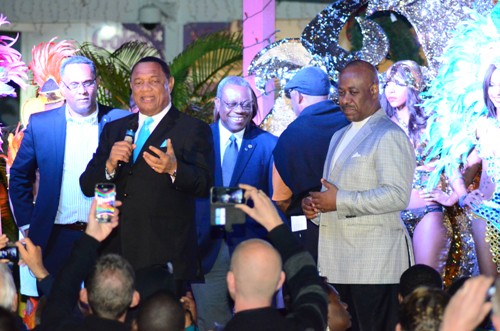 "What is happening this evening is simply an example of the kind of costumes that Grand Bahama is putting forward. Mr. Dames, Nassau has a real challenge and I'm going to carry the news back to Nassau that I've come down here and I saw that Freeport, Grand Bahama you are ready," he said.


Prime Minister Christie explained that the idea of a Bahamas Junkanoo Carnival is to merge the Carnival concept with Junkanoo and afford the men and women who have slaved away at Junkanoo over the years an opportunity to make and sell costumes, not just in The Bahamas, but worldwide.

"We want thousands of Americans and others to come in to play with us during our Junkanoo Carnival season," he said.

Minister of Tourism Obie Wilchcombe added that Bahamas Junkanoo Carnival will allow visitors to get a taste of The Bahamas, its culture and enjoy the hospitality of the Bahamian people.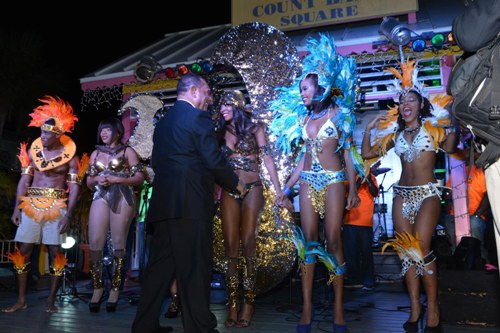 "We are going to have the greatest event and we want every Bahamian participate because our carnival allows everyone to get on board, to march to rush, to have fun," he said.

The climax of the night was the one-of-a kind Carnival rush-out by the local Junkanoo groups who put on an all-star performance for the crowd which captivated and lured spectators, including the prime minister, to join in on the fun.

Bahamas Junkanoo Carnival is a three-day event set for May 7-9, 2015 and is anticipated to help to rebrand the country as a viable entertainment destination. Grand Bahama will jumpstart the Bahamas Junkanoo Carnival festivities with "The Grand Life" experience during a two-day celebration on April 17 and 18.







© Copyright 2014 by thebahamasweekly.com

Top of Page