An Overview of The Bahamas Tourist Office Advertising Campaign Toronto, Canada


This week Minister of Tourism, The Hon. Obie Wilchcombe and members of his team joined the Bahamas Tourist office team in Toronto to launch a comprehensive media and advertising campaign for Canada. The Bahamas Tourism Office in Canada has provided the following comprehensive overview:

Campaign Objectives
1. Promote Sunwing Vacations' new program to GBI with non-stop service from six (6) gateways in Canada.
2. Create awareness and boost sales for Air Canada Vacations' non-stop service from Toronto to Exuma.
3. Create awareness and increase bookings for Air Canada Vacations' and WestJet Vacations' programs to Nassau/Paradise Island.
Elements of the media campaign include:
- The campaign will be launched in two (2) flights; November 11th – December

- The campaign commences with higher GRP's with gradual decreases through mid February, followed by negotiated 5 to 7 second scripted, live reads through mid July.
- We created four (4) thirty (:30) second spots inclusive of a :5 second call-to-action as follows: NAS - Air Canada Vacations & WestJet Vacations, GBI – Sunwing, GGT - Air Canada Vacations.
- Radio spots were written by MOT Communication staff, produced in Nassau by Neil Symonette at Reel Time Studios, using original Bahamian music and voice overs by Leslie Ellis-Tynes.
We purchased the top A25-54 radio stations with a skew to an upscale audience as outlined below.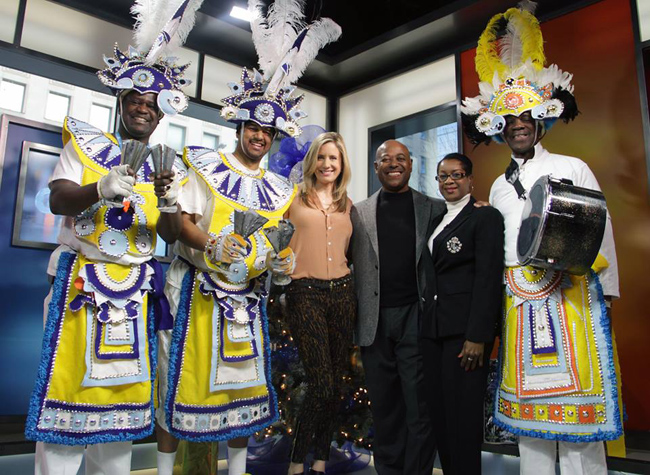 Junkanoo Legends, a Toronto-based group performed on Global Television's 'The Morning Show' where Minister Wilchcombe and Betty Bethel were guests. Photo shows Junkanoo gropu (Steven Johnson, Phillip Russell Jr. and Leslie Huyler) pose with The Morning Show host Liza Fromer, Minister Wilchcombe and GBI Director Betty Bethel
CHUM-FM 104.5 FM Bell Media Hot Adult Contemporary
CHFI-FM 98.1 FM Roger Comm. Soft Adult Contemporary
CKFM-FM 99.9 FM Astral Media Hot Adult Contemporary
CHBM-FM 97.3 FM Astral Media Classics Hits (70's/80's)
CFRB 1010 AM Astral Media News/Talk
CFMZ-FM 96.3 FM Zoomer Media Classical
CJRT-FM 91.1 FM CJRT - FM Jazz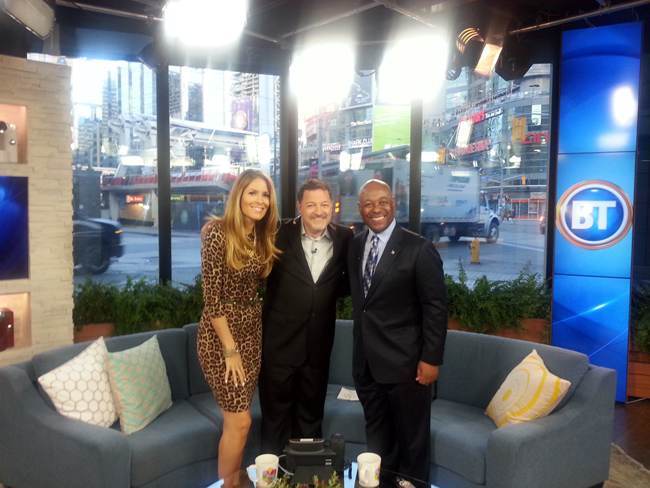 CityTV hosts Dina Pugliese and Kevin Frankish pose with Bahamas Tourism Minister Obie Wilchombe after live Breakfast Television broadcast


Media Launch Events:

A series of events were held in the Greater Toronto Area to launch this new media campaign, including:

Media Luncheon – Journalists from Toronto area travel-trade and consumer media, including newspapers, magazines and radio stations were invited to a presentation and Bahamian themed luncheon where Minister Wilchcombe laid out the strategies and anticipated results of the campaign. The event was held at The Panorama, a glass-enclosed event venue on the 51st floor of the Manulife Centre in downtown Toronto.

Minister of Tourism, Hon. Obie H. Wilchcombe commended Paul Strachan – Director at the BTO-Canada for taking up the challenge to lead his team in launching such a dynamic and first-rate advertising program. Noting that the Ministry of Tourism will no longer rely on outside advertising and public relations agencies to execute its campaigns, having terminated all such contracts within the past year.

Television Interviews – Minister Wilchcombe was interviewed on two of the most popular morning television programs in Canada, Breakfast Television on CityTV and The Morning Show on Global Television, where he was joined by Betty Bethel, Director- Grand Bahama. Prize trips to Grand Bahama Island were given away to viewers at each station and there was a Junkanoo performance by a contingent of Junkanoo Legends, a Toronto-based Junkanoo groupTTC Train Unveiling – Minister Wilchcombe, along with his delegation of Ministry of Tourism staff and Bahamian media accompanied staff of the BTO-Canada to visit the subway train and view the end result of the advertising images wrapping the outside and interior ads. The TTC took the train out of service for a period to allow the delegation unfettered access to the train.

Openjaw.com Interviews – Along with Tyrone Sawyer, Director for Airlift at the Ministry of Tourism and Betty Bethel, Director for Grand Bahama, Minister Wilchcombe was interviewed by hosts from Openjaw.com, Canada's online travel agent portal, where travel professionals get daily industry news and information.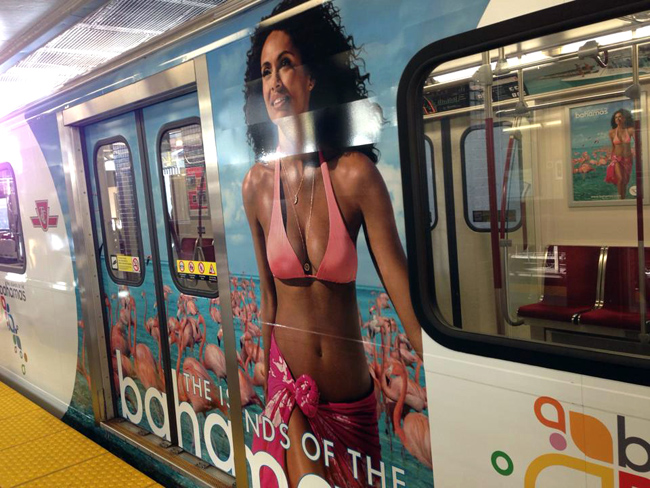 The Bahamas Train featuring Bahamian model, Shekara Ledard


Addendum:

All of the cr eative groundwork, planning, selection and processing for photos, videos; music, voice and recording for the radio ads were sourced and executed in-house by staff at the BTO – Canada, with assistance of other Ministry of Tourism global Communications, marketing and IT staff located in North America and within The Bahamas – all members of the Ministry of Tourism's newly mandated global team of experts with proficiencies in marketing, media, public relations and technology. Retail Trade Presentations - The Bahamas Tourist Office – Canada recently conducted information presentations in the new gateway cities hosting over 500 travel agents in total. The travel professionals were informed on the exciting new service to Grand Bahama Island with Sunwing Vacations and its new Memories Grand Bahama Resort, as well as updates on developments in Nassau and the Out Islands Of The Bahamas.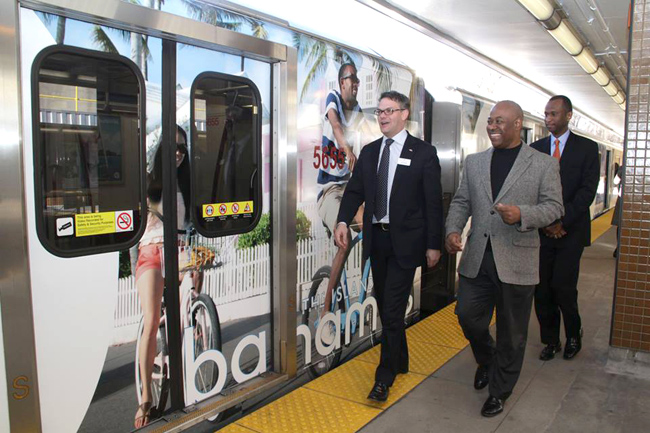 Minister Wilchcombe inspects The Bahamas Train with Toronto Transit Commission officials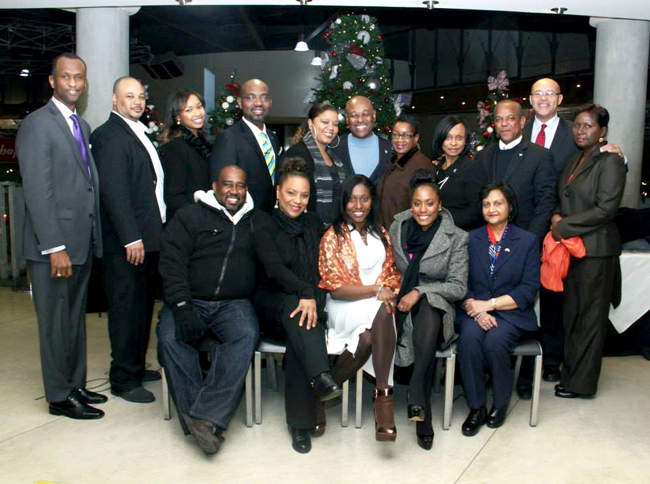 Bahamas Tourist Office - Canada Team with Bahamas film crew during Media Launch events in Toronto. Standing L-R: Paul Strachan, Stephen Wells, Brooke Sherman, Ambrose J. Morris, Sanique Culmer, Minister Obie Wilchcombe, Betty Bethel, Janet Cuffie, Marcian Cooper, Tyrone Sawyer and Vinincia Strachan. Seated L-R: Scott Wilson, Gina Sealy, Mikala Moss, Sherice Major and Mary Mattadeen
Remarks by the Bahamas Minister of Tourism, The Hon. Obie Wilchcombe at the Canadian Media Launch held at a special luncheon on November 28, 2013 in Toronto, Canada:
For a long time, many people thought of The Bahamas as being far away from Canada, and for many Canadians it probably was. But that's about to change. All that distance is about to come together as more and more people from across the wide reaches of the Canadian landscape are being made aware of how easy it is to get on an airplane and in a matter of a few hours they are enjoying the balmy breezes and warm sunshine of a tranquil Bahamian island.The Islands Of The Bahamas are sought after by people all over the world, primarily because our brilliant sunshine, clear, translucent aquamarine waters, surrounded by powdery white sandy beaches and some even have the distinction of having "pink sands"But there's so much more to experience in and around our 700 islands…
From soft adventures like kayaking through the mangroves at the Lucayan National Park on Grand Bahama Island; or sailing along the 365 island chain of the Exumas, where you can visit with pigs that swim. Swimming with the dolphins, walking among the ruins of pineapple plantations in Eleuthera, or stopping by a distillery not far from the hub of shopping and attractions in historical Nassau.
While the sheer beauty and engaging attractions are reasons enough to visit The Bahamas, the cuisine will leave you asking for more while at the same time asking for the recipe. Grouper, conch, peas n' rice and guava duff will not only fill your stomach, but will saturate your senses, especially when accompanied by one of our locally brewed beers or rum concoctions. One visit will bring to life for you what many a visitor already know that It's Better In The Bahamas.
In The Bahamas there is something for everyone, whether you choose to come in a group, as a family, a couple, or to travel alone. The Bahamian people are waiting to welcome you, to cater to you, to be of service to you, to be your friends.
All of this ladies and gentlemen, is now even closer to you our Canadian friends. The gateways are open. In fact beginning in January 2014 Sunwing Vacations' will offer weekly flights departing from six major Canadian cities direct to Grand Bahama Island, where all of the delights of a Bahamas vacation awaits.
Departing from the cities of Halifax, Montreal, Ottawa, Winnipeg, Edmonton and Toronto, where they already operate non-stop service to Sunwing has proven their commitment to The Bahamas with their current program to Nassau, and now this huge investment, which includes opening of the new all-inclusive 5-star Memories Grand Bahama Resort solidifies our partnership well into the future. These new flights and vacation program will have a great impact on the number of Canadian visitors arriving on our shores, and will certainly impact the Bahamas' tourism economy, and Grand Bahama Island in particular.
We at the Bahamas Ministry of Tourism are committed to support and assist Sunwing to ensure the long-lasting success of this venture. Our support has taken many forms such as hosting Grand Bahama launch events for Canadian travel industry professionals in the 6 gateway cities and our support will continue on numerous fronts.
Canadians have long had an affinity for Grand Bahama Island, as far back as the 1970's and '80's when it was not unusual for us to welcome over 200 thousand Canadians per year to West End and the Jack Tar Village Much of those past accomplishments, and certainly our future success reside in the partnerships we have developed within the Canadian travel industry. The retail travel agent remains an integral link in our strategy and they can expect more opportunities for partnership and support from the Bahamas Tourist Office here in Canada.
Also, we acknowledge the long-standing partnership and commitment of Air Canada; and the expansive growth achieved through our allegiance with West Jet. Both continue to be integral to our achieving record growth in visitor arrivals and we look forward to collaborating with them to achieve even greater penetration within this lucrative Canadian market.
I would be remiss if I fail to mention the dedicated professionals that man the Bahamas Tourist Office here in Canada. Paul Strachan and his team of experts have delivered in every instance and along with our global team of tourism specialists, will keep The Islands Of The Bahamas in the forefront of tourism marketing and promotions.
This combined team has created and executed a most exciting advertising campaign to educate, inform and entice Canadians to choose The Bahamas for their next vacation.
The components of this campaign include:
• TTC train wrap and interior ads on the • Radio ads in Toronto• Bus poster ads in the other 5 cities• Digital billboard ad on the Gardiner Expressway• Digital ads on elevator monitors in Toronto
We anticipate that this comprehensive campaign will capture the imaginations of all who are exposed to it and entice them to choose The Bahamas.
Ladies and gentlemen, tourism has been the main engine that fuelled The Bahamas' economy since 1953 when it was moved from being a seasonal commodity in the winter months to a year-round component of the economic mix. We have been at this for 60 years and coming out of the global recession that has stranglehold many countries over the past two to three years, The Bahamas is poised to take a new direction in the world economic Now taking shape on the Cable Beach Strip and coming on stream in December 2014 is the $3.5 billion Baha Mar Resort Project which, when completed, will be the largest single phase tourism development in the whole Caribbean and will have the Caribbean's largest casino, with floor space rivaling the best around the world.
It will be the Riviera of the region. And it will add to the amenities that are currently available at the Atlantis resort on Paradise Island where the Atlantis Royal Towers is set to complete its refurbishing and will be ready for the winter 2014.
After next year, Nassau, Paradise Island and The Bahamas generally will be the "must visit" country in the world.
Also, in New Providence, Albany is embarking on a $200 million expansion to its $1.4 billion plus holdings, inclusive of a financial service centre and health tourism facility.
Venturing into the developing Family Islands Sandals Emerald Bay in Exuma is making long term plans for its ownership at that destination and the new $30 million international airport at Marsh Harbour, Abaco is set to soon open to Ladies and gentlemen, when we look at additional airlift, the Bahamian government is putting a plan in place to restructure the national airline of The Bahamas, Bahamasair, to create a true hub at the Lynden Pindling International Airport, which will vastly improve global access to Family Island destinations.And so as the world shrinks and all the people in the global village becomes friendly with and among each others, it is with a spirit of love and brotherhood that I invite each and every one of you to discount the distance, to get into an airplane and fly away to your island paradise.Come to The Bahamas.