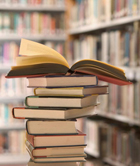 Grand Bahama Island - Here is what's new as of August 2009 related to Fiction, Mystery, and Non-Fiction books new to the Library. You can check previous lists for DVD's, Reference and other types of books.
Situated in the downtown area, on Mall Drive, the lending library is most definitely a pillar of the community. The Sir Charles Library stands next to the Rand hospital directly across from the Port Authority building.

Click [Read more...] to view the current list...
And read about the Sir Charles Hayward Library HERE...
NEW MATERIAL – August 2009
Andrews, Mary Kay

THE FIXER UPPER

Roberts, Nora

BLACK HILLS

Austen, Jane

PRIDE & PREJUDICE & ZOMBIES

Phillips, Arthur

THE SONG IS YOU

Bray, Libba

A GREAT & TERRIBLE BEAUTY

See, Lisa

SHANGHAI GIRLS

Coulter, Catherine

KNOCK OUT

Somerville, Patrick

THE CRADLE

Gautreaux, Tim

THE MISSING

Steel, Danielle

MATTERS OF THE HEART

Harris, Charlaine

LIVING DEAD IN DALLAS

Thor, Brad

THE APOSTLE

Horn, Dara

ALL OTHER NIGHTS

Waters, Sarah

THE LITTLE STRANGER
Berry, Jedediah

THE MANUAL OF DETECTION

Liss, David

THE DEVIL'S COMPANY

Evanovich, Janet

FINGER LICKIN FIFTEEN

Pearson, Ridley

KILLER SUMMER

Harris, Charlaine

DEAD AND GONE

Rollins, James

THE DOOMSDAY KEY

NON-FICTION

Harvey, Steve & Denene Millner

ACT LIKE A LADY – THINK LIKE A MAN

Nafsi, Azar

THINGS I'VE BEEN SILENT ABOUT

DVD

40 DAYS & 40 NIGHTS

INTO THE WILD

CUBA

MADEA'S FAMILY REUNION

DEFIANCE

MALL COP

FAMILY STONE

NOBEL SON

FOR ONE MORE DAY

OUT OF AFRICA

FROST NIXON

Gilbert & Sullivan: PATIENCE

GRAN TORINO

TROY

THE HUNT RED OCTOBER

VALKYRIE

INCENDIARY

W.