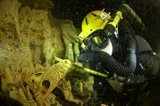 Cave diving instructor Brian Kakuk measures one of 40 ancient Cuban crocodile skulls found in the dark underwater caves of the Bahamas.

MARSH HARBOUR, Abaco, Bahamas -- Cave diving instructor Brian Kakuk was guiding a diver in a blue hole south of Marsh Harbour a few years back when he spotted what appeared to be a turtle shell buried in the sediment about 60 feet deep.

Kakuk brought it up during a later dive and presented it to scientist Dick Franz of the Florida Museum of Natural History at the University of Florida.

''He freaked out,'' Kakuk said.

Turns out it was a near-perfectly preserved shell of an extinct land tortoise more than 2,500 years old -- never previously identified.

Said Franz: ``This is totally beyond anything expected to occur, not only in the Bahamas but in the whole West Indian region.''

Kakuk kept on diving in Sawmill Sink and several other nearby deep, water-filled caves and discovered more and more fossils -- more than 40 complete skeletons of 3,000-year-old freshwater Cuban crocodiles; a flightless shorebird; an extinct cara cara, or vulture; a hutia, a large rodent found on some remote islands in the Bahamas; prehistoric owl pellets; a human bone.

UNEXPLORED CAVES

The human bone was the youngest of the finds, at about 1,000 years old, according to Kakuk. He thinks there may be human and animal remains in many more marine caves throughout the Abacos and the rest of the Bahamas, most of which have never been explored.