Photo: Winslow Johnson


Nassau, The Bahamas – Fresh on the heels of its inaugural flight launch into Marsh Harbour, Abaco three weeks ago, SkyBahamas, the Bahamian regional airline, introduced residents of Old Bight, Cat Island to its service this past Saturday.

The one-day trip from Nassau to Cat Island with 19 crew and partners of SkyBahamas, was not only an opportunity to give residents there a much needed service, but to also provide support to and adopt The Old Bight Gospel Chapel Mission Home, which is home to 13 children.

"For many years the residents of this island have been sending out a call for an airline that offers quality, on-time performance, courteous and friendly service, safe and reliable aircrafts with the added bonus of affordable pricing," Captain Butler told guests at a special ceremony held at the Mission Home.

"Since we started flying…we have become deeply involved in the communities we have serviced. We have created new jobs. We have helped to sustain the local economy. We believe in the old proverb that is better to give than to receive. That is why we are partnering today to provide support to the Mission Home, under the care of Pastor Kevin Russell and his wife Icilma," Captain Butler said.

The Mission Home provides a safe, caring haven for 13 children from across The Bahamas who have been neglected and abandoned or must be placed in a safe environment. Pastor Russell and his wife operate the facility in conjunction with The Assemblies of Brethren in The Bahamas with support from The Department of Social Services and The Royal Bahamas Police Force. Pastor Russell gratefully accepted the generous food and monetary donations on behalf of the children, who rendered a lively and moving musical selection at the event.

"I am very grateful for this donation and we wish more companies like SkyBahamas would come forward to assist in the work of the mission," Pastor Russell said.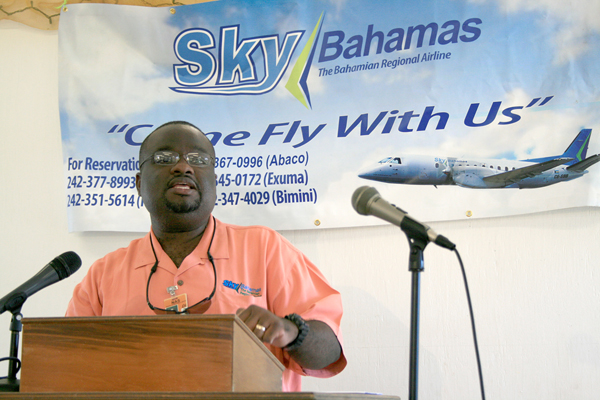 CEO Captain, Randy Butler. Photo: Winslow Johnson


Meanwhile, sets of reading books were also donated to The Old Bight Primary School and The New Bight Primary School to assist them with their ongoing literacy initiatives.

During the special ceremony, Chief Councilor for Cat Island, Val Seymour, also thanked SkyBahamas for giving residents a choice and supporting the community.

"We have had one airline for so long and so to have SkyBahamas come on board is a good thing because competition is healthy," Ms. Seymour said.

The event climaxed with a party for the children of the Home and the wider community.

Meanwhile, SkyBahamas hopes to begin scheduled service into Cat Island in two months, according to company officials.

According to Chairman of the Board of Sky Bahamas, Mr. Peter Turnquest, with the pending launch of its scheduled service into Cat Island and its continuous adherence to its core value of a culture of safety and passionate, quality service to its existing destinations, Sky Bahamas is prepared to take the commercial travel industry to a new altitude.

"The Company is more than just about fancy words and well-crafted gimmicks. Those destinations who have come on board with us know very well that the proof is in the pudding, and we will continue to soar to new heights," Mr. Turnquest said.

"Our plan is to no longer be just the regional airline of The Bahamas, but we at Sky are strategically positioning ourselves to be the industry leader of the Caribbean region."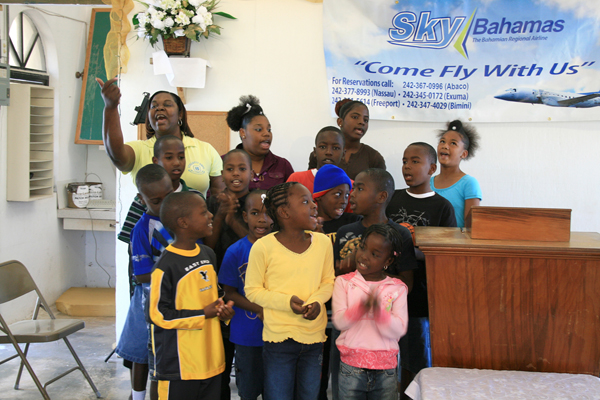 Children of Old Bight Mission House. Photo: Winslow Johnson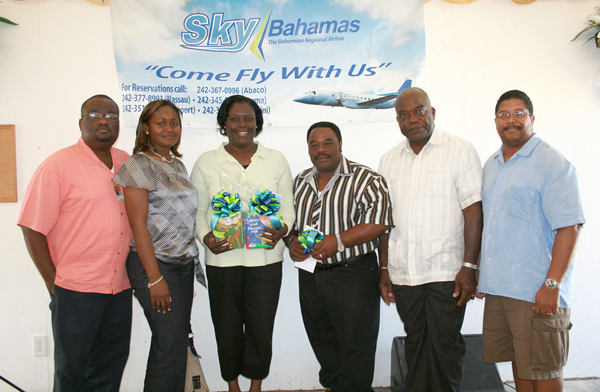 Captain Randy Butler CEO, Mrs. Butler, Val Seymour - Chief Councilor, Rev. Kevin Russell, Mr. Alfred Daniels - Deputy Chief Councilor and Peter Turnquest - Chairman of the Board. Photo: Winslow Johnson