---
Mackey Media Ltd: We transfer music & video to digital media
-
Oct 11, 2018 - 12:42:19 PM
Now's the time to preserve your special memories on digital media before it's too late! In addition to advertising services, Mackey Media Ltd located at The Insurance Management Building Freeport, also provides audio and video restoration and archival services.


So if you're frustrated with being unable to conveniently view your old VHS, HI8 or MiniDV tapes we can transfer them to DVD, Flash drive, hard drive, prepare them for your portable devices and even upload them to the Internet for you.

If you're stuck having to listen to your favorite music or spoken word on vinyl record, cassette, reel to reel, DAT or even 8-track tape, Mackey Media Ltd can transfer your prized audio to CD or removable media (hard drive/ flash drive)...

InternationalExpertsForumBahamas.com launched for 12+ Speaker event in Freeport
-
Dec 31, 2016 - 11:52:42 AM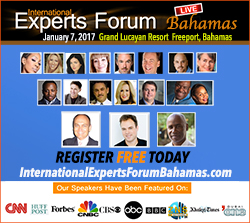 Freeport, Grand Bahama Island - Mackey Media Ltd is pleased to announce the launch of the
internationalexpertsforumbahamas.com
registration and information website for residents interested in attending the one-day International Experts Forum scheduled to take place Saturday, January 7, 2017 at the Grand Lucayan Resort.
International Experts Forum Bahamas is a free admission motivational event that will feature 12+ highly successful International presenters in one day. There is also a $49.99 VIP option that provides preferred seating and includes lunch with the speakers at the fabulous Grill Restaurant at Port Lucaya. There will be 9am and 1pm sessions, 135 seats per session all persons interested in attending must register in advance through internationalexpertsforumbahamas.com as soon as possible.
<< prev page next page >>