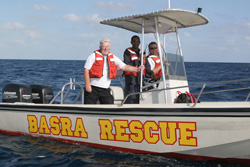 Freeport, Bahamas -
On
Saturday,
April 17th at 9:00pm police received a

911

emergency

call from Frank Outten the owner of

Franks Ice Cream. His boat had capsized only 100 yards off shore

in front of Our Lucaya resort. Frank Outten and his passenger Steven Henfres were clinging to the side of the capsized boat.


The pair were unable to swim to shore as they were tangled up in the fishing lines. Frank had a waterproof cell phone and was able to contact the police who in turn forwarded the information to BASRA. Immediately 2 rescue boats were launched into the area . Gary Simmons rushed out with his boat and BASRA chairman Jamie Rose also had a boat ready to go close to Our Lucaya. Police forwarded Outten's call to the BASRA base Search and Rescue Captain, Tom Christian, who talked to Outten, informing him of progress, and calming him while he was in the water clinging to his boat.

Since the rescue was in the dark, the BASRA rescue boats radar did not pick up the very small signature of the capsized boat. Mr. Outten used the light on the phone to signal the rescue boat to his location shortening the search time. Frank and Steven Henfres were rescued and the capsized boat was towed back in to port.

BASRA is thankful this boating accident turned out okay for the occupants. It is always wise to be prepared when you fish or pleasure boat, the use of waterproof phones and emergency life jacket lights allow you to be found more quickly during a search and rescue operation at night. BASRA reminds all boaters to have lights, flares, life jackets and working radio and cell phones.

Visit our website: www.BasraGrandBahama.com
Since 1960 the Bahamas Air Sea Rescue Association of Grand Bahama made its mandate to save persons in distress on the sea. Solely manned and operated by volunteers, BASRA has saved many lives and been involved in thousands of rescues. With the assistance of both the Bahamas Defense Force and the U.S. Coast Guard, BASRA Grand Bahama maintains a watchful eye on the Northern Bahamas seas.