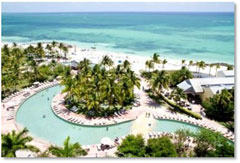 GRAND BAHAMA ISLAND, Bahamas – Oct. 19, 2016 – Grand Lucayan, the award- winning resort offering guests an authentic Bahamian experience, is pleased to announce that its Lighthouse Pointe section will re-open and start welcoming guests on November 7, 2016. Following damages caused by Hurricane Matthew last month, this four-week turnaround can be attributed to the resilience and perseverance of the Bahamian staff and management.

"Grand Bahama Island definitely felt the impact of Hurricane Matthew and our property sustained some impact as a result, however, we're determined to recover quickly" said Veronica Clarke, hotel manager. "We look forward to welcoming guests back to our island, to enjoy our Bahamian hospitality and many amenities, including our white sand beaches" she continued.

When 196-room Lighthouse Pointe reopens on November 7, the traditionally all-inclusive portion of the resort will temporarily play host to all guests, whether or not an all-inclusive package is booked. Venues including Waves Pool Bar, Portobello's, Pizzeria Capri and Aroma Café will be open. The Convention Center and wedding gazebos will be fully functional and ready to host weddings and groups. Management is working diligently to reopen the rest of the resort, including Breaker's Cay, the Lanai Suites and additional dining venues.

Grand Lucayan asks that any guest with a reservation between now and November 7 please email reservations at reservations@grandlucayan.com.

For more information on Grand Lucayan, please visit www.GrandLucayan.com




About Grand Lucayan, Bahamas

Located on Grand Bahama Island, Grand Lucayan, Bahamas has 738 guestrooms and suites and is situated along an expansive 7.5-acre beach with views of the turquoise Caribbean Sea. Just 55 miles off the coast of Florida, Grand Lucayan, Bahamas offers some of the finest amenities in the Caribbean. Guests enjoy spacious accommodations, a selection of restaurants, swimming pools, four tennis courts – all offering Grand Slam surfaces, a 25,000 square-foot Senses Spa & Fitness Center, 18-hole championship golf course – The Reef Course, designed by Robert Trent Jones Jr., and 90,000 square feet of indoor and outdoor meeting space and a Las Vegas-style casino. Like us on Facebook, facebook.com/grandlucayan or follow us on Twitter, @grandlucayan.