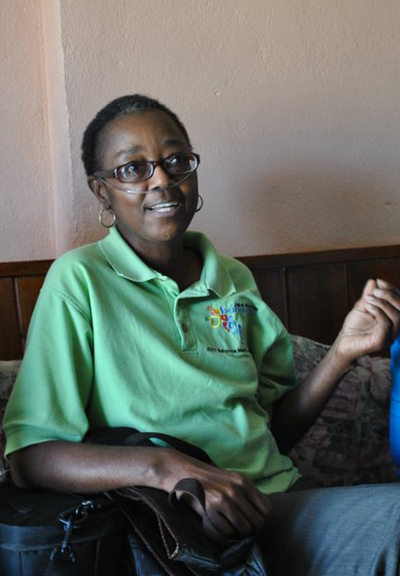 Facebook photo of Donna Duncombe.


The Freeport News: The Weather Girl of Grand Bahama Donna Duncombe died yesterday in Nassau.

Duncombe, who was originally from Nassau, came to Grand Bahama as the meteorologist at the Freeport Weather Office in 1989.

She was a graduate of Florida State University and served as meteorologist for 21 years before its closure.

As a professional woman she made her stamp on this community with response to the media always of any turbulence that might be expected at anytime.

She was well known for her reports as the hurricane season approached each year and addressing the various civic clubs on hurricane preparedness.

A memorable moment of her's here was in 1999 when the flooding of Hurricane Floyd caught this brave and daring woman in the towers at the airport.

She had to be rescued by boat.

Not only is she known for her professional life she was also very much a part of the theater working in the background and working in her church.

The Freeport News spoke with persons from the community who were all saddened at the news of her passing.

Pam Ferguson, chairlady of the Hope Ball, said: "I was sad when we heard about Ms. Duncombe. I knew Donna way back even from the church that we attended in Nassau and Freeport, Salem Union Baptist Church and also Fellowship Union Baptist.

"She played the organ there, she directed the choir that I sang in for many years. She was firm but always had a smile.

"Whatever she was going through she always had a smile. Even when I?saw her in hospital she would always say she would be all right."

Jennifer Charlton, executive member of Hope Ball, said she was saddened by the news of Duncombe's passing.

She said: "I worked at the airport for many years and I?got to know her during that time.

"She was a person of a quiet demeanor but she was one of strength.

"She was a fun-filled person. She is going to be so missed because she has been a part of our community for so long and she has always been there especially during the time of our hurricanes."

Charlton said Duncombe gave comfort and assurance during the hurricanes as she kept everyone updated via radio reports.

Businessman Peter Adderley said he is extremely shocked and saddened by Duncombe's death.

"I knew she was having some challenges but the last time I saw her she was in good spirits. I'm reminded of her enthusiasm and her will to work.

"She was a Junkanoo enthusiast.

"In fact she was the first female in Freeport to hold a leadership position in a group. I think she was the deputy leader in the Classic Dancers at one point.

"I think the entire Grand Bahama is mindful of her professionalism and her ability to bring the weather.

"She was able to allow the common man to understand the particulars of the weather. You understood the forecast by the way she brought it to the public.

"She just had a beaming and loving personality. She made history as the first Bahamian female meteorologist.

"Prior to her, Sterling Stratford from the United States was here for decades and so she made a lot of firsts."

He stated further that Duncombe was a blanket of calm in every storm.

He then extended condolences to her family, friends and all who knew her.

Robbin Whachell (TBW Editor's note): I'd like to add that Donna will be sorely missed by her Soccer Family in Grand Bahama Island. Her presence was always warm and giving.