Last Updated:

Feb 6, 2017 - 2:32:04 PM
---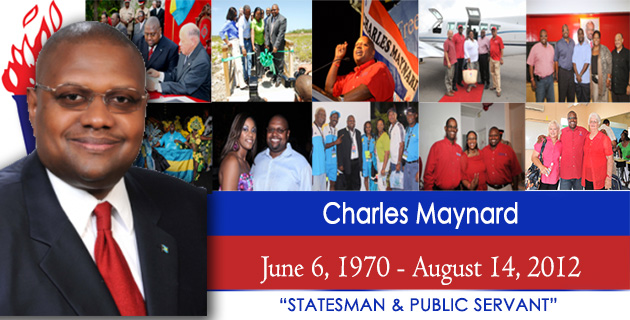 Nassau, Bahamas (August 14th, 2012) It is with enormous grief that we confirm the sudden and untimely passing of Charles Maynard, National Chairman of the Free National Movement, former MP for Golden Isles, and former Minister of Youth, Sports and Culture.

Mr. Maynard was serving as the co-ordinator of the by-election campaign in the North Abaco Constituency and was driving along with Party Secretary General Michael Foulkes in the area of Blackwood, heading into Dundas and Murphy Town, at about 12.30 this morning when he fell ill and collapsed.

Charlie, as he was affectionately known, was born in 1970, the son of Edward Andrew "Dud" Maynard and Mrs. Isadora Maynard. He attended Queen's College and graduated from the College of The Bahamas. He was a young entrepreneur, developing his family's pioneering business establishment, the Corner Motel on Carmichael Road and Faith Avenue.

He was married to Zelena Maynard, formerly Neymour, and was the father of three children. An avid community activist and Junkanoo participant, Charlie also served the community in several civic and social organizations including the Masonic fraternity.

Mr. Maynard joined the Free National Movement in early 2006, shortly after the dissolution of the Coalition for Democratic Reform of which he had been the Deputy Leader. He was nominated to contest and won the Golden Isles Constituency in the 2007 general elections, and was immediately appointed to serve in Cabinet as the Minister of State for Culture in the then Ministry of Education, Youth, Sports and Culture.

In the House of Assembly and in the discharge of his Cabinet responsibilities Charles Maynard established himself as a charismatic, passionate, committed and rising political star who never failed to rise to the defence of his party, Ministry or colleagues.

He was rapidly promoted to full ministerial status as the portfolio Minister of Youth, Sports and Culture in late 2009, and was instrumental in the development and implementation of the new Thomas A. Robinson National Track & Field Stadium which opened in early 2012.

After the general elections he offered and was elected to serve the FNM as National Chairman, which responsibility he carried out with his customary aplomb, zeal and dedication to duty.

The passing of our National Chairman, Charles Maynard, is a tremendous loss of a rising political leader and public servant, not only to the FNM, but also to our beloved country.

The Leader, officers and members of the Free National Movement, extend to his wife and family, to his parents and other relatives our deepest and most prayerful sympathy. All of us share in their loss.





© Copyright 2012 by thebahamasweekly.com

Top of Page