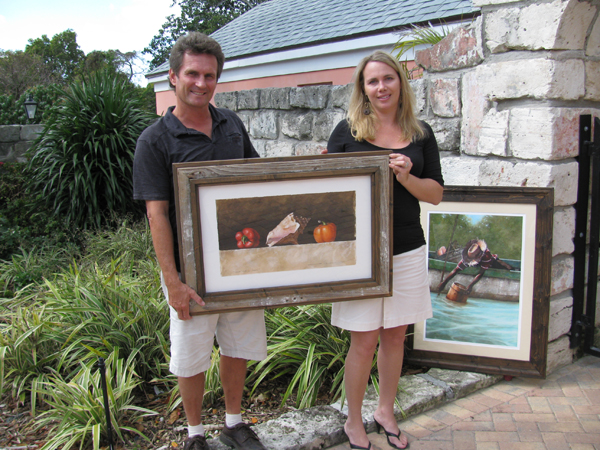 Artist Thierry Lamare presents his artwork to Heather Peterson, President of the Inner Wheel Club of East Nassau. The original painting and limited edition print will be part of the Pink Ball's Silent Auction to help raise funds for breast and prostate cancer. The general public is invited to bid in advance of the ball on the artwork, which will be on display at Bahama Hand Prints.


NASSAU, The Bahamas – Local artist Thierry Lamare recently donated an original water color and limited edition print to the Inner Wheel Club of East Nassau's Pink Ball in aid of breast and prostate cancer awareness and prevention. The artwork will be part of the Silent Auction at the ball held on Saturday, March 14th at the British Colonial Hilton.

The original painting titled "Conch Shell and Peppers" depicts a simple still life scene whose inspiration came from the garden of a Bahamian lady who lives in Long Island. The larger limited giclée entitled "Close to Shore" captures a fisherman in a wooden skiff fishing near the shoreline in a scene that harkens back to an age when fishing was simpler. Both illustrate the artist's ability to capture everyday Bahamian life and scenes with extraordinary use of light in each painting.

The artist was compelled to donate his art to help raise awareness for breast and prostate cancer. "This is an important and good cause to support," said Thierry Lamare. "Cancer has affected everyone in some way and I wanted to do what I could to show my support and to help raise funds. The inspiration for my art comes from Bahamian people and their everyday activities, particularly in the Family Islands, I feel it is important to give back to that community."

The public is invited to bid in advance of the Pink Ball on both pieces of artwork. The art will be on display at Bahama Hand Prints located on Ernest Street during regular business hours 8 a.m. – 4 p.m. Monday – Friday and 10 a.m. – 2p.m. on Saturday. The public is also invited to bid on a one-of-a-kind quilt created by the members of the Stepping Stone Quilters entitled "Aqua Bliss." The queen-sized quilt and matching European pillow shams are comprised of a myriad of blue hued shapes and designs of Bahama Hand Prints original fabrics and is on display at the Maison Décor Lyford Cay location. Bids will also be taken at the Parliament Street location during regular business hours.

"We wanted to open the bidding on these extraordinary pieces to a wider audience and bids have already come in as many people wish to support this important cause," said Heather Peterson, President of the Inner Wheel Club of East Nassau. "We are very grateful to Mr. Lamare and the many other individual artists and local companies that have donated generously to our Silent Auction and Raffle. Our goal is to raise funds to assist the Cancer Society with their ongoing cancer screenings for breast and prostate cancer in the Family Islands and with research. It is also our wish that the Pink Ball will create an awareness of the importance of having mammograms and prostate screenings. We especially hope that our effort will help many detect breast and prostate cancer early which ultimately saves lives."

Tickets to the Pink Ball, which is black or pink tie optional, are $150 and include a cocktail hour, dinner and dancing with music provided by Modern Vintage.

For tickets or more information on the paintings or quilt call 393-8630 or email Elinor Kurton at elinorkurton@gmail.com.

Inner Wheel of East Nassau is a non-profit women's charitable organization that is affiliated with Rotary.