Cooling Waters Interview 25:40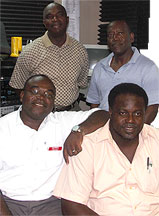 Four members of Grand Bahama's oldest gospel group, "The Cooling Waters", visited Mackeymedia to record an interview with web master Dave Mackey. In this enlightening 26 minute streaming audio interview, we discuss the Cooling Waters self described 42 year old mission; " Touching lives through Jesus Christ". Highlighted in this informal discussion is their dramatic experience performing at Fox Hill Prison in Nassau, the changes in gospel music during the years, the former members who have deceased and the confidence in the band's future with younger member Lloyd Grant's abilities to "carry on the legacy of The Cooling Waters". For worldwide bookings and general information on The Cooling Waters Email:
luccur@coralwave.com
or Snail mail: The Cooling Waters - PO Box F41521 - Freeport, Grand Bahama, Bahamas. Pictured (left -right top row) are: Lucian Curry & Washington Williams A.K.A. "Brother Wash" and (bottom row L-R) are: Lloyd "Chubby"Grant and Emanuel Seaford. Special thanks to the groups PR manager
Derek Stubbs
for coordinating this interview. The Cooling Waters presently comprises 12 members and they have recorded a total of 11 albums.To traverse the 42 year history of the Cooling Waters, press the play button below, enjoy!