Audio Interview with Dr. Ken Dickie (15:49)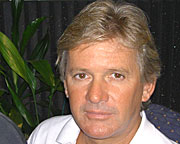 Four years ago Dr. Kenneth Dickie, a Plastic Surgeon with a thriving practice in Ontario Canada, moved his practice to Freeport. Having traveled to Grand Bahama several times over the past 15 years he and his wife Shawnie fell in love with the island and decided to make the move to Freeport. Dr. Dickie, through Sunrise Medical Center in Freeport, (formerly The Antoni Clinic) has established his new practice:
"Bahamas Institute Of Plastic Surgery"
where many international and local patients opt to have their procedures performed in the tranquil setting of Grand Bahama Island. In his interview with mackeymedia web master Dave Mackey, aside from discussing his vibrant plastic & reconstructive surgery practice, Dr. Dickie unveils his grand plan to establish a "Wellness & Anti-Aging Center" in conjunction with local physicians. Click on the play button below to journey with us into the fascinating world of tummy tucks, liposuction, breast reduction, augmentation & lifts, reconstructive surgery, face lifts, nose jobs, adominoplasty and many more procedures now possible on Grand Bahama Island by Dr. Kenneth Dickie, a plastic surgery practitioner for more than 20 years.