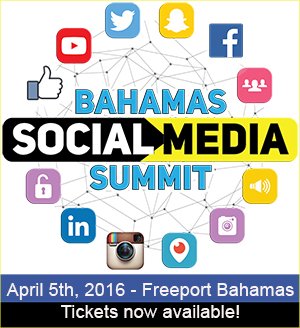 Freeport, Grand Bahama Island - Bahamas Social Media Summit Co-hosts Mitch Carson and David Mackey announce that Bahamas Social Media Summit interest and ticket sales are brisk and they are now set launch new Corporate Packages for groups of 5 and up that feature discounted tickets. Interested groups and organizations can call 242.352.2988, 375-1305 or email MackeyMediaLtd@gmail.com for more info. This provision is also available to community, civic and religious organizations and private individuals who wish to pool their resources to attend Bahamas Social Media Summit. Discounts require a minimum of 5 persons to qualify.



Here's why you should attend this Summit

:

#1: To discover the best and newest ways to deploy and track social tactics: Take in practical, action-oriented speaker sessions from the world's social media experts—all in beautiful Grand Bahama.

#2: To reduce your trial and error time: Why experiment with your social media marketing when you can fast-track your time to success? The experts at this event will empower you to focus on what really works (and prove it to others).

#3: To network with marketers just like you: Imagine connecting face-to-face with thousands of people just like you—as you share stories, gather ideas and build relationships that last for years. We make it easy by building in time for networking and meeting the experts.

#4: To meet the world's top social experts: Want to meet the social pros you've looked up to for years? Bahamas Social Media Summit is the Caribbean's largest gathering of social media experts. We encourage all of our speakers to make themselves accessible to you.




What makes Bahamas Social Media Summit different from other summits ?



Beyond meeting friendly social media pros who are at the top of their game, here's what makes Bahamas Social Media Summit unique:
Highly valuable content—our trademark at Bahamas Social Media Summit..
Extensive networking opportunities—you'll make priceless professional connections because we built this event to include networking after keynotes and lunch.
Full access to the recordings of EVERY session—if you miss a session, no worries! You can watch playbacks from your computer, tablet or smartphone at your leisure. In addition, we'll provide audio MP3 files so you can listen to the sessions while you are on the go!
First-class conference experience—from the moment you arrive on Tuesday, you'll be provided for at every turn. You'll never be left wondering what to do or where to go.



People will leave with a step-by-step action plan. Bahamas Social Media Summit isn't just about content dispensation. Attendees will leave knowing what to do to maximize profits through Social Media. They will receive actionable steps that they can put into their businesses so that they can profit immediately. Instead of just wondering about how to use what they've learned, attendees will be able to implement key steps from each of the speakers; that's what the charge of each presenter is; To come up with a concise plan of action for all attendees, so that they can put their newly found knowledge into a play and make money with it right away

.



Bahamas Social Media Summit will be beneficial to;



Serious Business Owners Who Want More Profits
Social Media Managers who want to learn more and implement for their employers
Salespeople who want to make the sales process easier
Marketing Directors, Marketing Managers, Marketing Coordinators
Entrepreneurs who want to expand their business
Retailers who want more referrals
Realtors who want to find new buyers, listings and earn greater commissions
Hospitality managers who want to grow their repeat buyers list
Transportation company employees who want to make more money
All commission based sales entrepreneurs who want to stay ahead of the curve.
About Bahamas Social Media Summit


Bahamas Social Media Summit is a partnership between International Seminar promoter Mitch Carson and Bahamas marketing consultant David Mackey, President of Mackey Media Ltd who will be hosting the Summit on April 5th, 2016 at Grand Lucayan. This will be the first event of an ongoing educational/ motivational series for business persons based on the theme; Maximizing Profits through Social Media. Tickets are $199 each. Group discounts are available for 5 or more persons. More info is available at BahamasSocialMediaSummit.com.