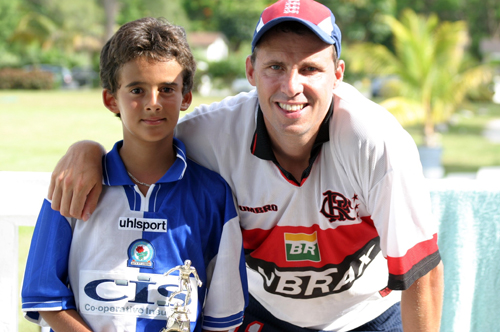 Interview with Phil French
The Bahamas Weekly News Team brings you an exclusive audio interview with Philip French, special advisor to the Ministry of Sports in the UK, and organizer of the Premier League's involvement in the Grand Bahama Summer Soccer Camp now in its 5th year.
Listen as Editor and Coach, Robbin Whachell and Webmaster Dave Mackey talk with Phil about the sport of soccer and about the exciting upcoming soccer camp on Grand Bahama Island and who will be the visiting Coaches. Yes, Luther Blissett will be back!
This year's camp is again being held at the Freeport Football Rugby Club field on East Settlers Way and starts on June 23, closing on June 27. It will again be led by a group of top ranking fully-qualified coaches from the UK, supported by a team of local coaches.
Up to 200 children are being catered for this year and the organizers expect the attendance to be close to that. Each child is given two full uniforms and other goodies as well as lunch every day, and the chance for a cooling swim at the midday break. Given the fact they also get 25 hours of top line professional coaching it has to be the best value summer camp in the Bahamas.
Parents can get registration forms (attached below) and also register their children at Town and Country, Yellow Pine Street; Animale, Port Lucaya; or The Wellness Centre off Coral Road. Uniforms will be given out at the Rugby Club from 2pm until 4pm on Sunday June 22.
Related Articles:
Local Businesses make Premier League Soccer Camp a Reality for Children on Grand Bahama
Luther Blissett to return to the 5th Annual Premier League GB Soccer Camp
Phil French to again lead the 2008 Grand Bahama Summer Soccer Camp
English Premier League Soccer Camp - the best yet!
Grand Bahama Soccer Camp offers Great Value and Good Fun for All!
REGISTRATION FORM ATTACHED BELOW: