Last Updated:

Feb 6, 2017 - 2:32:04 PM
---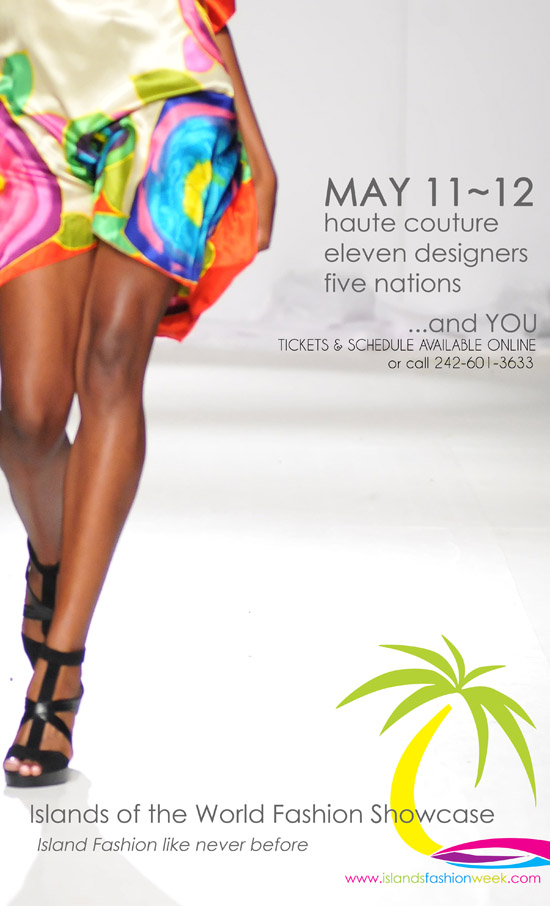 Nassau, Bahamas - Consider it the official cool down after a heated election season. The newly re-branded Islands of the World Fashion Showcase (IWFS) debuts its forth installment of runway shows this Friday and the anticipation has much of the Caribbean a buzz.

The event, whose highlighted showcase will take place Friday, May 11th at the Sheraton Nassau Beach Resort, will feature 12 designers representing The Bahamas, Barbados, Guyana, Saint Lucia and Trinidad & Tobago. They include IWFS veterans Darcel de Vlugt (Trinidad & Tobago), David Rolle, Theodore Sealy and Harl Taylor BAG, all from The Bahamas. Debuting collections for the first time at IWFS are Latoya Hanna-Moxey, Chelsea Johnson and Courtney McIntosh from The Bahamas, Alexis Campbell, Kesia Estwick and Andrew Harris of Barbados, Carol Fraser of Guyana and Sharleen Lagon representing Saint Lucia.

Also being featured this year is the ExÎles Explosion – an opening act that will arguably rival the Victoria Secret Fashion Show – featuring designs from international couture lingerie houses as well and the Bahamas' very own Derrica Williamson swimwear savant.

The showcase will also highlight the designs of the participants of the newly created Jackson Burnside III Fashion & Design presentation. The presentation spotlights four designers of the 'built environment' and their goal to create wearable art out of everyday building materials and finishing.

Launching simultaneously during IWFS will be its very own online shopping experience. ExÎles Boutique, the first of its kind in the region, will allow fashionistas to literally purchase any product they have previously viewed on the runways of IWFS at www.exilesboutique.com.



Tickets for the event

can currently be purchased online at www.islandsfashionweek.com or at the Sheraton Box office beginning Wednesday May 9th, 2012.


Meet the Designers:




Alexis Campbell Designs



Born in Barbados, Alexis Campbell got a jumpstart in fashion by making clothes for herself and her doll collection. Inspired by fabric and textile construction led her to take up Fashion Design at Barbados Community College. With two years under her belt, Campbell hopes to use IWFS as a marketing and networking tool to establish and expand her contact and clientele base. Her most trusted design tool is a pencil and favourite designer is Michael Kors.




The Andrew Harris Collection



Though born in Guyana, Andrew Harris' label has taken a Barbadian address. His signature menswear line is making its mark around the Caribbean. He does however have his eye on the female market and is currently working to make his debut in that arena. Armed with a diploma in fabric Construction and Textile design from E.R Burrowes School of Arts, Harris sees his self title label becoming a lifestyle brand.




Miracle Hands Designs



For 42-year-old Carol Fraser, designing comes naturally. The Guyanese native has 27 years in the business and shows no sign of quitting her craft. Her strict attention to detail in her art expressions has resulted in many accolades.

With a passion for creating awareness about protecting the environment, Fraser aims to influence building design, the construction sector and interior décor using natural and organic fibers materials. She hopes her participation in IWFS will give her the opportunity to promote Guyana's rich culture to the world and increase international awareness of her trade mark.




Autumn Crop Authentically Bahamian



Chelsea Johnson cannot live with her nose pliers. The Bahamian native is a recent entrant in the Bahamian designer pool but her brand is progressively escalating within the field.

An alumnus of the Ministry of Tourism's Authentically Bahamian Department, Johnson is part of a collaborative of artisans who showcase each year at annual festivals. With no formal training, Johnson's unexpected gift for design stems from her visions of art. Her pieces reflect her own "personal image, uniqueness, passion and style. It's when the customer tries on that "special little something" that brings her the most inspiration.




Zatthu Inc.



With over three years of designing, Courtney Augustine Zatthu McIntosh is keen on fundamentals and has the tenacity and enthusiasm found only in the hearts of an up-and-coming fashion designer or the innovative and seasoned veteran designer.

She is the head of Luxe, a swim wear and resort wear line, incorporates the vibrant colors of the islands and novelty fabrics such as fine silks and linens into her designs, making a bold impact by its wearer. The sexy designs incorporate elements of straw and hand crochet work to fit the preference of every woman, from the conservative and elegant to the edgy but stylishly couture.




Van der Vlugt



Darcel de Vlugt is no stranger to the fashion industry of IWFS. Inspired by history, mythology, fairy tales and "…by anything that takes you away from the present reality of the world," the designer insists that every one of her collections has a prominent theme and back story.

De Vlugt hopes to use this year's experience at IWFS to publicly launch her brand. She said, "When I leave The Bahamas at the end of this showcase, I want to feel like I [have] accomplished something worth talking about ten years down the line."





House of Raphelita



This talented 25-year-old is a product of the Berry Islands. After winning the NextGen Designer award, Rolle's career has taken off as he has showcased in a number of shows in The Bahamas and at the San Fernando Fashion Week in Trinidad.

Rolle operates local décor company Artistica, which offers services in floral and fabric artistry. His other accomplishments include being selected as the only Caribbean columnist chosen by Elle Magazine and Nokia as a finalist in the search for the Next Style Correspondent. As he heads into 2012 with high hopes, his passion, work ethic, artistry and love for his community will be his strong hold, anchoring the young designer for a promising career.




Harl Taylor BAG



Though deceased, Harl Taylor's legacy lives on through his impeccable craftsmanship and refusal to be mediocre. A product of the prestigious Parsons School of Art & Design in Paris, France, Taylor shifted his focus from tee shirts to straw hand bags.

His success in the fashion arena blossomed as his bags were being carried by high-end department stores around the United States and the world. Well known ladies of style in The Bahamas and big name celebrities like Vanessa Williams, Oprah, Betsy Dingman and Kimora Lee Simmons are just a few of Taylor's clients. His creations made strides at home with the resurgence of the straw bag industry and in 2000. Leading the pack in straw bag design, Taylor received The Commonwealth of The Bahamas' prestigious Cacique Award for Art and Craft for excellence and the subsequent rebranding of a local resource in The Bahamas. Taylor remained an extremely creative and inspirational individual up until his untimely passing in 2007 at the age of 37.




KesiaEstwick



Born and raised on the small island of Barbados, Kesia Estwick is a young free-spirited designer known for her dark and daring style. Inspired by the sounds of music and mood, this young artist has already made a name for herself both in country and around the Caribbean.

In her second year of designing, she participated in the popular Barbados Amateur Model search and the Bridgetown Barbados Fashion Week. It was at BBFW where she was officially recognized as a fashion designer. Estwick's most recent accomplishment was being selected to compete in the top Jamaican TV show Mission Catwalk. Her edgy designs have captured the attention of both young and old trendsetters and continue to win over the hearts of the Caribbean's most prestigious fashionistas.




Minka by Maven



This fresh face to Islands of the World Fashion Showcase has only been in the industry for the past two years, but already Latoya Moxey of Minka Fashions is making her presence felt in the fashion industry both locally and internationally. Inspired by her environment, personal style, people around her, as well as celebrity fashion, her designs translate into clean cut, yet appealing and comfortable pieces.

She got her big break earlier this year at The Miami Beach International Fashion Week in March, dazzling spectators with her unique, sexy and affordable swim wear line. But we will all get a taste from the Minka Fashion House as the Bahamian designer prepares to showcase her 2012/2013 line at this edition of IWFS.




J'aeylu Inc.



After designing a prom dress for herself at the age of 16, Sharleen J Lagon began designing dresses for her friends and her interest in fashion extended from there. Although she sews, she admits that her strong suit was in pencils, color mediums and paper, thus making designing her mode of expression and later her career of choice.

Even as she was advised not to pursue her dream to become a fashion designer, Lagon pushed past the negativity and took up a fashion design course on the neighboring island of Barbados. In May 2012 she was awarded a GenX prize from a local business that held a competition for unique business ideas. The 5 winners of such a prize won XCD$50,000 to start their business. Sharleen Lagon used it to solidify her own.





Theodore Elyett



With 14 years in the industry, Elyett has made a name for himself designing and creating some of the most unique and exquisite pieces to come from designers his age. Elyett has showcased in New York, Canada, South America and The Caribbean.

Inspired by colors, prints and world culture, the designer insists that these elements have always been always a source of major inspiration and his first instinct is to pay homage to the beauty of print, color, culture and texture. He has designed for proms and pageants throughout his career and for a number of leading ladies in Bahamian society.

About the Show

Endorsed from its inception in 2008 by the United Nations Educational, Scientific and Cultural Organization (UNESCO), Islands of the World Fashion Showcase (formerly Islands of the World Fashion Week) has been successful in fulfilling its mandate of promoting island designers from around the world and exposing them to international media and buyers. It is also mandated to expose its audience to four underlying themes affecting small-island states today – cultural diversity, the environment and climate change, poverty alleviation and the education of youth on HIV/AIDS.

The two-day event will highlight international designers each season. The event in May highlights designer resort, sports and swim wear and accessories while November will feature designer couture, prêt-a-porter and casual wear and accessories.

Designers will vie for several awards including the NextGen Designer, Sustainable Eco-Fashion, Culture & Fashion and the Seals of Excellence.







© Copyright 2012 by thebahamasweekly.com

Top of Page