Nassau, Bahamas – Kazz Forbes and his label, Saint George Fashion House (SGFH) delivered a highly praised fashion runway presentation at Islands of the World Fashion Showcase (IWFS) as a Guest Designer during the event's finale on November 8th at Fort Charlotte, Nassau, Bahamas.
The two-day highly anticipated fashion extravaganza was held on November 7th and 8th and featured fashion designers from Bermuda, Cuba, Jamaica, Nigeria, Turks and Caicos, The Bahamas and the United States of America, that presented an array of haute couture, prêt a porter, resort wear and swimwear collections at the historical Fort Charlotte that was transformed into a Fashion Pavilion.

An Islands of the World Fashion Showcase statement said, "Turks & Caicos native Kazz Forbes, and his label, Saint George Fashion House, took the audience to the ultimate ball and red carpet with an array of high end evening gowns rounding out the series of traditional yet awesome runway experiences."

"I was very impressed with the degree that Kazz Forbes with his line, Saint George Fashion House has come since I've witnessed his debut in New York in 2011. The production that he made here at Islands of the World Fashion Showcase; in one word, incredible! I think he has grown and with that I can only see a tremendous future ahead for him." said event producer Owen Bethel.
"The collection really showed elegance, red carpet and haute couture straight through. The choice of fabrics, the intricate embellishments and craftsmanship, the concept that he had in his collection really showed a well thought through; a very detailed meticulous approach to fashion and I can only wish him the best in all his endeavours in the future and the world of fashion. He should go very far and we will be here to support him."
Telling of the work of Kazz Forbes, Bethel once asked, "Could we possibly see the next Oscar de la Renta emerge from the soil of the Turks and Caicos?".
Closing the designers exhibition, Saint George Fashion House presented a strategic spectrum of haute couture, prêt-a-porter and red carpet designs. The majority featured Forbes' signature of elaborate and elegant hand beaded embellishments with sparkling glass beads and rhinestones, and other intricate works done by hand.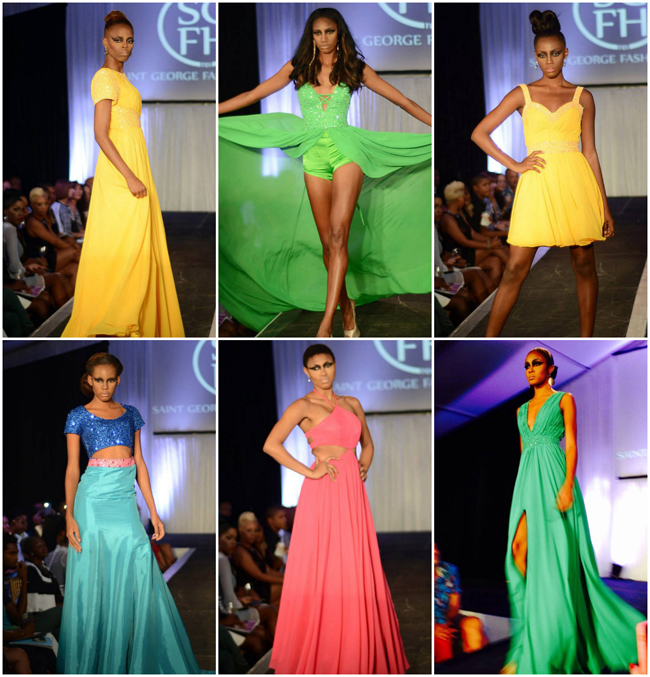 Photography: Shawn Hanna www.shawntphotography.com Makeup: Eye Candy Makeup Co. Hair: Metamorphosis Beauty Salon


Mae Wayne, Publisher and Editor in Chief of SHE Caribbean Magazine said, "The line from Saint George Fashion House by Kazz Forbes was presented on the runway like a fashion story. An editorial well put together, crisp and dream like. A story of balance full of the splendor of Caribbean colors."

"Presenting at Islands of the World Fashion Showcase was indeed an honour and I will like to again express heartfelt thanks to IWFS organizers for choosing me as a guest designer and to Digicel TCI Telecommunications for funding part of the collection and for supporting all my endeavours; even before the inception of Saint George Fashion House." said Fashion Designer Kazz Forbes.

"I had a great time working and socializing with the organizers, models and hair and makeup teams. Everyone involved were so full of enthusiasm and the hospitality received alone made my entire experience beyond amazing. I'm extremely excited about the future of Saint George Fashion House and my career in fashion design."

"Adding to my excitement of showcasing, a couple days before departing for Nassau, I learned that Je'Cannya Garland; a fifteen year old local aspiring model that competed in the 2014 TCI Top Model Contest and won the first runner up title, was also traveling to participate at IWFS."

"I'm so proud of Je'Cannya. Working with her and seeing her take instructions from other participating designers and walking the catwalk made me realize even more that our country is so full of great young talents, and the importance of bringing awareness to the unfortunate lack of opportunities being generated for talent development in the Turks and Caicos Islands."

Since 2008, Islands of the World Fashion Showcase has held to the platform it was charged by the United Nations Educational, Scientific and Cultural Organization (UNESCO) for its promotion of cultural diversity, and as a means to bring value-added levels of production to the fledgling fashion industries in developing nations, particularly more vulnerable small island developing states.

The intent of Islands of the World Fashion Show is to draw attention via international media and trade exposure to the skills and creativity across the spectrum of the fashion industry in the islands.

Fashion aficionados can shop Saint George Fashion House online at www.SaintGeorgeFashionHouse. com.

Caribbean models featured in the SGFH show were Saneta Kerr - Jamaica; De'Andra Bannister - Bahamas; Je'Cannya Garland - Turks and Caicos Islands; Shiba Farquharson - Bahamas; Cher Dacon - Bahamas; Rontre Rolle - Bahamas; Lakeisha Curry - Bahamas; Keyuan'a Beneby - Bahamas; Alexis Hepburn - Bahamas; Ominique Burrows - Bahamas; Yisel Cintas - Cuba; Analicia Thompson - Bahamas; Carla Alvarez - Cuba; and Thaymara Garcia - Cuba.