Nassau, Bahamas - Fashion aficionados looking for a fulfilling experience were not disappointed this past weekend.
With a nearly packed house, unpredictable weather was no match for Islands of the World Fashion Showcase (IWFS) as the world-renowned event set Fort Charlotte on fire.
With 19 designer showcases packed into two nights, the sixth installation of IWFS proved to hold its own with spectacular showcases and an electrifying crowd.
Showcasing this year were ExÎles, Alshante Foggo, Ashton Hall, Bathhouse Swimwear, Charmaine Spicer, Froilan Amaya, Ismael de la Caridad, Jose Luis Gonzalez, Jesus Frias, Kazz Forbes, Laura Macias, Renaldo Geumm, Oscar de la Portilla, Ray Vincente, Rolando Ruiz, Omar Alexander Jimenez and Thatch Collection. Countries represented include Bermuda, Cuba, Jamaica, Turks & Caicos, The Bahamas and the United States of America.
DAY ONE
Resort, sport and swimwear were the order of the day on Friday.
The evening kicked off paying homage to the Japanese tradition of war thanks to the Samurai Collection of underwear and chic resort wear from the Exiles Boutique, interspersed with powerful dance routines performed by students of The National Dance School of The Bahamas. It was followed by a very sporty yet refreshing collection by Kendra Wilkinson's Thatch Collection. Designers Rolando Ruiz and Omar Jimenez embraced their Cuban roots with bright colours and classic cuts for their showcase.
The concept of tie-dyes, oceanic themes and florals were a focal point for Cuba's Oscar de la Portilla and is collection of swimsuits and sarongs. The designer explained his ethereal collection by saying, "No two women are the same so I make clothes for women who are tall, short, shapely, and slender."
Then there was Bermuda's Alshante Foggo who kept close to her island roots with a very deliberate island themed collection of swimwear and caftans.
"I grew up on an island and I remember as a little girl being fascinated by the scenery," said Foggo. "I just thought it was important to incorporate the beauty of my island in what I create, hence the colorful birds and flowers on a lot of the pieces."
Then there was Jose Luis Gonzalez with a bright swimwear collection that offered a unique option of caftans and linen gypsy skirts as well as a number of cutting edge options for men.
Rounding out night one was Ray Vincente's exclusive menswear which brought an eclectic feel to the weekend.

DAY TWO
Designers on Saturday night were all primarily about haute couture.
Hound's-tooth prints were the focal point for Bathhouse Swimwear with elegant curve accentuating lines and high end feel throughout the US brand.
Young Bahamian and BTVI graduate Renaldo Geumm gave a fierce runway presence with a series of high end evening gowns extravagantly embellished with lace and tulle.
Ashton Hall's showcase was a vivid array of exquisite lace infused pieces for men and women. The American's Jamaican roots, island inspired prints and vibrant colours made for a collection to take the audience from day to night in attire.
Turks & Caicos native Kazz Forbes, and his label, Saint George Fashion House, took the audience to the ultimate ball and red carpet with an array of high end evening gowns rounding out the series of traditional yet awesome runway experiences.


The anticipated highlight of the weekend went beyond the expectation of the show's audience and coordinators alike.
The segment got off to a sensational start with a mini opera piece followed by a group installment of live mannequins. Local and international models alike stepped up and embraced the daunting task of literally bringing avant garde designs to life on the runway through interpretive dance and acting.
"It was not what I expected," said one happy audience member. "I was amazed with everyone's designs and the art in motion was spectacular."
The elaborate designs and interpretations were awarded with a standing ovation by a thoroughly energized crowd. The 27-piece collection was a collective effort by the seven Cuban designers at IWFS.
The original art inspirations were projected onto a screen on stage to give an eclectic contrast to the designs which came to life on stage thanks to the models.
"The culmination of the two-day event with the spectacle of "Arte y Moda" was a strategic spectrum of casual prêt-a-porter to red carpet designs to what I have described as the 'haute couture of art'. The event was professionally staged with an emphasis on the business and cultural diversity of fashion. It is hoped that significantly more Bahamians will have the opportunity to witness such creativity" said Owen Bethel, producer of the event.



ABOUT IWFS
Since 2008, IWFS has held to the platform which caused it to be endorsed by the United Nations Educational, Scientific and Cultural Organization (UNESCO) for its promotion of cultural diversity, and as a means to bring value-added levels of production to the fledgling fashion industries in developing nations, particularly more vulnerable small island developing states. The intent is to draw attention via international media and trade exposure to the skills and creativity across the spectrum of the fashion industry in the islands.
To date in excess of 130 designer showcases representing 20 countries have presented their creations on the catwalks of Islands of the World Fashion Showcase.
For more information and updates, visit the website www.islandsfashionweek.comor the Facebook page, www.facebook.com/islandsfashionweek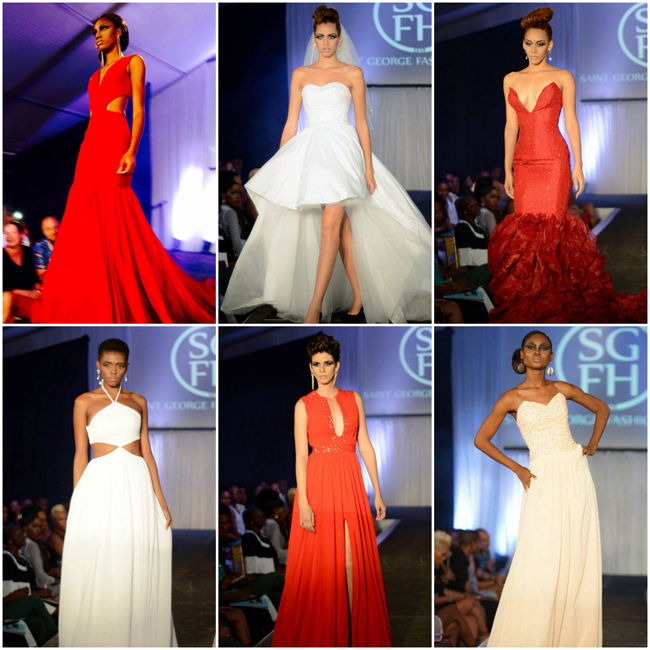 Saint George Fashion Week - Turks and Caicos