Nassau, Bahamas - Over the years, the art of fashion has moved beyond inspiring basic textile and into diverse industries, in particular film production. In the 1960's, films such as "Breakfast at Tiffany's", became noted as a film whose plot was focused around fashion. This year, producers of Islands of the World Fashion Week, Mode Îlesth, 2010, runs each Wednesday at 8 pm until November 10th, 2010, at Galleria Cinemas West, JFK. Tickets are sold an hour before show time at $3.

As the organizers seek to increase the awareness of the upcoming Fashion Week event, they chose capitalized on a typical social outing and created a way to give the Bahamian audience an appealing look into the fashion industry.

Films previously played include "The September Issue"; the story behind Vogue's most anticipated fashion issue, "Valentino: The Last Emperor"; a look into the life of the man behind some of Hollywood's most sort after gowns, and this Wednesday, family favorite; "The Devil Wears Prada"; a comedy film loosely based on Vogue's editor-in-chief.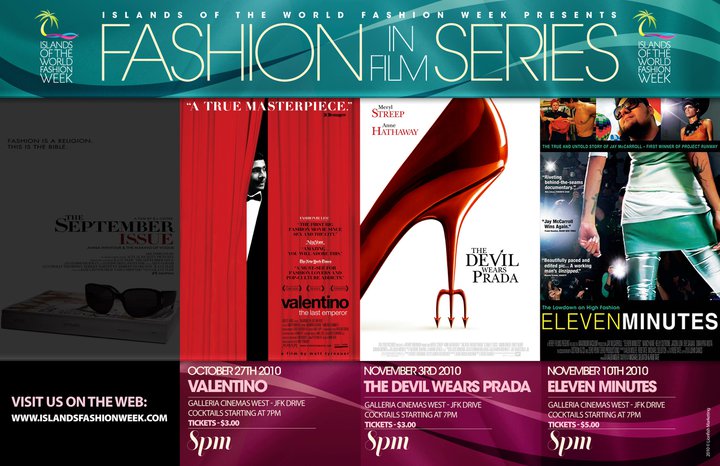 The following Wednesday 10th November, 2010, "Eleven Minutes" will be the closing film. This film focuses on the life of "Project Runway's" season 1 winner, Jay McCarroll, after his win. McCarroll who is also the star of the film, will attend the Bahamas' premier and host a cocktail reception at the Galleria Cinemas West lobby at 7:30pm. Tickets for the evening will be $5. Ltd, have partnered with Galleria Cinemas and created the "Fashion in Film Series". The film series which began on Wednesday October 20
"The introduction of the Fashion in Film Series to the IWFW 2010 schedule is a perfect fit" says Mr. Kedar Clarke, Operations Manager of Mode Îles Ltd. He adds" The movies chosen in this year's screening embodies the fashion industry, and for the most part, serves as the inspiration behind the emerging fashion trends we see worldwide. We are glad to have international designer Jay McCaroll join us, not only at the premier, but also at this year's Islands of the World Fashion Week runway."
The "Fashion in Film Series" joins the calendar of events leading up to the main event, the runway show "Islands of The World Fashion Week", November 11-13, 2010. The event will be held at the British Colonial Hilton, downtown Nassau. Tickets are on sale at Obsession, Mackey St. and will be available at the British Colonial Hilton on November 9th, 2010.