Nassau, Bahamas -- One word folks – FABULOUS!
The second edition of Islands of the World Fashion Week (IWFW) was nothing short of a success. Audiences and critics alike are continually showering the event with rave reviews for high fashion and an exquisitely executed programme.
Thirteen island designers, representing seven countries put their best foot forward for three days with edgy couture and fantastic accessories as they showcased their 2009/2010 collections.
From the Caribbean, to Canada to China and beyond, IWFW made its mark this year as the premiere event of the season.
Gregory Stennatt, a Tokyo resident said, "In a nutshell, well – stunning looking models, wearing jaw dropping fashions who execute every catwalk move with the calculated professionalism that would make each garment dazzle the eye of any denomination under the sun.
"Islands of the World Fashion Week seems to have put the Caribbean on the international fashion map, as the most exciting place to showcase new fashion creations from [island] designers who are clearly not merely making big splashes by the pool-side of this splendid venue, but also causing a tsunami across the fashion world... Bravo!"
It wasn't only the island prodigies showcasing their talents. The group of 13 were joined by three guest designers; the legendary b michael, Project Runway's cycle five winner, Leanne Marshall and Henry Jackson for HNJ, whose 2010 collection won a special nod and subsequent orders from United States First Lady, Michelle Obama.
Though all the designers came to Islands of the World Fashion Week (IWFW) to flaunt their collections, their creativity was also put to the test as they all vied for various awards during the event. The new designers battled for the NextGen Designer Award, while veteran participants aligned themselves to possibly be awarded one of four Seals of Excellence Awards. Additional awards were also available for designers that constructed special Sustainable Eco-Fashion and Cultural Fashion garments.


Celebrity judges on hand for the event were Susan Stein and Luis Sarmiento. Stein, a fashion diva in her own right, has been a staple in the fashion industry for more than two decades managing marketing, merchandising and public relations for fashion retailers and designers. Sarmiento is one of the fashion industry's foremost commentators and also the publisher of IMG's the Fashion DAILY Magazine.


Madagascar's Eric Raisina took home top honours as he won both the Sustainable Eco-Fashion Award and one of the four Seals of Excellence Awards. The Sustainable Eco-Fashion Award is given for effectively using environmentally friendly products while incorporating environmental or social issues into designs. Raisina won for his outfit called African Lace, which includes a crocheted raffia dress, raffia and silk organza hat, and a silk organza scarf.


The Culture and Fashion Award, given for incorporating a uniquely cultural element in garment design was won by Jessie-Ann Jessamy of Grenada for her spice cloth patterns and design, which carries the slogan "Be spice. Discover authentic Grenada."

Jessamy, who is very much into print and pattern making said, "We love to print; the process is organic, tied to our love for traditions. It's not only about the destination but the experiences along the way… in your clothes"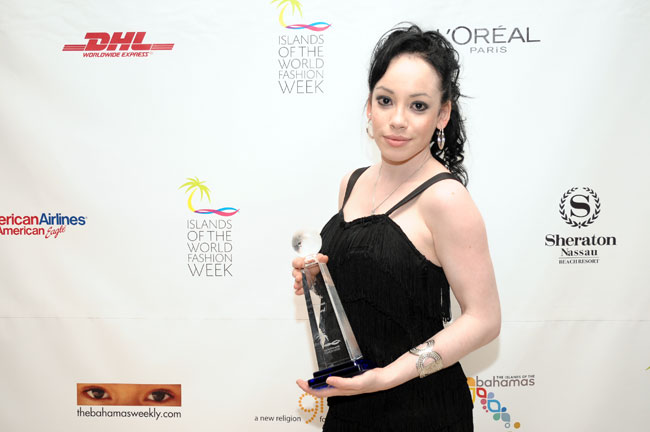 Darcel de Vlugt won the NextGen Designer Award for her edgy but elegant cocktail and evening dresses. Trinidadian native de Vlugt believes that people should "speak through fashion and style. It is only shallow if there is no meaning behind what you wear or your reason for wearing it."

The NextGen Designer Award looks for creativity, expression of style, selection of fabric and colour, and quality of execution of the design. Qualifying designers would not have produced a line before, would have been designing less than three years, and would not be employed at a major fashion house. The award winner in this category will receive a scholarship and opportunity to apprentice with an internationally-recognized designer..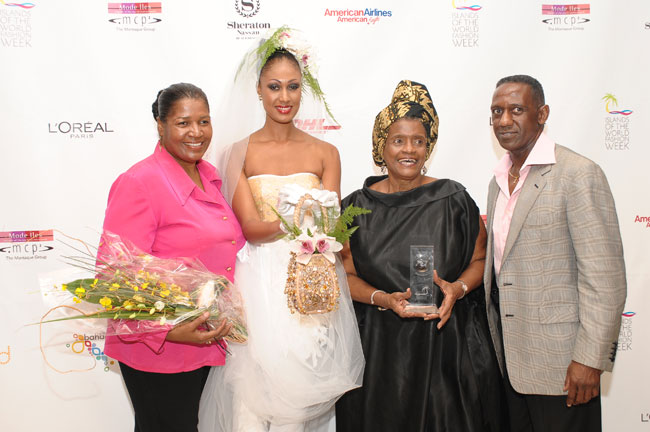 Four Seals of Excellence are awarded for outstanding and exceptional performance in overall design creativity, expression, and quality of workmanship/production. The other three winners in this category included Bahamian Beverly Taylor for Harl Taylor BAG, Jamaica's Kenneth 'K-Bobby' Edgar for K-Bobby Couture and Murielle Leconte, for her beautiful and colorful designs from Haiti.

Finally, the Humanitarian Designer Award was given to Hennes & Mauritz AB known as H & M. The Swedish clothing company has been hailed as an "unsung ethical hero" for their work practices and use of natural materials in clothing production, like organic cotton. Though they were not present to accept the award, they did issue a statement saying how encouraged they felt by the award to continue their work.
The designers weren't the only ones winning awards. IWFW introduced the Muse Model Search Competition this year. After months of searching, 15 models from seven Caribbean countries were chosen as finalists. Bahamian Kendrick Kemp and Curacao's Giovara Geertruida took home the titles of Male and Female Muse of the Year along with $10,000 among other prizes.
Sponsors for the event included The Bahamas Ministry of Tourism & Aviation, American Airlines/American Eagle, DHL, L'Oreal Paris, ghd hair products, Sheraton Nassau Beach Resort, The Montaque Group, Mode Îles Ltd, Bristol Wine & Spirits, Galleria Cinemas, thebahamasweekly.com, and Bani Shoe Warehouse.
International media representation was a record 65 personnel with coverage extending throughout the Caribbean, USA, Canada, United Kingdom, France, Germany, Japan, and India.
Now IWFW seems to be an unstoppable force in fashion that, like wine, is only getting better with time.
To see highlights of the IWFW 2009, visit our website at www.islandsfashionweek.com .