Nassau, Bahamas - Mode Îles, Ltd., the organizers of the award-winning Islands of the World Fashion Week, has announced significant changes to the production and format of the event commencing in 2012.
The event will become known as "Islands of the World Fashion Showcase" ("IWFS") and will be presented twice annually in May and November. Each event will be hosted for two days with participation limited to ten designers at each event representing island nations around the world, along with international designers. The event in May will highlight designer resort, sports and swim wear and accessories. November will feature designer couture, pret-a-porter and casual wear and accessories.
The growth in demand for the products showcased during the previous Islands of the World Fashion Weeks has prompted the organizers to advance and prepare for the simultaneous launch of the online magazine, "ExÎles", and the online store, "ExÎles Boutique", both of which will feature designers, arts and crafts, and accessories unique to the global island lifestyle, becoming a major distribution and sales outlet for the creative designs presented on the runways of Islands of the World Fashion Showcase.
An important feature of the event that will continue in the new format will be the awards component in the categories of NextGen Designer, Sustainable Eco-Fashion, and Culture & Fashion. The presentation of the Humanitarian Designer Award will also continue to be an integral part of the new format. Previous recipients of the Humanitarian Designer Award have been Kenneth Cole and Hennes & Mauritz (H&M).
Developing from the television show which originated with the 2010 Islands of the World Fashion Week will be a six-part reality documentary on the respective countries and designers selected to participate in the Showcase. The documentary will be syndicated to both traditional television and cable networks around the world and specialized fashion trade networks. Endorsed from its inception in 2008 by the United Nations Education, Science and Culture Organization (UNESCO), Islands of the World Fashion Week has been successful in fulfilling its mandate of promoting island designers from around the world and exposing them to international media and buyers. Since its inauguration the event has hosted in excess of 70 designers from island-nations as diverse as The Bahamas, Barbados, British Virgin Islands, Cuba, Dominican Republic, Grenada, Fiji, Haiti, Indonesia, Jamaica, Madagascar, The Philippines, St. Lucia, St. Vincent & The Grenadines, Trinidad & Tobago, and Turks & Caicos.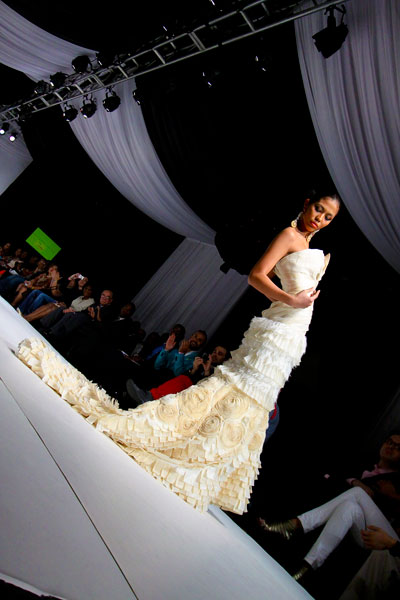 Tomas Frenes, Vice President and Production Manager of Mode Îles, and a former director of Versace with his own furniture line, noted that "Special features being introduced into the new format will include presentations by architects and interior designers, highlighting the contribution and impact of these professions to fashion and style."
Owen Bethel, President of Mode Îles, stated that "the new format will definitely enhance the promotion and exposure of the designers in innovative ways, and ultimately with the intent of making it a commercially viable avenue for them to be able to transform their creativity into sales. The state-of-the-art online store and marketing thrust offered through that medium will give designers an unprecedented opportunity to introduce and sell their designs to previously untapped markets. ExÎles will itself invite special designers to produce lines of clothing under its proprietary label. The successful Islands of the World Fashion Tour to key cities and trade events, which was introduced in 2010, will continue as a promotional tool. Regrettably, the preparation and anticipation of the roll out of the revised format and introduction of the new components to Islands of the World Fashion Showcase have required the forfeiture of the event scheduled for November 2011. This is truly a watershed transition in the development and continued growth of this fairly young venture in an international and dynamic industry, and bodes well for the islands and The Bahamas. These are crucial steps in fulfilling our mission of providing a multi-faceted showcase for the talent in the islands and to encourage value-added economic activity in these countries."