Nassau, Bahamas: The "Islands of the World Fashion Week" 2010 season is officially underway! On Sunday, October 3rd, scores of fashion spectators were engaged in the excitement and allure of the Mode Îles Ltd. produced, "Runway to Fashion Week". This highly anticipated event, loosely based on American reality series "Project Runway", was designed to engage and expose novice Bahamian designers to the wider fashion community; both locally and internationally. With 5 talented designers eager to win the coveted "top designer" title, only one emerged victorious! The winner of Sunday's rigorous two rounds of competition was 26 year old Mr. Theodore Elyett. His showcase of vibrant and colorful garments inspired by American celebrity Solange Knowles, were a definite crowd pleaser. Though his muse was the pop singer and actress, he says his true inspiration came from God. "I would have to call this the God collection because it's only through him, that I am presenting my talents today. There were many times I wanted to give up but it was God that saw me through to the end."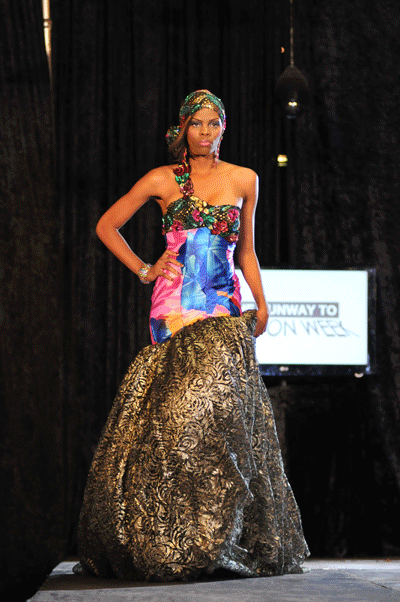 Elyett will now have to produce a 5-10 piece collection, with fabric courtesy of Bahama Handprints to be showcased at "Islands of the World Fashion Week" 2010 in November 11-13, amongst other established designers from countries like Jamaica, Madagascar, Dominican Republic and Haiti. More notably, Elyett has the opportunity to fine tune his designing skills with the "Harl Taylor Fashion Scholarship" to attend "Parsons the New School for Design", in New York City.
Other participating designers included Rudolph Brown Jr., Treneil Hanna, Gloria Whymns and Katherine Booth. Each designer displayed a three to five piece collection follow by one cultural piece that was indicative of the Bahamian culture.
The judging panel included fashion designer and textile expert, Pamela Burnside, fashion designer Percy Wallace and fashion columnist and stylist, Tyrina Neely. The competition was hosted by Island 102.9 FM's morning news anchor and "Da Mornin' Boil" co-host, Danielle Anusiem.