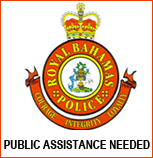 Freeport, Bahamas - Police in Grand Bahama are investigating a shooting incident that has left a male hospitalized on Friday 6th January 2017.
Reports are that shortly after 12:00pm, a male was in the Grenfel Avenue area when another male brandishing a firearm who was an occupants of a vehicle, opened fire and shot the victim multiple times about the body. He was transported to the Rand Memorial Hospital via private vehicle and is listed in serious condition.
Police have in their custody a male who is assisting with this investigation.
Police are actively investigating this matter and are appealing to the general public for anyone with any information to contact them at telephone numbers 350-3107 thru12, 911/919 or call your nearest police station.