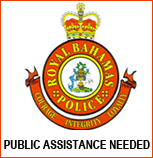 Freeport, Grand Bahama - Police in Grand Bahama need your assistance in locating an armed gunman who robbed a business establishment in the Freeport area.
Reports are that on Tuesday 4th June 2019 shortly before 11:00pm, an armed male reportedly entered a business establishment on the Mall Drive and robbed the cashier of an undetermined amount of cash before fleeing the area.
Police are actively investigating this matter and are appealing to the general public for any information that can assist in this investigation, to give them a call at telephone numbers at the Central Detective Unit 350-3107 thru12, 911/919 or call your nearest police station.
HURRICANE SAFETY TIPS – Today is the first day of the hurricane season!

Take note of the hurricane shelters in your area.
Secure all important documents in a waterproof container.
Be sure to have a first aid kit, medication, flash lights, and a battery operated radio on hand.
Secure all loose objects, including lawn furniture, on your property and place pets inside for safe keeping.
Keep several days' supply of food and water for each family member.
DO NOT USE GENERATORS INDOORS.
Follow all instructions from your local authorities regarding evacuation or other safety procedures.